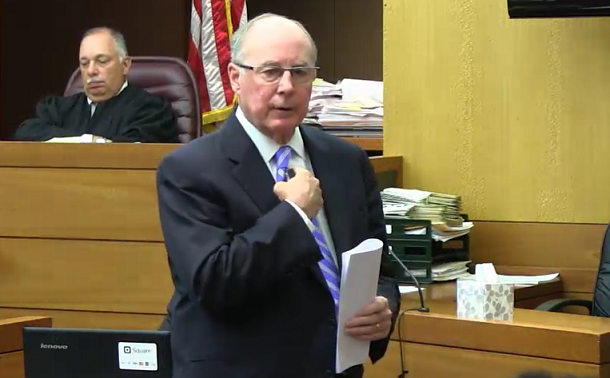 William Bird tells jurors medical negligence caused Kenneth Harper's 2006 death during openings in his wife's suit against two specialists who treated her husband.
---
Atlanta—Attorneys Tuesday debated whether doctor error or sepsis stemming from a terminal bone marrow disease killed a hospital patient, as trial began against two specialists who treated him. Harper v. Vick, et al., 08EV005552.
Kenneth Glenn Harper, 56, died October 23, 2006, five days after an ER visit and admission to Wellstar Kennestone Hospital for neck swelling he said made him unable to swallow. Harper's wife, Sandra, claims her husband's death could have been prevented if two doctors who treated him, otolaryngologist Michael Vick and pulmonologist Paul Zolty, had intubated Harper or otherwise ensured his airway remained open after they examined him the morning of October 19. Although the specialists concluded Harper did not need intubation at the time, his breathing worsened just hours after they examined him, and he suffered a cardiac arrest that led to his death during an emergency intubation attempt.

During Tuesday's openings, Sandra Harper's attorney, Bird Law Group's William Q. Bird, told jurors expert testimony would establish the doctors failed to take steps to ensure Harper's airway remained open when his condition was stable enough to perform the procedures safely. "You do it in a planned, detailed, organized fashion, coordinated, recognizing that the first step of the procedure may fail and you can immediately go to the next step safely without injury to the patient, which did not happen," Bird said.
However, the defense argues sepsis, or infection throughout Harper's body, killed him. The infection turned deadly, the doctors claim, because Harper had myelodysplasia, a terminal bone marrow disorder that weakens the body's immune system.
During Tuesday's openings Zolty's attorney, Swift, Currie, McGhee & Hiers, LLP's Roger Harris, told jurors tests showed Harper didn't need intubation or other airway opening procedures when the two specialists examined him. Further, Harris said Zolty concluded Harper's infection and myelodysplasia made his condition so tenuous that intubation at that point would have placed him in greater danger. "Regardless of whether Mr. Harper was placed on mechanical ventilation," Harris said, "the unfortunate outcome in this case would be the same."
Vick's attorney, Green, Sapp & Moriarty's Henry Green, agreed, telling jurors the physicians were focused on dealing with Harper's infection. Green noted Harper had been diagnosed with myelodysplasia shortly before his ER admission and said a CT scan would show the disease had so severely damaged his immune system that it could not mount typical natural defenses against infection. "Mr. Harper's immune system was so weak that he could not even form an abscess," Green said. "He had that few white blood cells."
Bird acknowledged Harper's bone marrow disease was likely terminal, but told jurors Harper could have lived up to 10 more years if the doctors had taken appropriate airway opening precautions. "Had these doctors exercised the degree of care that the law requires, we wouldn't be here today," Bird said.
"[Harper] wouldn't have arrested. He wouldn't have sustained permanent irreversible damage as a result of that, and he would have lived for some significant period of time, and had the opportunity during that period of time to do the things a person who knows they're dying, knows they won't survive, has an opportunity to do. And [he would have had] the value of being able to put your life in order, to say your goodbyes."
Trial in the case is expected to last through next week. CVN is recording the trial and will offer gavel-to-gavel video of the case as soon as it is available.
The parties' attorneys could not be reached for comment.
Email Arlin Crisco at acrisco@cvn.com.
---
Related Information
Sandra Harper is represented by the Bird Law Group's William Q. Bird and Alexandria Kash, as well as KurleLaw's Jennifer Kurle and Steven Justus.
Dr. Michael Vick and the Wellstar Physicians Group are represented by Green, Sapp & Moriarty's Henry Green and Daniel Moriarty.
Dr. Paul Zolty and Georgia Lung Associates, P.C. are represented by Swift, Currie, McGhee & Hiers, LLP's Roger Harris and Drew Timmons.
Learn how you can watch trial in this case and other critical medical malpractice litigation, in Georgia and throughout the country.