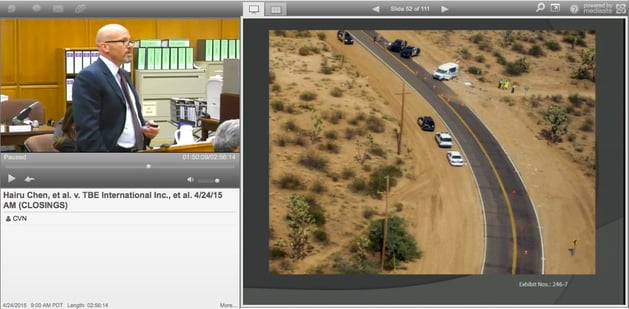 Defense attorney Douglas Robinson shows jurors a photograph during his closing arguments of the scene of the fatal tour bus rollover accident that killed two tourists and injured eight others.
Click here
to see video from the trial.
Click here
for a copy of the complaint.
Los Angeles — A California bus dealership dodged a potential $58 million wrongful death verdict on Monday, after a state court jury found a tour bus that rolled over while taking a group of Chinese tourists to visit the Grand Canyon was not defective due to lacking passenger seat belts.
The jury deliberated for less than a full day following a two-week trial before deciding 10-2 that the 2006-model Starcraft tour bus sold by L.A. Truck Centers LLC was not defective. Attorneys for the plaintiffs claimed the dealer should have paid an extra $168 to equip the vehicle with passenger belts before selling it to tour group operator TBE International Inc.
David Lira of Girardi Keese had asked the jury to award over $58 million in damages to eight passengers who suffered injuries including limb amputations and traumatic brain injuries, and to the estates of two passengers killed in the crash, according to a Courtroom View Network webcast of the trial. He argued that while seat belts wouldn't have prevented passengers from being hurt in the rollover, they would have prevented all fatal and catastrophic injuries.
The accident occurred in 2010, when the bus' driver attempted to make a sharp turn on a road in Arizona, according to the plaintiffs' complaint. The mid-size bus, manufactured by Berkshire Hathaway-owned Forest River Inc., rolled over twice, ejecting some passengers and sending others tumbling around the bus.
The bus provided seat belts for the driver and the tour leader in the front seat, and both of those passengers walked away from the accident without serious injury, Lira told the jury. He claimed L.A. Truck Centers knew the bus would be used on roads where rollover accidents were possible, and that selling the bus without seat belts for all passengers meant the vehicle was not crashworthy.
Federal safety standards do not require buses like the one involved in the rollover incident to be equipped with passenger belts, a point made repeatedly by Douglas Robinson of Shook Hardy & Bacon LLP during his closing argument on behalf of L.A. Truck Centers.
Robinson said TBE owner Betty Qi specifically requested a bus that lacked passenger belts in order to save money, and that L.A. Truck Centers can't be found negligent for selling a vehicle in a configuration requested by a customer that meets the government's existing safety requirements.
"You haven't heard one piece of evidence and not even a claim by Mr. Lira, that they did anything different than any other bus dealer," Robinson said during his closing argument, noting that buses without passenger belts were sold by dealers besides L.A. Truck Centers. "The government said it was okay. The manufacturer said it was okay."
Robinson said that while the facts of the underlying accident were not in dispute, jurors should reject the plaintiffs' claims that the bus driver, Zhu Li, was not responsible for the passengers' injuries. Instead they should find him solely responsible, Robinson argued.
"He drove this 11,000 pound bus at a clip of 20 miles-per-hour above the cautionary limit around a sharp curve in a large vehicle that does not drive like a Ford Mustang," Robinson said.
The jury agreed with the plaintiffs in finding that L.A. Truck Centers wasn't just a dealer but also a manufacturer of the bus, however the application of Indiana law to the case by Judge J. Stephen Czuleger set too high a bar for the plaintiffs to clear with their product liability claim, according to veteran California litigator Brian Panish of Panish Shea & Boyle LLP.
The Starcraft bus was manufactured in Indiana, so Judge Czuleger applied that state's product liability law, which does not allow for punitive damages and requires a product to be "unreasonably dangerous" in order to be defective.
"Indiana product liability law is very difficult," Panish told CVN. "Compliance with the standard in the industry is a complete defense. Since other manufacturers were not providing seat belts that made it ok under Indiana law and the product could not be defective."
The plaintiffs settled with TBE and Starcraft before the trial began for a total of $8.25 million, according to court records.
Thomas Girardi told CVN he planned to appeal Judge Czuleger's decision to apply Indiana law to the California case. Girardi said the decision was difficult to understand, since the only remaining defendant in the case is a California company, and California's law requires buses to be reasonably safe.
"We are hopeful that the Court of Appeals looks at this case the same way we do," Girardi said.
Attorneys for L.A. Truck Centers declined to comment on the verdict.
The plaintiffs are represented by David Lira and Thomas Girardi of Girardi Keese.
L.A. Truck Centers is represented by Douglas Robinson and Janet Hickson of Shook Hardy & Bacon LLP.
The case is Hairu Chen, et al. v. LA Truck Centers LLC, case number BC469935, in the Superior Court of the State of California for the County of Los Angeles.
David Siegel can be reached at dsiegel@cvn.com.
Previous coverage:
Heavyweight Firms Square Off At Trial Over Deadly Tour Bus Rollover
Related Coverage:
Chrysler Smacked With $150M Verdict In First Jeep Fuel Tank Fire Trial
Ford Settles $31M Seat Belt Design Suit, Avoiding Mistrial
Click here to check out more product liability cases in CVN's one-of-kind video archive.