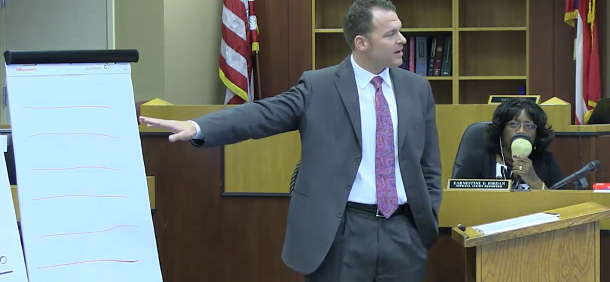 Michael Goldberg delivers his closing rebuttal for Ehsan Khan, who suffered permanent brain damage in a tractor trailer collision. Jurors Wednesday awarded $20 million in the case.
---
Marietta, GA—A Cobb County State Court jury awarded $20 million Wednesday afternoon for the catastrophic brain injury a Pakistani immigrant suffered in a 2013 collision with a tractor trailer. Khan v. Moore Freight Service Inc., et al., 14A-27627.
Ehsan Khan, 57, sustained lifelong brain damage when a tractor trailer driven by John Teal ran a red light in Kennesaw, Georgia and struck a car carrying Khan and his wife, Ghulam. The crash has left Khan, who emigrated from Pakistan in 2009 before becoming an American citizen, unable to walk or care for himself.
Teal, and his employer at the time, Moore Freight Service Inc., stipulated to liability for the crash, leaving the jury to decide damages alone. Wednesday's verdict includes $16.25 million to Michael Smith, as Khan's conservator, and $3.75 million to Ghulam Khan on her loss of consortium claim.
The award is the lion's share of the $24.8 million the Khans' attorneys, Joe Fried and Michael Goldberg, of Fried Rogers Goldberg, requested.
"We obviously had concerns as to whether the jury could look past the fact that our clients are Muslim and are from Pakistan," Goldberg told CVN after the verdict. "But the jury was able to do exactly what the law says to do. They looked at the evidence and put aside all prejudices and sympathies and awarded what the case was truly worth.
"It is really amazing to find out that everyone can get a fair shake in front of a jury," Goldberg said.
Swift Currie's Roger Harris, who represented Moore Freight and Teal, declined to comment on the verdict.
The decision capped a three-day trial that centered on the type and cost of care Khan would need for the rest of his life. During Wednesday morning's closings, Harris argued Khan would not incur many of the future medical expenses plaintiffs requested because Khan's family provided much of his home care. "Despite what plaintiffs' counsel may argue, ladies and gentlemen, it is appropriate for you to consider reducing the life care plan costs that you find will not be incurred," Harris said.
Harris also attacked the validity of the life care plan completed for Khan by plaintiffs' expert, Sarah Lustig, and he argued the Khans' legal team provided the pricing that supported the plan. "Ms. Lustig did nothing to verify the information," Harris said. "Now [plaintiffs' attorneys] want to pass that off as me poking at Ms. Lustig, but that's a fact, ladies and gentlemen. The pricing information that she used in her life care plan was provided to her by the attorneys."
Harris reminded jurors Moore and Teal both accepted responsibility for the accident. "I think you all agree that we do not hear it enough of people and corporations taking responsibility for their actions," Harris said. "And in this case, that is exactly what my clients have done."
But Goldberg argued defendants' acceptance of liability for the crash did not warrant a discount on damages. "The idea would be this," Goldberg said in his closing rebuttal. "I run into the back of your car. I do $1,000 worth of damage to your car. I say, 'You know what? It's my fault. I ran into the back of your car. Here's $50.' What? Is that fair? Is that fair to both parties?"
Goldberg noted the defense did not provide medical evidence to counter Lustig's life care plan. "No doctor is going to come in here and say that [Khan] doesn't need, at the bare minimum, what's contained in this life care plan," Goldberg said. "And if the family decides to [provide care] for him? God bless them. They should be able to keep the money. They're going to do the job for him? The money should go to them."
The Khans' attorneys also attacked the defense argument that damages should be reduced because Khan's life may be shortened by the crash. "Folks, if [the defense] is right, this is not a $25 million case," Fried said in closings. "But not for the reason they're saying. I would say it's a $40 million case, because you destroy somebody's life for years and years, and then you kill them 10 years early. If you want to accept their position [on Khan's life expectancy] you can't just discount the fact that they're taking 10 years [away]."
Jurors took less than four hours to render their verdict.
CVN recorded the trial and will provide gavel-to-gavel video as soon as it is available.
Email Arlin Crisco at acrisco@cvn.com.
Related Information
Michael Goldberg and Joe Fried, of Fried Rogers Goldberg, represent Ehsan and Ghulam Khan.
Roger Harris and R. Matthew Shoemaker, of Swift Currie, represent Moore Freight and John Teal.
Read about the opening statements in the case.
Learn how you can watch this and other blockbuster trials in Georgia and across the country.