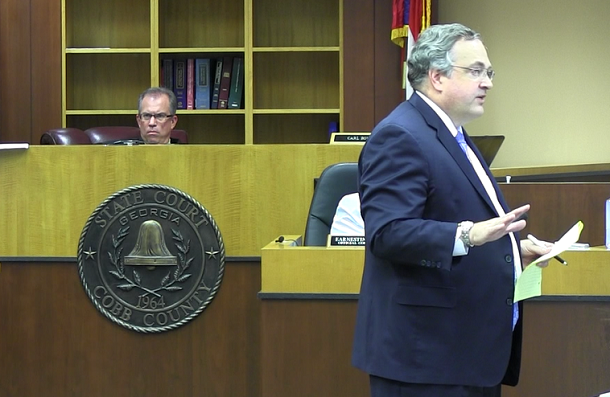 Roger Harris delivers his opening statement on behalf of Moore Freight at trial over brain damage suffered by Ehsan Khan in a 2013 tractor trailer collision.
---
Marietta, GA—Attorneys for a Pakistani immigrant who suffered a catastrophic brain injury in a tractor trailer collision asked jurors for nearly $25 million Monday, as trial opened against the trucking firm and driver responsible for the wreck. Khan v. Moore Freight Service Inc., et al., 14A-27627.
"I don't care whether you're yellow, green, purple, orange, blue whatever. This is the number for a severe traumatic brain injury," Fried Rogers Goldberg's Michael Goldberg told jurors after detailing his client, Ehsan Khan's, injuries.
Khan, 57, suffered permanent brain damage when a tractor trailer driven by John Teal ran a red light at Kennesaw, Georgia's Cobb Parkway and struck Khan's car. Khan's wife, Ghulam, was also injured in the wreck.

Teal and Moore Freight Service Inc. admit liability for the collision, leaving damages the only issue for the Cobb County State Court jury to decide.
During Monday's openings, Goldberg said evidence would show Khan suffered an array of injuries in the crash, including bleeding throughout his brain and shearing of the brain's nerves. He told jurors a neurosurgeon would describe Khan's brain damage as an "8," on a scale of 1-10, with "10 being deceased."
The damage has left Khan, who became an American citizen after emigrating from Pakistan in 2009, unable to walk or perform basic daily functions such as bathing and feeding himself.
"This man who was strong enough to bring his family from Pakistan to America, to start a new life with them, is totally dependent on his children and his wife to take care of him," Goldberg said.
The $24.8 million in damages the Khans seek includes $15.1 million for pain and suffering and more than $4.3 million in medical expenses.
But the defense argues the Khans' damage request is excessive.
"This case has a value. It is not $25 million." Swift Currie's Roger Harris, who represents Moore Freight and Teal, told jurors Monday. "When you consider the issues in this case, I want you to be fair to my clients."
Harris argued the life care plan used to support plaintiffs' damage claim does not account for the fact that Khan's family, rather than home health professionals, care for him. Harris also noted Khan had not been hospitalized in more than a year. "You are going to have to decide whether [the life care plan's future medical expense estimates] are costs that are going to have to be incurred," Harris said, "or are those costs going to be something less because of the evidence you hear… in this case."
Closing arguments in the case are expected Wednesday morning. CVN is recording the trial and will provide news of the verdict, as well as gavel-to-gavel video, as soon as it is available.
Email Arlin Crisco at acrisco@cvn.com.
Related Information
Michael Goldberg and Joe Fried, of Fried Rogers Goldberg, represent Ehsan and Ghulam Khan.
Roger Harris and R. Matthew Shoemaker, of Swift Currie, represent Moore Freight and John Teal.