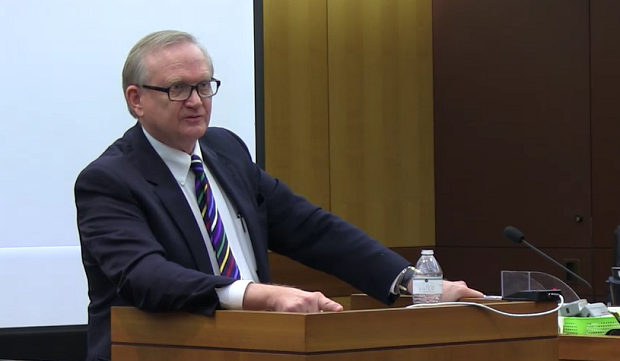 William Stone delivers his closing argument at trial over the life-long brain damage Shannon Trabue suffered days after childbirth. Jurors Monday awarded Stone's clients, Trabue's husband and conservator, nearly $46 million after finding the doctors who treated her negligent.
---
Update: This article was updated to reflect comments from the parties' attorneys.
Atlanta—Jurors Tuesday found two Atlanta-area physicians negligent and awarded nearly $46 million for the catastrophic brain damage a woman suffered just days after the 2009 birth of her child. Trabue v. Atlanta Women's Specialists, LLC, et al., 14-EV-001821.
The Fulton County State Court jury deliberated for about 15 hours Friday and Tuesday before concluding Shannon Trabue's heart attack and subsequent brain damage were caused by the negligent care of Atlanta Women's Specialists obstetricians Drs. Rebecca Simonsen and Stanley Angus.
Tuesday's award includes $9.8 million in economic damages the parties agreed to if the doctors were found negligent, as well as a pair of $18 million awards for the non-economic losses suffered by both Trabue and her husband, Keith.
Trabue, then 38, suffered a heart attack while undergoing hospital X-rays on August 25, 2009, three days after giving birth at Northside Hospital. Although hospital staff resuscitated her, she went without oxygen for more than 10 minutes and suffered severe brain damage that her attorneys say renders her unable to care for herself.
Trabue's conservator and her husband claim her heart attack was caused by unchecked blood pressure problems stemming from her preeclampsia, combined with a pulmonary edema, or fluid in her lungs, that Simonsen and Angus failed to properly treat.
During Thursday's closing arguments Keith Trabue's attorney, The Stone Law Group's William Stone, declined to request a specific number for non-economic damages, but discussed a variety of calculations that would yield an eight-figure award. "Search your hearts, search your conscience, do what you think is the right thing to do given what this lady has had to go through," Stone said. "And, award a substantial verdict, a very substantial verdict, because this woman has lost more than anybody can imagine."
The eight-day trial turned on whether the doctors properly treated Trabue after her childbirth and whether the complication that caused her collapse was reasonably foreseeable. The defense contended Trabue's collapse was more likely caused by a pulmonary embolism, rather than pulmonary edema, and that the doctors properly treated her with an eye toward addressing any complications.
During Thursday's closing arguments, Daniel Huff, of Huff Powell Bailey, told jurors Trabue's complaints about shortness of breath in the hours before her collapse had been addressed and she did not show many of the tell-tale signs of pulmonary edema that afternoon. Huff noted Angus found Trabue's lungs were clear and nurses described her as relaxed and with appropriate blood-oxygen saturation levels. "This was during the period of time when the plaintiffs would have you believe that Shannon Trabue is having full-blown pulmonary edema," Huff said.
Huff Powell Bailey's Taylor Tribble reminded jurors two defense experts believed Trabue's heart attack likely stemmed from a pulmonary embolism based on how suddenly it occurred. "But what they were really sure about, to a reasonable degree of medical probability, [was that] her arrest was not caused by pulmonary edema," Tribble said. "She didn't have the clinical picture of pulmonary edema, and the radiology is not the picture of pulmonary edema."
Huff said records proved Simonsen and Angus considered all reasonable complications in their testing and treatment orders, including pulmonary embolism and edema. Huff, who said the doctors' blood pressure treatment followed Northside Hospital policy, walked jurors through Angus' progress notes the afternoon of Trabue's collapse, highlighting the doctor's orders for additional testing and medication for her blood pressure. "He's trying to figure out what's happening," Huff said. "He's trying to rule out what might be causing a change in her condition, by ordering tests to get that done."
However, Stone argued evidence showed Simonsen and Angus failed to properly address Trabue's erratic blood pressure and they allowed her fluid levels to become critically dangerous, leading to a buildup of fluid in her lungs that stopped her heart.
Stone noted Northside Hospital's policy on blood pressure treatment specifically stated it was not necessarily the appropriate standard for patient care. He also reminded jurors that plaintiffs' experts believed the doctors did not appropriately address Trabue's fluid overload and blood pressure problems. "You don't just give [a patient] one dose [of blood pressure medication], and it goes down, and walk away and see what happens next," Stone said. "You keep [pressures] down, you keep giving them increased medication until you get them level and keep them level within normal limits. That way you don't have to worry about spikes, because you've got it under control."
Stone added records supported a conclusion that a flash pulmonary edema caused Trabue's heart attack. By contrast, he said, there was no physical evidence of a pulmonary embolism to support the defense's theory surrounding Trabue's collapse. "The caregivers at Northside were so doubtful that it could possibly be a pulmonary embolism that they didn't even do a follow-up study from the CT scan that showed it wasn't there," Stone said. "So we're faced with two things: we either have to accept what the caregivers there who saved her life and treated her accordingly believe it was. Or, we have to believe this magic theory, that it was something totally unprovable, that just came, did its lethal handiwork, and disappeared into thin air, never to be seen again."
After the verdict, Stone told CVN, "It was a great case to try for a very, very deserving family. If you have to say any one thing makes the case, it's always the people you're working for."
Huff told CVN the defense would analyze the case with an eye toward determining how to proceed post-verdict. "We are very disappointed with the verdict and disagree with the jury's conclusion," Huff said. "We will be evaluating all of our options."
Email Arlin Crisco at acrisco@cvn.com.
Related information
Read more about the trial here.
Read about opening statements in the trial here.
The case is Trabue v. Atlanta Women's Specialists, LLC, et al., 14-EV-001821, in Georgia's Fulton County State Court, with Judge Fred Eady, presiding.
Keith Trabue and Advocacy Trust of Tennessee LLC are represented by The Stone Law Group's William Stone, Ryals Stone, James Stone, and Michael Regas, II.
Dr. Stanley Angus and Atlanta Women's Specialists LLC are represented by Huff Powell Bailey's Daniel Huff and Taylor Tribble.
Not a subscriber?
Learn how you can see the best attorneys in action, in Georgia and across the country.