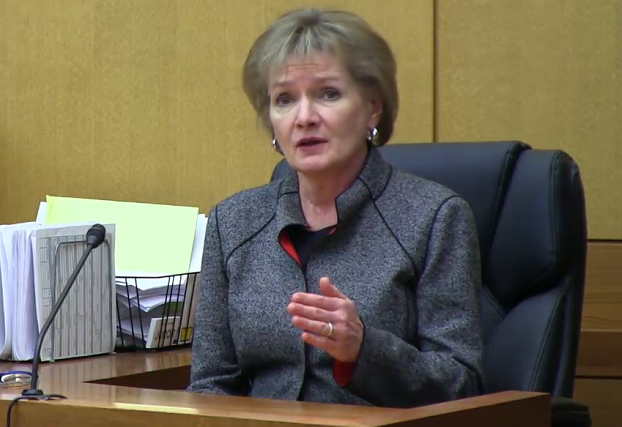 Dr. Katharine Wenstrom says she believes improper care by Drs. Rebecca Simonsen and Stanley Angus led to the heart attack and catastrophic brain damage Shannon Trabue suffered three days after Trabue gave birth.
---
Atlanta—An obstetrician who has previously appeared as a medical malpractice defense expert told jurors last week she decided to testify on behalf of a plaintiff for the first time ever because she was "horrified" at the circumstances surrounding the catastrophic brain damage a Georgia woman suffered days after giving birth, as trial continues against the medical practice that treated her. Trabue v. Atlanta Women's Specialists, LLC, et al., 14-EV-001821.
"When I read this case, I was just really horrified because this patient had one of the most common complications we see in pregnancy," Dr. Katharine Wenstrom, the director of maternal-fetal medicine and professor at Brown University's The Warren Alpert Medical School, told jurors. "What ultimately led to her downfall was a complication that could have easily been treated, and I just thought this was such bad management I had to speak out."

Shannon Trabue, 38, suffered a heart attack while undergoing hospital X-rays on August 25, 2009, three days after giving birth via caesarean section. Although hospital staff resuscitated her, she went without oxygen for more than 10 minutes and suffered lifelong brain damage that her attorneys say renders her unable to care for herself.
Trabue's conservator and her husband, Keith Trabue, claim Trabue's heart attack was caused by unchecked blood pressure problems stemming from her preclampsia, and a pulmonary edema, or fluid in her lungs, that Atlanta Women's Specialists obstetricians Drs. Rebecca Simonsen and Stanley Angus failed to properly treat.
Wenstrom last Thursday walked jurors through Simonsen and Angus' treatment before Trabue's collapse. Wenstrom said Simonsen did not adequately address the fluid buildup in Trabue's body, and instead aggravated the issue by ordering multiple fluid boluses, despite Trabue's inadequate urine output. "That fluid is not going to stay in her vasculature, it's not going to increase urine output. It's going to go right into her tissues," Wenstrom said. "And, at that point, by adding that extra 1,000 [cc fluid bolus, Trabue] was close to five liters ahead [on fluids], and studies have shown that that is the point at which you're really at risk for pulmonary edema, when you get that far ahead in your fluids. So that out her into a dangerous fluid balance."
Wenstrom told jurors Angus failed to address the fluid overload himself when he took over the morning of the 25th, and he did not properly monitor Trabue's erratic blood pressure in the hours before her collapse."That is where the car is about to go off the cliff," Wenstrom said, "because her poor heart and lungs can't tolerate both all that fluid and that blood pressure."
Wenstrom told jurors Trabue's complications were reasonably foreseeable given her preeclampsia and her collapse could have been prevented with diuretics and more aggressive blood pressure treatment by the physicians. "The thing that really makes this a tragedy to me is that this is the most common complication of general [obstetrics]," she said. "This is just something that every [obstetrician] is trained to do. It's the most common thing, and the thing we worry about the most," Wenstrom said. "Pulmonary edema is the most serious complication of preeclampsia, so this is something they should have thought of, really. So I think that's a tragedy."
In last Tuesday's opening statements, Keith Trabue's attorney, The Stone Law Group's William Stone, told jurors he would request $10.5 million in economic damages alone, plus non-economic and loss of consortium damages. "The injury that has been sustained is gigantic," Stone said. It's almost immeasurable."
However, the defense argues Trabue's heart attack was likely caused by a pulmonary embolism rather than pulmonary edema, that the physicians adequately cared for Trabue, including addressing her blood pressure and fluid retention, and that her collapse was not foreseeable under the circumstances. "Reasonable doctors make decisions about taking care of their patients based on the information they have, and the decision is made in real-time. Huff Powell Bailey's Daniel Huff told jurors during last Tuesday's openings. "Dr. Angus and Dr. Simonsen did what reasonable doctors would do when they were taking care of Shannon at the time based on the information that they had and… they were managing her appropriately."
Under cross-exam last Thursday, Wenstrom acknowledged Trabue had urine output of 30-40 cc an hour, which combined with insensible fluid loss, or fluid lost through sweat, respiration, and other factors, had been considered adequate by the treating staff. However, Wenstrom disputed Angus's characterization of her fluid output as adequate given her blood pressure problems and the fluid buildup in her body. "On the one hand [urine output shows] her kidneys haven't shut down, she's making urine. On the other hand it's not adequate for a preeclamptic patient," Wenstrom said.
Wenstrom said she could not definitively rule out the possibility that something besides a pulmonary edema caused Trabue's collapse. She also acknowledged records showed Angus, who gave Trabue medicine that initially lowered Trabue's blood pressure, listened to Trabue's lungs and found them clear in the hours before her collapse.
Wenstrom added she understood nurses observed Trabue walking, chatting, and not complaining of discomfort or other signs typical of pulmonary edema. However, Wenstrom maintained the those observations did not account for Trabue's underlying issues. "If the nurse said she was totally stable that's interesting, but that doesn't negate the fact that she was in fluid overload and had uncontrolled blood pressures," Wenstrom said. "I'm sure the nurses did their best, but that huge body of evidence, nobody was thinking about that, it appears."
Closings in the case are scheduled for Thursday.
Email Arlin Crisco at acrisco@cvn.com.
Related information
Read about opening statements in the trial here.
The case is Trabue v. Atlanta Women's Specialists, LLC, et al., 14-EV-001821, in Georgia's Fulton County State Court, with Judge Fred Eady, presiding.
Keith Trabue and Advocacy Trust of Tennessee LLC are represented by The Stone Law Group's William Stone, Ryals Stone, James Stone, and Michael Regas, II.
Dr. Stanley Angus and Atlanta Women's Specialists LLC are represented by Huff Powell Bailey's Daniel Huff and Taylor Tribble.
CVN is recording the trial and will provide on-demand, gavel-to-gavel video as soon as possible after the verdict.
Not a subscriber?
Learn how you can see the best attorneys in action, in Georgia and across the country.