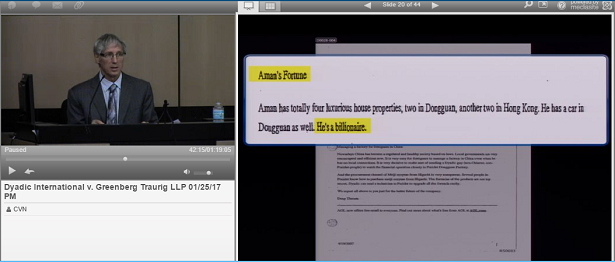 Mark Emalfarb details emailed allegations at the heart of Dyadic International's $700-plus million legal malpractice trial against Greenberg Traurig.
---
West Palm Beach, FL—The CEO of a Florida biotech company told jurors last week he felt he was made into a scapegoat during a rush to judgment that allegedly cost his company $700 million in lost business, as trial continued in the company's malpractice suit against legal giant Greenberg Traurig. Dyadic Inc. v. Greenberg Traurig, 2009CA010680.
"I was being thrown under and driven over [by] the bus," Dyadic International CEO Mark Emalfarb said when describing the fallout from anonymous emails in April 2007 accusing Dyadic's Hong Kong-based subsidiary of financial improprieties.
Within days of the emails' receipt, the company's board approved recommendations by Greenberg Traurig attorneys Robert Schwimmer and Andrew Balog that Emalfarb take a leave of absence, the company temporarily halt trading, and issue a press release stating their financial statements could no longer be relied upon.
The decision preceded the company's removal from the American Stock Exchange and Emalfarb's dismissal as CEO. The company ultimately concluded an SEC investigation into the email allegations without paying a fine and Emalfarb was reinstated as CEO in 2008. The company contends Greenberg Traurig's advice was negligent and its fallout cut its value by $185 million.
Greenberg Traurig counters that the recommendations were warranted given the gravity of the emailed allegations.
During last week's testimony, Emalfarb told jurors he forwarded the emails allegations to the company's CFO at the time, Wayne Moor, as soon as he received them. The emails triggered a rash of communications between Moor and Greenberg Traurig's attorneys, who kept Emalfarb out of the loop because of their alleged concerns over his role in any improprieties. "I'm trying to communicate with Wayne," Emalfarb said. "And there's nobody responding to me. He's not reporting anything to me. He's ignoring my emails, he's ignoring my phone calls."
Emalfarb walked jurors through the emails, as well as other emails alleging Puridet wrongdoing he had received in late 2003 and early 2004, before Dyadic went public, and which he had forwarded to the company's controller for investigation. He said although he tried to provide Moor with as much information as possible, he was frozen out. "Let's get the facts and circumstances and get our arms around what's really going on rather than what you, whatever your reasons are, think is going on, because you're off the track," Emalfarb said he wanted to tell the attorneys and Moor in the wake of the April 2007 allegations.
At the board's meeting to approve Greenberg Traurig's recommendations, Emalfarb said Schwimmer told him he had to take his leave of absence immediately or risk destroying the company. "He's basically telling me, your baby is going under the bus and you're going to go broke," Emalfarb said. "It's like I had to throw myself on the sword for no reason because he wouldn't stop. He just kept pressuring me."
On cross-exam, while Emalfarb acknowledged he may not have told Moor about the emailed allegations he received in late 2003 and early 2004, "[Moor] came [to the company] later. He wasn't there to even tell."
He also acknowledged board meeting minutes that described him agreeing to the leave of absence only after each board member recommended he do so. However, Emalfarb said he believed the minutes were inaccurate. "I think there are so many things that went on [at the meeting] that are missing," he said, "that these minutes are not accurate and complete."
Emalfarb is scheduled to continue testifying this week. Trial in the case, which CVN is webcasting gavel-to-gavel, is expected to continue into late February.
Email Arlin Crisco at acrisco@cvn.com.
Related information
Dyadic International is represented by Steven Katzman and Charles Bennardini, of Katzman, Wasserman, Bennardini & Rubenstein.
Greenberg Traurig LLP is represented by Stuart Singer, Markenzy Lapointe, and Lauren Louis, of Boies, Schiller & Flexner, LLP.
Watch the trial live and on demand.
Not a subscriber?
Learn how you can watch blockbuster civil litigation, in Florida and across the country.