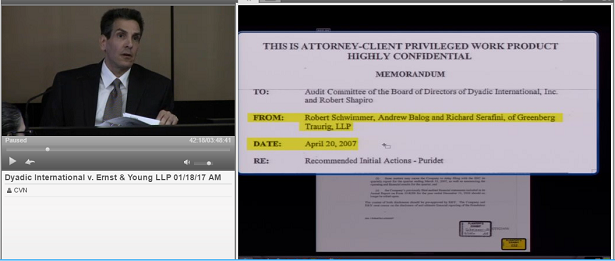 Andrew Balog testifies at trial over allegations his firm, Greenberg Traurig, committed malpractice in representing Florida-based biotech firm Dyadic International.
---
West Palm Beach, FL—A Greenberg Traurig attorney this week defended his recommendation that a Florida biotech company halt trading of its stock because of anonymous accusations against its subsidiary, as trial continued over the company's malpractice claim against the law firm. Dyadic Inc. v. Greenberg Traurig, 2009CA010680.
"It was incumbent on the company under applicable SEC rules, as well as American Stock Exchange rules, as well as its contractual obligations to the pipe investors, to disclose these events," Andrew Balog said under cross-examination Wednesday when explaining why he recommended Dyadic International temporarily suspend trading issue a press release stating its financials could not be relied upon after emails accusing a subsidiary of financial improprieties.
Dyadic International had received a clean financial audit from accounting firm Ernst & Young less than a month before anonymous emails in April 2007 surfaced charging its Hong Kong-based subsidiary, Puridet, of financial wrongdoing related to a scheme to avoid value-added taxes.
Dyadic claims Balog and other Greenberg Traurig lawyers improperly recommended the company publicly disavow its clean financial statement and halt trading, which sent the company into a spiral that led to its delisting by the American Stock Exchange. Dyadic attorneys contend the fallout from Greenberg Traurig's recommendations slashed the company's value by $185 million, and cost it more than $700 million in lost business.
During Tuesday's direct exam, Balog acknowledged that he recommended the company issue a press release and temporarily halt trading without first determining whether the Puridet charges were material to Dyadic's financials or rendered the financial report misleading.
However, on cross-exam, Balog said exchange rules and the company's responsibility to investors warranted disclosure. "It's not a hindsight test. It's not 'consciously avoid what you know and then wait until some future date to verify what you know is true or not,'" Balog said. "You have a duty, based on what you know at the time, to make affirmative disclosures and that's what Greenberg recommended to the company."
Balog said the recommendation was also made with an eye toward the company's perception by regulators. "You want to demonstrate that you're a good citizen, that you're not hiding anything," Balog said. "By being proactive and preemptive with the Exchange, it was intended to demonstrate to the Exchange that 'Hey, the company's trustworthy, the company's credible, and is trying to do the right thing.'"
Dyadic contends stock market regulations did not require disclosure before a deeper investigation into the charges outlined in the email. The email allegations eventually led to a dispute that saw founder and CEO Mark Emalfarb dismissed before being reinstated a year later. The company ultimately wrapped up an SEC inquiry over the email allegations without paying a fine, according to published reports.
Trial in the case is expected to continue through the month.
Email Arlin Crisco at acrisco@cvn.com.
Related information
Dyadic International is represented by Steven Katzman and Charles Bennardini, of Katzman, Wasserman, Bennardini & Rubenstein.
Greenberg Traurig LLP is represented by Stuart Singer, Markenzy Lapointe, and Lauren Louis, of Boies, Schiller & Flexner, LLP.
Watch the trial live and on demand.
Not a subscriber?
Learn how you can watch blockbuster civil litigation, in Florida and across the country.