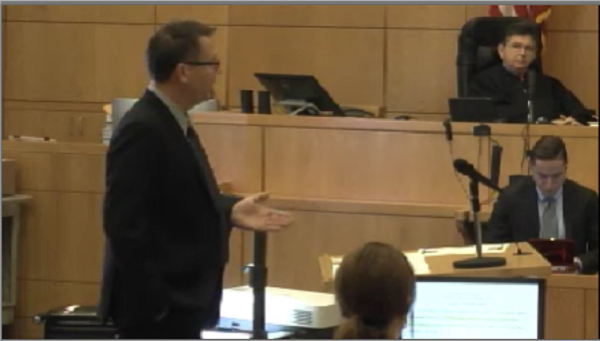 Matthew Schultz delivers closing arguments in his client Micah Danielson's suit against Philip Morris for the lung cancer death of her husband, Lamar. Jurors awarded $325,000 in punitives Thursday, bringing the total jury verdict to $650,000.
---
Pensacola, FL—Philip Morris was found liable for $325,000 in punitive damages Thursday for its role in the lung cancer death of a 42-year-old mortician who smoked the company's Marlboro cigarettes for most of his life. Danielson v. Philip Morris, 2007-CA-002737.
The award, along with Wednesday's $325,000 compensatory award, delivers $650,000 to Lamar Danielson's widow, Micah, and the couple's three children in a suit claiming Philip Morris' part in a decades-long tobacco industry conspiracy to hide the dangers of cigarettes led to Danielson's nicotine addiction and fatal cancer.
However, the jury's failure to award more than $2.3 million in stipulated economic damages Wednesday means the ultimate judgment could be increased to nearly $3 million post-trial.
Danielson, who helped run a family-owned funeral home, started smoking when he was 14 and continued the habit for more than 25 years, successfully quitting a year before his 1995 death from lung cancer. While the trial's first phase focused on whether nicotine addiction led to Danielson's cancer, the two-day punitive phase centered largely on whether changes to Philip Morris and the tobacco industry as a whole over the last 20 years mitigated against punitive damages for the company's prior conduct.
During Thursday's closing arguments, Shook Hardy's William Geraghty, representing Philip Morris, argued participation in a sweeping tobacco settlement agreement, combined with federal regulation on cigarettes and restrictions on tobacco marketing, ensure the public now fully understands the dangers of smoking, and has significantly reduced youth smoking rates.
In light of those changes, Geraghty claimed the $7.5 million in punitives Micah Danielson's attorneys sought was unreasonable. "That number is the kind of number you would see in a lottery. That's a lottery ticket for the plaintiff," Geraghty said. "(It's) not a number that has any bearing on reality or the evidence you've heard in this case."
But, Levin Papantonio's Matthew Schultz, representing Micah Danielson, argued Philip Morris changes weren't significant. Schultz claimed the company's attorneys continued to deny nicotine addiction caused disease and noted the Marlboros Lamar Danielson smoked throughout his life remained the top-selling cigarette in the country and continued to contain ammonia, as they had for decades. "When you deliberate, ask yourself how different, really, is Philip Morris today from the Philip Morris you saw throughout the (first phase of) trial," Schultz said.
Neither the parties' attorneys nor Philip Morris representatives could immediately be reached for comment.
Email Arlin Crisco at acrisco@cvn.com.
---
Related Information
Levin Papantonio's Matthew Schultz, Rachael Gilmer, and Wesley Bowden represent Micah Danielson.
Shook Hardy's William Geraghty and Hassia Diolombi represent Philip Morris.
Read about the verdict in the first phase of the trial.
Read about Micah Danielson's testimony during the trial.
Watch coverage of the trial live and on demand.
Not a subscriber?
Learn more about CVN's unrivaled tobacco litigation library.