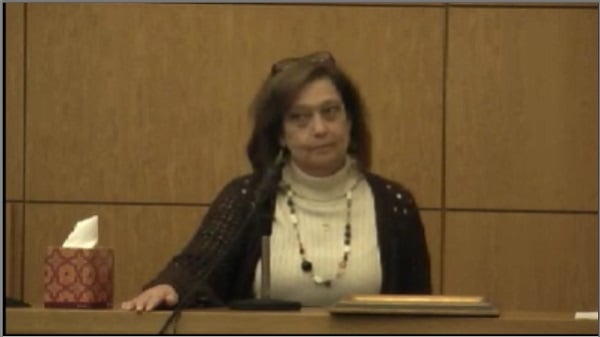 Micah Danielson testifies her husband Lamar Danielson, a smoker for more than 25 years, could not stop smoking until after he was diagnosed with lung cancer. She claims Philip Morris hid the dangers and addictiveness of cigarettes, causing her husband's fatal cancer.
---
Pensacola, FL—The widow of a Florida mortician told jurors Thursday that her husband tried unsuccessfully to stop smoking for years, but succeeded only after he was diagnosed with the cancer that eventually killed him, as trial continued in her suit against cigarette maker Philip Morris.
Lamar Danielson, a smoker for more than 25 years before his 1994 cancer diagnosis, tried and failed at least twice to quit smoking his preferred Philip Morris-brand Marlboros, but "everything just felt like it was coming unglued," his widow, Micah, testified. "He would say his teeth even hurt."
Born in 1953, Lamar Danielson, the director of his family's funeral home in Pensacola, started smoking before he was 15, and continued smoking Marlboros until doctors diagnosed him with lung cancer. He died from the disease in 1995.
Micah Danielson contends her husband's death stemmed from an addiction to cigarettes fueled by Philip Morris' role in a decades-long conspiracy to hide the dangers of smoking.
During trial Thursday, Danielson said throughout much of their marriage, her husband would begin and end each day smoking while sitting on the side of the couple's bed, and could not go the length of a movie without needing a cigarette. "We would smoke a cigarette right before we went in (to a movie theater)," Danielson told jurors. "But, without fail, he would get up during the movie at least once and go back to the lobby and smoke. And then as soon as we went out the doors (when the film ended) he would light up."
Danielson said her husband complained of nervousness, jitters, and anger in two failed attempts to quit before 1994. "I defined him as the perfect husband earlier (in the day) but even perfection has a few flaws," she said,
However, on cross examination, Danielson, who quit smoking herself after her husband's cancer diagnosis, acknowledged her husband never tried to quit before 1987, despite warnings from her sister, who worked in an oncology unit.
Instead, Danielson said she "assumed" her husband enjoyed smoking at the time.
The Danielson case is one of thousands of similar Florida suits filed against the nation's tobacco companies. They stem from Engle v. Liggett Group, a 1994 class action suit in which a jury found tobacco companies knowingly produced dangerous addictive cigarettes and subsequently hid those dangers from the public. The Florida Supreme Court subsequently decertified the class on appeal, but its holding allows individual plaintiffs to rely on the jury's conclusions in the original trial if they can prove the smokers at the center of their cases suffered a smoking-related disease caused by an addiction to cigarettes.
Because Philip Morris acknowledges cigarettes caused Lamar Danielson's lung cancer, the question of addiction plays a central role in the trial. Philip Morris attorneys, led by Shook Hardy's William Geraghty, described Danielson as a man who smoked because of enjoyment rather than addiction and never wanted to quit until after he learned he had cancer.
"For the entire 19 years that they were together as a couple (before the cancer diagnosis), neither Lamar nor Micah Danielson had concerns about their health or any real interest in quitting smoking," Geraghty said. "They smoked cigarettes because that's what they wanted to do."
By contrast, Micah Danielson's legal team, led by Levin Papantonio's Matthew Schultz, described Danielson's smoking history as a "textbook case of addictive smoking," that ultimately killed him.
On Monday, Dr. Kenneth Cummings, an addiction expert and professor at the Medical University of South Carolina, said he believed Lamar Danielson was heavily addicted to nicotine, based on Danielson's behavior. "If you're smoking first thing before you plant your foot on the floor in the morning, you're addicted. If you're smoking just before you go to bed at night, if you're waking up in the middle of the night to have a cigarette, these are all strong indications of heavy dependence," Cummings said.
However, on cross-examination Wednesday, Cummings acknowledged Lamar Danielson continued to drink alcohol and his wife continued to smoke during his failed quit attempts, which Cummings conceded violated "commonsense" tips he advocated to increase the odds a smoker will succeed in quitting permanently.
Closing arguments are expected early next week.
Neither the parties' attorneys nor Philip Morris representatives could be reached for comment.
Email Arlin Crisco at acrisco@cvn.com.
---
Related Information
Levin Papantonio's Matthew Schultz, Rachael Gilmer, and Wesley Bowden represent Micah Danielson.
Shook Hardy's William Geraghty and Hassia Diolombi represent Philip Morris.
Watch coverage of the trial live and on demand.
Not a subscriber?