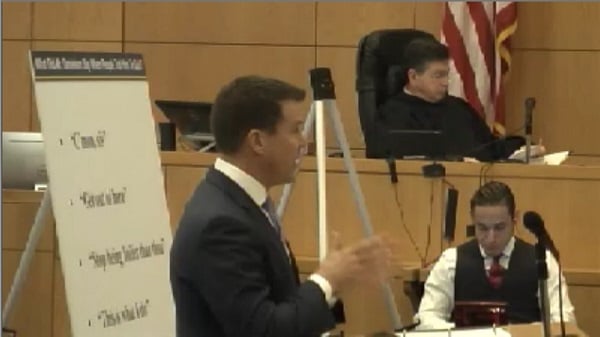 William Geraghty delivers closing arguments on behalf of Philip Morris in Micah Danielson's suit against the company. Danielson's husband, Lamar Danielson, died of lung cancer at 42, after 25 years of smoking primarily Philip Morris cigarettes. Jurors awarded $325,000, plus potential punitive damages, to Danielson's family Wednesday.
---
Pensacola, FL—Jurors Wednesday found Philip Morris responsible for the nicotine addiction and cancer death of a 42-year-old Florida mortician who smoked for more than 25 years. But, they failed to follow instructions to award more than $2.3 million in economic damages, issuing only $325,000 in compensatories, plus potential punitives, instead. Danielson v. Philip Morris, 2007-CA-002737.
The jury awarded Micah Danielson $25,000 in economic damages for the 1995 lung cancer death of her husband, Lamar Danielson, and awarded $100,000 for pain and suffering to each of the couple's three children.
It rejected Micah Danielson's claim for pain and suffering.
Wednesday's verdict, which also found Philip Morris liable for potential punitive damages to be determined in the trial's second phase, seemingly disregarded Judge Michael Jones' instructions requiring it award more than $2.3 million in total economic damages, agreed upon by the parties, if it found for the plaintiff.
Lamar Danielson, who operated a funeral home started by his family, died in 1994, a year after being diagnosed with lung cancer, and following more than 20 years of smoking Philip Morris-brand Marlboro cigarettes. Micah Danielson claims Philip Morris' role in a decades-long conspiracy to hide the dangers of cigarettes caused her husband to begin smoking at 15, and fueled a nicotine addiction that ultimately killed him.
Judge Jones published Wednesday's verdict without issuing a curative instruction, after both sides argued for publication.
The economic damage award will likely be corrected on post-trial motions, increasing the final compensatory award to more than $2.6 million.
The decision capped the trial's two-week-long first phase, which focused largely on whether Danielson was addicted to smoking and knew of its dangers.
The defense argued Danielson smoked by choice rather than out of addiction and contended he was keenly aware of smoking's health risks. During Tuesday's closing arguments, Shook Hardy's William Geraghty reminded jurors Danielson was described as enjoying smoking and never tried to quit until the late 1980s, when he stopped for four months while his wife continued to smoke.
"Just think about that for a moment: the fact that he quit for four months under those circumstances demonstrates that he had tremendous control over his cigarette smoking when he wanted to do so," Geraghty said. "And he did the same thing in 1994 (after his cancer diagnosis), but this time he quit smoking for good because at that point he knew he had to."
Geraghty also argued Danielson's career preparing bodies for burial gave him first-hand knowledge of smoking's hazards. "There is no question Lamar Danielson regularly (saw) the difference between the healthy lungs of a non-smoker and the dark and diseased lungs of a heavy cigarette smoker. He (saw) the fingers and nails of smokers that are coated with nicotine," Geraghty said. "And Mr. Danielson (first learned) all of this when (he was) at mortuary college, when (he was) 18, 19, 20 years old, around the same time (he was) smoking cigarettes on a more regular basis."
However, Micah Danielson's attorneys contend her husband was so addicted to nicotine he began and ended each day by smoking and could not go the length of a movie without needing a cigarette. During Tuesday's closings, Levin Papantonio's Matthew Schultz reminded jurors addiction expert Dr. Kenneth Cummings concluded Danielson was addicted to cigarettes, while Danielson's family described him as a "nervous wreck" and "about to come unglued" during two failed quit attempts before his cancer diagnosis.
"If we were talking about methamphetamine or crack cocaine, and somebody's dosing themselves hundreds of times a day with that drug, is there any question that's addictive behavior, that you're talking about a drug addict? Well nicotine is a drug," Schultz said. "You can simply use your common sense, and the evidence in this case will tell you, (Lamar Danielson's smoking) is textbook addictive behavior."
In requesting more than $16 million in compensatories, Schultz argued Danielson's alleged addiction was the intended result of a tobacco industry-wide plan to drive profits. Schultz reminded jurors of Philip Morris internal documents, concealed throughout much of the latter half of the 20th century, detailing the addictiveness of cigarettes. "(Lamar Danielson) had no idea what he was up against. This goes all the way back to before (he) ever picked up a cigarette," Schultz said. "They studied nicotine, they studied smokers, they studied it all—you heard it directly from Dr. Cummings—not to reduce the addictiveness of their products, but to maximize addiction."
The Danielson case is one of thousands of similar Florida suits filed against the nation's tobacco companies. They stem from Engle v. Liggett Group, a 1994 class action suit in which a jury found tobacco companies knowingly produced dangerous addictive cigarettes and subsequently hid those dangers from the public. The Florida Supreme Court subsequently decertified the class on appeal, but its holding allows individual plaintiffs to rely on the jury's conclusions in the original trial if they can prove the smokers at the center of their cases suffered a smoking-related disease caused by an addiction to cigarettes.
The trial's punitive phase, which began Wednesday afternoon is expected to close Thursday.
Neither the parties' attorneys nor Philip Morris representatives could immediately be reached for comment.
Email Arlin Crisco at acrisco@cvn.com.
---
Related Information