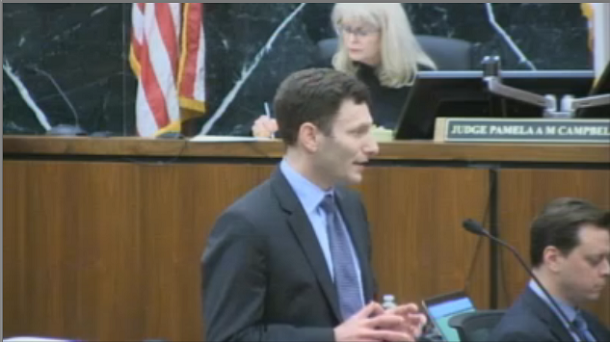 Michael Berry addresses the jury during the punitive phase in wrestler Hulk Hogan's suit against Gawker Media, Nick Denton, and A.J. Daulerio.
---
St. Petersburg, FL—Jurors Monday imposed a $25.1 million punitive verdict on Gawker Media, its founder, and its former editor for the company's publication of a sex video involving wrestler Hulk Hogan, driving the total award past $140 million in the blockbuster invasion of privacy case. Bollea v. Gawker Media LLC, 2012CA01244.
The jury took less than five hours to reach its decision on punitives, which included $15 million against the company, $10 million against Gawker founder Nick Denton, and $100,000 against A.J. Daulerio, former editor-in-chief of the company's celebrity website.
The punitive award follows Friday's $115 million compensatory award in the case.
Hogan's attorney, Bajo, Cuva, Cohen & Turkel's Kenneth Turkel did not request a specific punitive amount when addressing jurors before Monday's deliberations.
The punitive verdict caps a two-week trial over Gawker's 2012 publication of a video clip featuring the Hogan with Heather Clem, then-wife of Hogan's friend, radio personality Bubba "The Love Sponge Clem. The video was allegedly shot by Bubba Clem at the Clems' house and without Hogan's knowledge.
Gawker, which allegedly received the 30-minute video from an unknown source, published a 1-minute, 41-second clip of the footage, accompanied by written commentary from Daulerio. Hogan, whose legal name is Terry Bollea, claims the defendants invaded his privacy and sought to embarrass him for profit. Gawker countered Hogan's prior public discussion about his sex life made the clip newsworthy.
Following Friday's verdict on liability, Monday's punitive phase focused on the defendants' financial health and whether additional damages were warranted in the case. On Monday, Turkel walked jurors through Gawker's financial records as well as company documents describing its editorial department as earning both "acclaim and scorn" for its reporting decisions. "So even at a time when it's pitching itself to investors, we get this pride, this badge of honor, that [Gawker does] things that other won't," Turkel said.
Turkel told jurors their punitive award should signal their opinion of Gawker's reporting. "You send a message, you make a statement, that statement is 'We're going to draw the line,'" Turkel said. "Literally, you draw the line at the publication, without consent, of a private act accorded in a private bedroom."
However, the defense urged jurors to decline to impose punitives, and argued the $115 million compensatory award alone could devastate the company, worth $83 million, and its founder. During Monday's arguments, Levine, Sullivan, Koch & Schulz's Michael Berry noted the $115 million in compensatories exceeds the company's revenue last year by more than $65 million. "That [$115 million] amount has already punished Nick Denton more than enough," Berry said. "He's poured his savings into the company."
While the monumental award concludes this chapter of the case, it likely will not end the battle between the parties. Gawker's representatives have already signaled their intent to appeal the verdict, based in part on trial judge Pamela Campbell's rulings limiting evidence Gawker sought to introduce.
In a press release Monday afternoon, Gawker stated, "There is so much this jury deserved to know and, fortunately, that the appeals court does indeed know. So we are confident we will win this case ultimately based on not only on the law but also on the truth."
Neither Hogan's attorneys nor his representatives could immediately be reached for comment.
Email Arlin Crisco at acrisco@cvn.com.
---
Related Information
Terry Bollea, aka Hulk Hogan, is represented by Kenneth Turkel and Shane Vogt, of Bajo Cuva Cohen Turkel PA, and Charles Harder, of Harder Mirell & Abrams LLP.
Gawker Media is represented by Michael Sullivan and Michael Berry of Levine Sullivan Koch & Schulz LLP.
Watch gavel-to-gavel coverage of Bollea v. Gawker on demand.
Not a subscriber?
Learn how you can watch this trial and other blockbuster trials across the country.