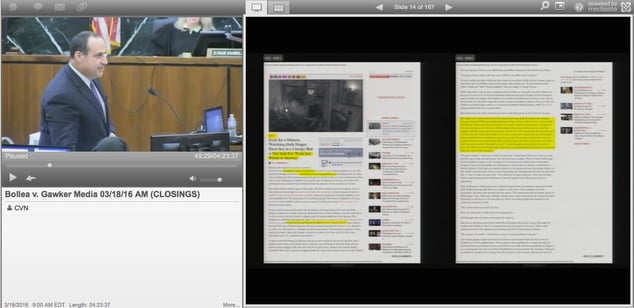 Hulk Hogan's attorney Ken Turkel shows jurors during his closing argument the original Gawker article at issue in the trial. Click here to see video from the courtroom via CVN.
St. Petersburg — A Florida state court jury on Friday socked online news outlet Gawker Media LLC with a ground-shaking $115 million verdict in Hulk Hogan's invasion of privacy lawsuit over the website's publication of excerpts of a sex tape featuring the former professional wrestler, with the potential for additional punitive damages to come.
The jury deliberated for roughly six hours before awarding Hogan, whose legal name is Terry Bollea, $55 million for economic harm and $60 million for emotional distress. The amount exceeded the $100 million that Hogan's attorneys originally asked the jury to award, and a second phase of the trial to determine punitive damages begins on Monday.
Hogan sued Gawker after the site in 2012 published excerpts of a sex tape showing him having sex with Heather Clem, the wife of Hogan's good friend and Florida radio DJ Todd Clem - known popularly as "Bubba the Love Sponge" - who filmed the 2006 encounter. Gawker maintains it received a DVD of the tape anonymously in the mail and that it had legitimate news value, but Hogan argued he didn't know he was being filmed at the time and that publishing the tape violated his right to privacy.
Hogan's team characterized the verdict as "a statement as to the public's disgust with the invasion of privacy disguised as journalism," while Gawker chief Nick Denton issued a statement saying the jury didn't get to consider key evidence and witnesses, and that the company planned to appeal.
"Given key evidence and the most important witness were both improperly withheld from this jury, we all knew the appeals court will need to resolve the case," Denton said, seeming to refer to testimony from Mr. Clem, who invoked his 5th Amendment privilege to avoid testifying in the case. Clem had initially told federal investigators that Hogan knew he was being filmed having sex with Mrs. Clem, but Mr. Clem later suggested Hogan didn't know a camera was present.
The privately-held Gawker will likely have to reveal detailed information about its finances during the punitive damages phase of the trial. In January Gawker sold a minority stake, a first for the company, to Columbus Nova Technology Partners in a move that Denton said was largely motivated by the expense of defending against Hogan's suit and in preparation for a potential adverse verdict.
Both Hogan and Gawker are represented in Judge Pamela Campbell's Pinellas County courtroom by high-powered legal teams featuring prominent Florida attorneys and a number of co-counsel from the East and West Coasts.
Hogan is represented by Kenneth Turkel and James Voght of Tampa-based Bajo Cuva Cohen Turkel PA, along with Charles Harder of the Beverly Hills-based Harder Mirell & Abrams LLP.
Gawker is represented by Michael Sullivan out Levine Sullivan Koch & Schulz LLP's Washington DC office and by Michael Berry out of the firm's Philadelphia office.
The first phase of the trial was webcast and recorded gavel-to-gavel by Courtroom View Network, and CVN will be on hand to provide continuing coverage for the duration of the proceedings.
The case is Bollea v. Gawker, case number 2012CA01244. in the Sixth Judicial Circuit of Florida.
E-mail David Siegel at dsiegel@cvn.com
Not a subscriber?
Learn how you can watch gavel-to-gavel coverage of Bollea v. Gawker Media, et al., and other blockbuster trials, throughout Florida and across the nation.