Stock image.
---
Our Engle cards track the CVN trial stats of some of the best attorneys on both sides of Florida's unique tobacco litigation. "Engle prodigy" cases, as they're widely known, include thousands of claims spun off from a decertified class action against the nation's tobacco companies, with the first Engle prodigy trial dating back to 2008. This week, we're featuring Scott Schlesinger, an attorney whose Engle resume includes a half-dozen eight-figure-plus verdicts across a decade of trials.

Engle Trading Card Series 4, No. 3
Scott Schlesinger, Schlesinger Law Offices, P.A.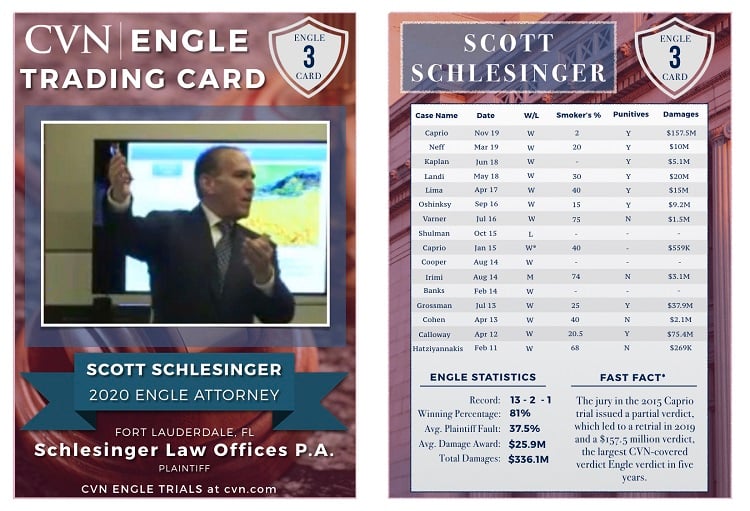 ---
Scott Schlesinger's exemplary 13-2-1 record in CVN-covered Engle trials stretches back to 2011 and places him among the the most successful lawyers in tobacco litigation. His wins include six verdicts of eight figures or more, and eight trial wins that secured punitive damages. His most recent win, a $157 million-plus verdict in 2019's Caprio case, over the respiratory disease-related death of a Florida smoker, was the largest Engle award in five years.
Come back next week to see which leading defense attorney we'll feature.
Email Arlin Crisco at acrisco@cvn.com.
Related Information
Watch all of Scott Schlesinger's trials.
Not a subscriber?
Learn how you can access an unrivaled tobacco litigation library.