Joseph Wilson, of JL Wilson Trial Law, contends Loomis Armored delayed in admitting responsibility for the armored truck crash that fractured Kirche Hall's arm.
---
This is part of CVN's Trial Stories, spotlighting top lawyers and their standout trials.
"This is a case about a young woman who has a caregiver's heart, but no longer has a caregiver's future," Joseph Wilson told jurors as trial opened over the armored truck crash that shattered a Georgia woman's arm.
It was a theme intended to resonate with jurors as they saw Kirche Hall, whose injury ended her career as a certified nursing assistant. But it also set up a larger contrast Wilson framed for the jury: the empathetic caregiver v. the evasive corporation. And that approach secured a $584,000 verdict in the type of case — because Hall had largely recovered from her injury — that carried the possibility of a much lower award.
"Personally, I like when a trial has disputed liability," Wilson, of Atlanta's JL Wilson Trial Law, told CVN. "When it's just damages, like in this case, the defense can say things like 'We're sorry this happened and we're here to compensate this woman for her injuries,' when in reality we know that's not necessarily the case. Meanwhile, they make it seem as if we're being unreasonable in just seeking fair compensation.

"Those are the challenges in damages-only cases. There's sometimes just not as much heat to ensure that fair compensation."
Wilson spoke with CVN about his approach to the case and how he added that "heat" to secure the verdict against Loomis Armored in a case that made headlines.
From Crash to Court: Building the Trial Story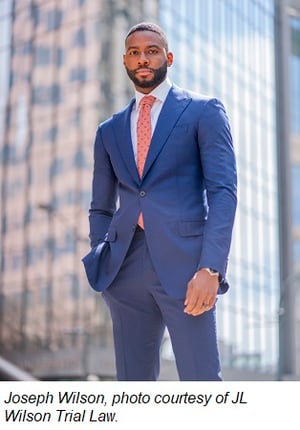 The case was scheduled to be a contest over liability until weeks before the trial date. Hall's arm was shattered in 2017 when a Loomis Armored-owned truck hit her car after its driver failed to stop at a traffic signal. That injury forced Hall to undergo surgery and treatment totaling nearly $100,000, with doctors saying she'd likely never be able to return safely to work as a CNA.
Wilson had come into the case early on, joining attorney Leonard Mathis, of the The Law Office of Leonard T. Mathis. "It was an opportunity for me to work with a friend who's a good lawyer," Wilson said about joining the case, "and for us to put our heads together and try and get the best result for this client."
Loomis ultimately admitted liability, however, after Wilson and Mathis obtained the truck's dashcam footage, showing the company's driver ignored the traffic signal as he turned left at an intersection, striking Hall's car.
But liability had never been a hurdle Wilson and Mathis thought would be difficult to overcome. Instead, it was the injury itself, Wilson said, that he saw as the case's biggest potential challenge. Hall had largely recovered from the butterfly fracture to her arm, with experts concluding the injury left her with only a 10 percent upper extremity impairment rating,
"We knew the defense was going to focus on that impairment rating and argue that her long-term future damages weren't substantial," Wilson said. "And we had to overcome that."
The key was Hall herself, and her "caregiver's heart," as Wilson would describe it. Although the impairment rating was minimal, the injury was significant enough for doctors to conclude she would not have the strength to safely return to work as a CNA.
And that, Wilson said, was a job that came naturally to Hall. In her early 20s she had fallen in love with care giving after being asked by her family to care for her grandmother and great-grandmother. "Even in her 20s, she was one of the leaders of her family," Wilson said. "Her family didn't choose one of the 30, or 40, or 50-year olds to take care of the family matriarchs, they chose Kirche."
That experience led Hall to move into work as a CNA, with dreams of launching her own business before the crash.
The loss of that dream would be central to the case's resonant theme. Wilson said he developed the trial's story as he typically does, through spending hours with his client, getting to know her beyond the case itself. "Leonard and I took the time, on multiple occasions to meet with Kirche, to get to know her, to understand her and ultimately care about her, and that's how that story was revealed," Wilson said, adding he believes that's the way the best trial themes develop.
"It's really about putting in the time with the client, actually spending time with them, face-to-face, pre-covid obviously," Wilson added, laughing. "You need to spend time in their home talking with them about their life and how they grew up. You need to know what they wanted to do with their lives, what they've lost, what hurts, what bothers them, what gives them anxiety.
"Until you really start to care about them and understand what they're going through, you're not going to be able to tell a great story about what happened to them to the jury."
That narrative would prove to be a centerpiece of the trial, brought out through the testimony of Hall and her family. "I think we did a good job of describing her story," Wilson said.
The Caregiver Faces the Corporation
Joseph Wilson questions Loomis corporate representative Andrew Dowling on Loomis Amored's response to the armored truck crash that injured Kirche Hall.
---
While Hall's story was powerful, Wilson still faced a defendant that had admitted responsibility for the wreck and would try to minimize the injury's fallout, arguing Hall had gone on to become a teacher's assistant, and earned more money in the year before trial than she had working as a CNA in Georgia.
To counter the defense's approach, and bring important "heat" to the trial, Wilson painted Loomis as a company that denied responsibility for two years after the accident, despite knowing all that time that their driver was at fault.
And he put a face on that denial, with Loomis corporate representative Andrew Dowling. Wilson opened the trial's testimony with Dowling, and went hard at the company's local branch manager, seeking, Wilson said, to portray him as a "professional witness" interested only in skirting responsibility for the crash.
Wilson's questioning focused on the fact that Dowling and others in the company saw the video showing their driver ignored the traffic signal days after the accident but officially admitted liability only as the trial date loomed.

Wilson said his approach to cross-examining Dowling was framed by his earlier deposition of the corporate rep. "I took his deposition early in the case and found him to be very evasive," Wilson said. "He was trying to skirt around a lot of questions that were very direct and very specific, that he just didn't want to answer. And I figured the jury wasn't going to like that if he came across that way at trial, which of course, he did."
And during a sometimes tense back-and-forth at trial, Wilson dissected that prior deposition testimony in order to impeach Dowling's statements on the witness stand about the company's intentions.
"I think that directly contradicted the position his lawyers were taking that Loomis wanted to do the right thing, that Loomis always took this case seriously, and they wanted to do right by Kirche," Wilson said,
It was an approach aimed to paint Dowling and by extension, Loomis, in stark contrast with Hall.
"When we spoke to the jury they didn't think too highly of him," Wilson said. "I think they saw through him and saw his testimony as what it really was, which was hypocrisy. Despite what Loomis said, they were never really serious about doing the right thing with Kirche."
Putting a Number on Loss
With that framework set up, Wilson placed a number on Hall's loss early in trial, requesting more than $3 million in economic damages alone during openings. Wilson said he put a number on the board early because he suspected, ultimately correctly, that the defense would decline to put on evidence, pushing Wilson to appear second in closings.
"I didn't want them to put the number out there first as to what the case value was," he said.
Wilson said his approach to non-economic damages is framed by his mentor, Carpenter, Zuckerman & Rowley's Nick Rowley, with a focus on highlighting each and every element allowed for non-economic compensation.
"Some people don't like the phrase 'pain and suffering' and what they think it means, so we break it down for them," Wilson said. "I'll say, 'Her loss of enjoyment of life, in the past, present, and future is worth this. Her physical limitations, in the past, present, and future, are worth this amount. And we have a story for each and every one of those elements.
"I think it makes it more real for the jury."
In the end, the jury's $584,000 verdict was in the upper half of a focus group range. More importantly, Wilson said, it brought Hall the closure she needed.
"After the accident, when the doctor said it's not in your best interest to continue this work you love, it's not in the patients' best interest, you know, that really broke her heart," Wilson said. "Ultimately, the jury wanted to help her."
Email Arlin Crisco at acrisco@cvn.com.
Related information
Joseph Wilson practices at JL Wilson Trial Law.