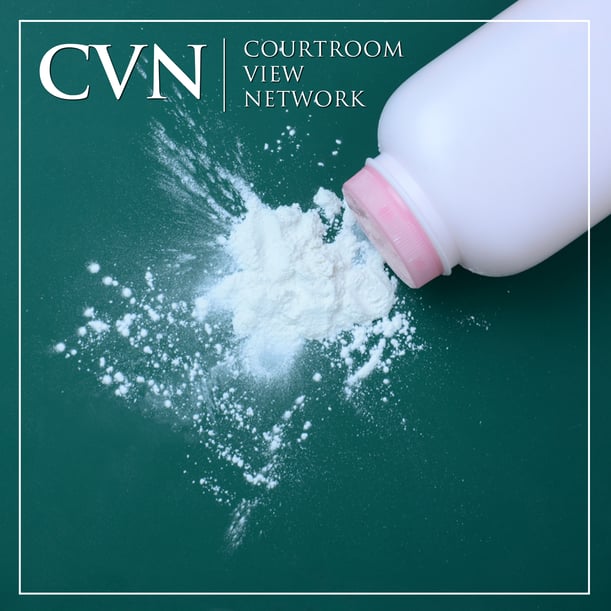 Seattle, WA - A Washington state court jury heard opening statements Tuesday in a remotely-held jury trial involving claims that asbestos allegedly present in Johnson & Johnson's cosmetic talc products caused a woman's fatal cancer, and audio of the proceedings is being webcast gavel-to-gavel by Courtroom View Network.
The trial in the case brought by plaintiff Wendi Hirshberg and her husband Richard is among the first cosmetic talc trials to take place since last year's Covid-19 shutdown and is also among the first cosmetic talc trials to take place virtually. Last year CVN webcast the first virtual talc trial involving Johnson & Johnson.
In addition to webcasting live and on-demand audio of the current Seattle trial, CVN is recording video of the trial, which will be available as part of CVN's trial video library after the trial concludes. CVN similarly covered a virtual non-talc asbestos trial earlier this year in Seattle, which ended in a defense verdict.
King County has become one of the leading jurisdictions in the country in terms of regularly holding jury trials via the Zoom platform in civil cases. The Hirshberg trial and other virtual trials in Seattle have gained the attention of attorneys and judges nationwide, as the procedures now repeatedly and successfully implemented in King County could serve as the framework for virtual trials in other jurisdictions.
During her opening statement on behalf of Hirshberg, a former teacher born in 1961, attorney Jessica Dean of the Texas-based firm Dean Omar Branham Shirley LLP told jurors her client used products like Johnson's Baby Powder that supposedly contained asbestos for over 50 years.
Dean said jurors would see evidence that showed J&J knew for much of that time that its cosmetic talc products contained asbestos but withheld that information from the public to protect the sales of popular products.
"We are not judging them on what they know today but what they knew for the decades that Wendi used their product," Dean said. "And what they knew by 1971 clearly is that asbestos was in their mine, they couldn't get it out, and healthcare professionals said not one fiber is okay."
Dean told jurors that Hirshberg's diagnosis of mesothelioma, a rare cancer frequently associated with asbestos exposure, came as the surprise result of Hirshberg receiving a CT scan following a bike accident.
She said nothing in Hirshberg's history could point to any source of asbestos exposure other than cosmetic talc.
"Lawyers spent days talking to Wendi. They talked to her parents, they talked to her husband, they talked to her kids, and the only exposure that anyone says is likely, that makes sense, is to cosmetic talc," Dean said, noting that subsequent tests on a lung removed from Hirshberg supposedly showed the presence of talc.
Dean did not ask for a specific amount of damages in her opening statement, but she did tell jurors that Hirshberg has endured 11 surgeries and numerous rounds of chemotherapy and radiation.
"This is not isolated, there has been no apology," Dean said. "There is a strategy to compromise and attack. And at the end of the day this is not an accident, it is a cancer that has absolutely been shown in the published literature to be preventable."
In her opening statement on behalf of Johnson & Johnson, attorney Allison Brown of defense powerhouse Skadden Arps Slate Meagher & Flom LLP pushed back forcefully on the claim that Johnson & Johnson intentionally withheld information about alleged asbestos contamination from the public.
"That's not right, that's not fair, and that's not what the evidence is going to show," Brown said.
Brown is a veteran of numerous cosmetic talc trials previously webcast by CVN, securing a defense verdict in the key cosmetic talc jurisdiction of St. Louis, Missouri at one of the last in-person talc trials involving Johnson & Johnson before last year's shutdown.
Brown told jurors that despite years of study, no scientific evidence exists to prove that J&J's cosmetic talc products ever contained asbestos.
"This idea that cosmetic talc could be contaminated with asbestos was not a new idea. It's something that has been raised by scientists for decades," Brown said. "It has been investigated, it has been tested, and it has been proven not to be true."
Brown attacked the idea that J&J withheld information about supposed asbestos contamination in talc from federal regulators, telling jurors that the company worked closely with the FDA specifically to confirm their products were safe.
"When the Food and Drug Administration asked us to do something, Johnson & Johnson did it," Brown said, later noting that J&J specifically helped fund studies to determine the potential mesothelioma risk for talc miners.
Brown said those studied showed talc miners who were exposed to substantially higher-than-average amounts of talc dust did not develop mesothelioma at greater rates than the general population. She also told jurors that less than 500 women a year are diagnosed with the the type of mesothelioma Hirshberg has, despite cosmetic talc use being extremely widespread.
"If Johnson's baby powder really had asbestos, if it really caused mesothelioma, then where is the epidemic," Brown asked.
The trial before Judge Suzanne Parisien is expected to take approximately three weeks to complete, and CVN will provide a live and on-demand audio webcast of the proceedings gavel-to-gavel, with gavel-to-gavel video posted after the trial concludes.
In the meantime check out all the other cosmetic talc trials that CVN has covered throughout the country to date, all of which are available (along with hundreds of other trials), with a no-contract $99/month subscription to CVN's trial video library.
The case is captioned Hirshberg v. Johnson & Johnson, case number 20-2-05603-1 SEA in King County Superior Court.
E-mail David Siegel at dsiegel@cvn.com