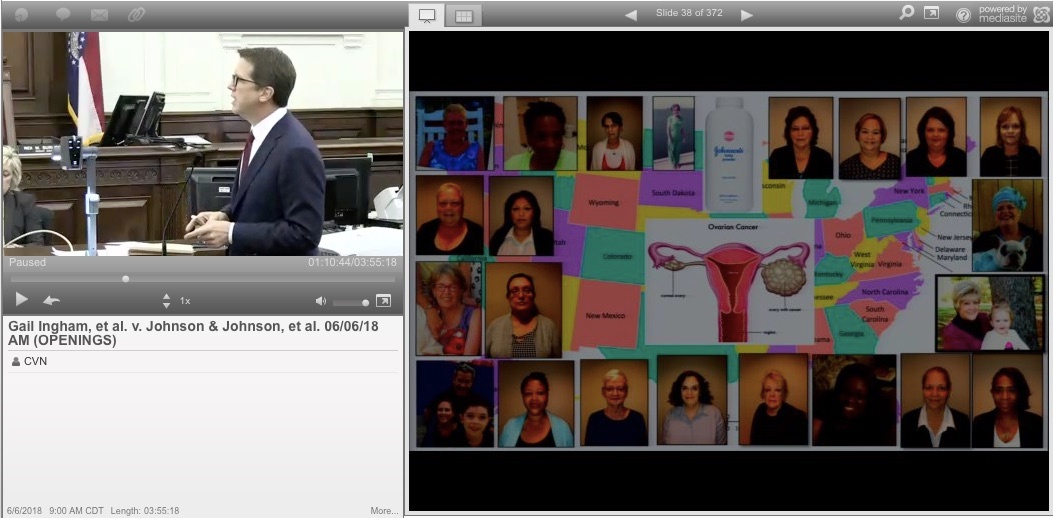 CVN screenshot of plaintiff attorney Marc Lanier delivering his opening statement
Cosmetic talc trials are largely on pause as courts across the country suspend their schedules, but Courtroom View Network still gives you the option of watching top plaintiff and defense attorneys and key expert witnesses in talc cases firsthand, even while working from home, with a CVN video library subscription.
Since cosmetic talc lawsuits exploded into the headlines in 2016 with news of the first major plaintiff verdicts, CVN has been the news organization most dedicated to gavel-to-gavel video coverage of these important trials.
To date CVN has filmed over 25 cosmetic talc trials, including both ovarian cancer and mesothelioma cases, in courts across the United States. For just $99/month with no contract, you get unlimited access to this one-of-a-kind online video archive - an invaluable resource to anyone with a stake in how these cases actually play out in front of real live juries.
Here's a bird's-eye-view summary of all the talc trials included with a CVN video library subscription, in chronological order. Besides talc cases, remember your subscription also gives you unlimited access to hundreds of other trials ranging from traditional asbestos cases to bellwether product liability trials.
1. Gloria Ristestund v. Johnson & Johnson (May 2016)
St. Louis, Missouri (ovarian cancer)
Plaintiff firms: Beasley Allen Law Firm, The Smith Law Firm, Under Shelton O'Leary & Peterson)
Defense firms: Butler Snow, Shook Hardy & Bacon (J&J), Gordon Rees (Imerys)
Trial Outcome: $55 million
2. Deborah Giannecchini v. Johnson & Johnson (October 2016)
St. Louis, Missouri (ovarian cancer)
Plaintiff firms: Beasley Allen Law Firm, The Smith Law Firm
Defense firms: Nelson Mullins Riley & Scarborough, Beck Redden (J&J), Gordon Rees (Imerys)
Trial Outcome: $70 million
3. Nora Daniels v. Johnson & Johnson (February 2017)
St. Louis, Missouri (ovarian cancer)
Plaintiff firms: Beasley Allen law Firm, The Smith Law Firm
Defense Firms: Sidley Austin, Proskauer Rose (J&J), Gordon Rees (Imerys)
Trial Outcome: defense verdict
Notes: 1st talc defense verdict in St. Louis
4. "Science Day" hearing in consolidated talc powder docket in advance of July 2017 trial (March 2017)
Los Angeles County, CA (ovarian cancer)
Plaintiff firms: Robinson Calcagnie, Kiesel Law, The Smith Law Firm, Blasingame Burch Garrard Ashley, Mary Alexander & Associates
Defense firms: Tucker Ellis & West, Shook Hardy & Bacon (J&J), Gordon Rees (Imerys)
5. Lois Slemp v. Johnson & Johnson (April 2017)
St. Louis, Missouri (ovarian cancer)
Plaintiff firms: Beasley Allen Lawn Firm, The Smith Law Firm
Defense firms: Butler Snow, Covington & Burling (J&J), Gordon Rees, Dykema Cox Smith (Imerys)
Trial Outcome: $110 million verdict
6. Michael Blaes v. Johnson & Johnson (June 2017)
St. Louis, Missouri (ovarian cancer)
Plaintiff firms: The Smith Law Firm, Beasley Allen Law Firm
Defense firms: Blank Rome (J&J), Dykema Cox Smith (Imerys)
Trial Outcome: mistrial following U.S. Supreme Court's Bristol-Myers Squibb decision
7. Eva Echeverria v. Johnson & Johnson (June 2017)
Los Angeles County, CA (ovarian cancer)
Plaintiff firms: Robinson Calcagnie
Defense firms: Proskauer Rose, Sidley Austin (J&J), Gordon Rees (Imerys)
Trial Outcome: $417 million plaintiff verdict
Notes: 1st J&J cosmetic talc case in California
8. Tina Herford v. Johnson & Johnson (October 2017)
Los Angeles County, CA (mesothelioma)
Plaintiff firms: Simon Greenstone Panatier
Defense firms: Tucker Ellis, King & Spalding, Orrick Herrington & Sutcliffe J&J), Alston & Bird (Imerys)
Trial outcome: Defense verdict
Notes: 1st J&J cosmetic talc/mesothelioma trial
9. Stephen Lanzo v. Johnson & Johnson (January 2018)
New Brunswick, NJ (mesothelioma)
Plaintiff firms: Kazan McClain Satterley & Greenwood, Levy Konigsberg
Defense firms: Kirkland & Ellis (J&J), Alston & Bird, Rawle & Henderson (Imerys)
Trial outcome: $117 million
Notes: 1st J&J cosmetic talc trial in company's home state of NJ
10. Bertila Boyd-Bostic v. Johnson & Johnson (May 2018)
Darlington County, SC (mesothelioma)
Plaintiff firms: Motley Rice
Defense firms: Nelson Mullins Riley & Scarborough, Wilson & Savage (J&J), Haynsworth Sinkler Boyd (Imerys), Barnes & Thornburg (Rite Aid)
Trial outcome: hung jury
Notes: 1st SC cosmetic talc trial, 1st trial involving Rite Aid
11. Gail Ingham, et al. v. Johnson & Johnson (June 2018)
St. Louis, Missouri (ovarian cancer)
Plaintiff firms: Lanier Law Firm
Defense firms: Orrick Herrington & Sutcliffe (J&J(
Trial outcome: $4.69 billion
Notes: 1st multi-plaintiff cosmetic talc trial, largest talc verdict to date
12. Carolyn Weirick v. Johnson & Johnson (August 2018)
Los Angeles County, CA (mesothelioma)
Plaintiff firms: Simon Greenstone Panatier
Defense firms: Orrick Herrington & Sutcliffe, King & Spalding (J&J), Dentons, Alston & Bird (Imerys)
Trial outcome: hung jury
13. Rosalind Henry v. Johnson & Johnson (September 2018)
New Brunswick, NJ (mesothelioma)
Plaintiff firms: Motley Rice
Defense firms: Weil Gotshal & Manges
Trial outcome: defense verdict
14. Bertila Boyd-Bostic v. Johnson & Johnson (retrial) (November 2018)
Darlington County, SC (mesothelioma)
Plaintiff firms: Motley Rice
Defense firms: Banres & Thornburg, Orrick Herrington & Sutcliffe
Trial outcome: hung jury
15. Terry Leavitt v. Johnson & Johnson (January 2019)
Oakland, CA (mesothelioma)
Plaintiff firms: Kazan McClain Satterley & Greenwood
Defense firms: Neson Mullins Riley & Scarborough (J&J), Dentons (Cyprus Mines)
Trial outcome: $29.49 million
Notes: 1st J&J cosmetic talc trial in Alameda County, CA
16. Ricardo & Pilar Rimondi v. Johnson & Johnson (February 2019)
New Brunswick, NJ (mesothelioma)
Plaintiff firms: Lanier Law Firm
Defense firms: Orrick Herrington & Sutcliffe, Weil Gotshal & Manges
Trial outcome: defense verdict
17. Gail Koretoff v. Johnson & Johnson (March 2019)
Los Angeles County, CA (mesothelioma)
Plaintiff firms: Simon Greenstone Panatier
Defense firms: King & Spalding
Trial outcome: mid-trial settlement
Notes: 1st mid-trial settlement of a J&J cosmetic talc case
18. Patricia Schmitz v Johnson & Johnson, Colgate (April 2019)
Oakland, CA (mesothelioma)
Plaintiff firms: Kazan McClain Satterley & Greenwood
Defense firms: King & Spalding, Foley & Mansfield (J&J), Foley & Mansfield, Barnes & Thornburg (Colgate)
Trial outcome: $12 million
Notes: 1st trial involving both J&J and Colgate
19. Beth-Anee Johnson v. Johnson & Johnson (May 2019)
Richland County, South Carolina (mesothelioma)
Plaintiff firms: Motley Rice
Defense firms: Weil Gotshal & Manges, Nelson Mullins Riley & Scarborough
Trial outcome: defense verdict
20. Barden, et al. v. Johnson & Johnson (July 2019)
New Brunswick, NJ (mesothelioma)
Plaintiff firms: Simon Greenstone Panatier, Levy Konigsberg, Cohen Placitella & Roth
Defense firms: Weil Gotshal & Manges LLP
Trial outcome: $37.3 million (punitive phase to follow)
Notes: 1st multi-plaintiff cosmetic talc trial in NJ
21. Donna Ann Hayes v. Colgate, Johnson & Johnson (July 2019)
Jefferson County, Kentucky (mesothelioma)
Plaintiff firms: Satterley & Kelley
Defense firms: Gordon & Rees (Colgate), Orrick Herrington (J&J)
Trial outcome: defense verdict
Notes: 1st cosmetic talc trial in Kentucky
22. Carolyn Weirick v. Johnson & Johnson (retrial) (September 2019)
Los Angeles County, CA (mesothelioma)
Plaintiff firms: Simon Greenstone Panatier
Defense firms: Orrick Herrington
Trial outcome: defense verdict
23. Brower v. Johnson & Johnson (September 2019)
Fulton County, Georgia (ovarian cancer)
Plaintiff firms: The Smith Law Firm, Beasley Allen Law Firm
Defense firms: Blank Rome, Sidley Austin
Trial outcome: hung jury
Notes: 1st cosmetic talc trial in Georgia
24. Pui Fong v. Johnson & Johnson (October 2019)
Los Angeles County, CA (mesothelioma)
Plaintiff firms: Kazan McClain Satterley & Greenwood
Defense firms: Kirkland & Ellis
Trial outcome: defense verdict
25. Charles O'Hagan v. Johnson & Johnson (December 2019)
Oakland, CA (mesothelioma)
Plaintif firms: Kazan McClain Satterley & Greenwood, Levy Konigsberg
Defense firms: Orrick Herrington, King & Spalding (J&J), Lewis Brisbois (Rio Tinto)
Trial outcome: mid-trial settlement
26. Vickie Forrest v. Johnson & Johnson (December 2019)
St. Louis, Missouri (ovarian cancer)
Plaintiff firms: The Smith Law Firm, Beasley Allen Law Firm
Defense firms: Skadden Arps, Nelson Mullins
Trial outcome: defense verdict
27. Barden, et al. v. Johnson & Johnson (January 2020)
New Brunswick, NJ (mesothelioma)
Plaintiff firms: Simon Greenstone Panatier, Cohen Placitella & Roth, Levy Konigsberg)
Defense firms: Skadden Arps, Orrick Herrington
Trial outcome: $750 million (reduced to $186.5 million)
Notes: 1st punitive phase w/ different jury than compensatory phase in a talc trial
28. Margaret Lashley v. American International Industries (March 2020)
New Brunswick NJ (mesothelioma)
Plaintiff firms: Simon Greenstone Panatier
Defense firms: Lathrop GPM
Trial outcome: trial in recess due to COVID19 outbreak
Notes: 1st trial involving Clubman brand talc products