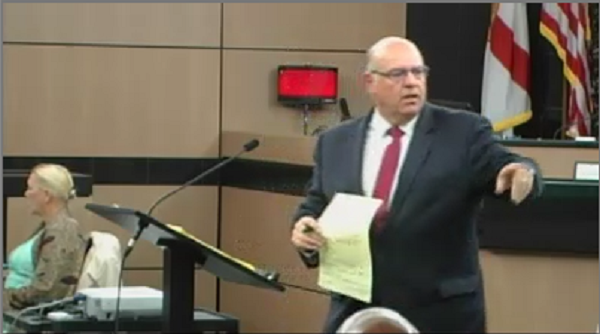 Howard Spier claims his client, Manuel Valdes, was injured in a railway depot yard accident. Jurors Monday found in favor of U.S. Sugar and its short-line railroad in Valdes $2.1 million FELA suit against the companies. Watch the trial on demand.
---
West Palm Beach, FL—U.S. Sugar Corp. and its short-line railroad prevailed Tuesday in a worker's suit claiming a depot yard accident caused his post-concussion tinnitis and required his hip replacement. Valdes v. U.S. Sugar Corp., 2012-CA-017292.
Jurors deliberated for less than an hour before finding U.S. Sugar and South Central Florida Express were not negligent in a 2012 incident in which Manuel Valdes claimed he suffered head, shoulder, and hip injuries while attempting to pull equipment from a pickup truck.

Valdes, who worked for South Central Florida Express, U.S. Sugar's short-line railroad, claimed that he fell from a work pickup truck when a South Central foreman put the truck in motion as Valdes tried to retrieve work gear from the truck's bed. Valdes, who sought up to $2 million in his suit, claimed career-ending injuries he suffered in the accident required two rotator cuff surgeries, a hip replacement, and led to long-term post-concussion tinnitus.
The seven-day trial, brought under the Federal Employers' Liability Act, centered on conflicting descriptions of the accident and whether Sam Mallo, the pickup truck's driver, violated recognized safety procedures.
During closing arguments Friday, Valdes' attorney, Rossman Baumberger's Howard Spier, challenged Mallo's testimony that he moved the truck forward a few feet in order to speak to a friend when the accident occurred. Spier reminded jurors of a statement Mallo gave prior to Valdes's suit in which the foreman claimed he had moved the truck forward "to drive off." Spier argued Mallo's post-accident description was consistent with Valdes' claim that he fell as the truck accelerated. "This is what (Mallo) wrote before Manny Valdes ever hired me," Spier said. "That's what he wrote, and what you write, you stand by. That's the code he needs to understand. What you write is yours."
However, the defense attacked Valdes' credibility surroding the accident's description. In Friday's closings, Melkus, Fleming & Gutierrez's Daniel J. Fleming argued Valdes changed key details of the accident several times. Fleming argued that, prior to trial, Valdes told doctors he was standing inside the truck bed, while during trial he contended he was standing outside the truck reaching into the truck bed. "How do you get around the versions, several that came from Mr. Valdes, where he says he's up in the truck, slamming into the back of the tailgate, and then out the back (of the truck)?" Fleming asked jurors. "There's no way to reconcile that (with his trial testimony). They're inconsistent versions (of events)."
Fleming also challenged Valdes' claim that Mallo broke company safety protocols by failing to check the truck's side mirror before moving the vehicle. Fleming argued there was no evidence supporting Valdes' claim that such a requirement existed. "Are there any witnesses who have (come) in here and verified Mr. Valdes' story about the mirror procedure? Zero," Fleming said.
Neither the parties' attorneys nor representatives for the corporate defendants could be immediately reached for comment.
Email Arlin Crisco at acrisco@cvn.com.
---
Related Information
Manuel Valdes is represented by Rossman, Baumberger, Reboso, & Spier's Howard Spier and Jarrett DeLuca, of Vinas & DeLuca. U.S. Sugar Corp. and South Central Florida Express are represented by Melkus, Fleming & Gutierrez's Daniel J. Fleming.
Read additional coverage on the trial.
Watch gavel-to-gavel coverage of the trial on demand.
Not a subscriber?
Learn how you can watch CVN Florida's unparalleled coverage of the state's key trials.