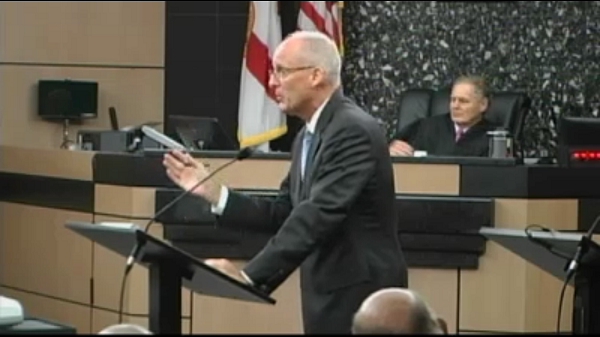 Daniel Fleming tells jurors that Manuel Valdes was not injured in an accident at a South Central Florida Express railroad depot. Fleming represents South Central, and its parent company, U.S. Sugar, in a suit brought by Manuel Valdes.
---
West Palm Beach, FL—As trial opened Wednesday in a rail yard laborer's suit against U.S. Sugar and its short line railroad, attorneys debated the circumstances and severity of the depot accident that allegedly left Manuel Valdes with an artificial hip and post-concussion syndrome.
Valdes v. U.S. Sugar Corp., 2012CA017292.
Valdes, who worked for South Central Florida Express, claims he was injured when he fell from a company truck as it pulled away from the railroad's depot in 2012. He is suing both the railroad and its owner, U.S. Sugar, claiming the truck's driver, company foreman Sam Mallo, failed to check side safety mirrors before putting the truck in motion as Valdes tried to retrieve his backpack from the truck bed.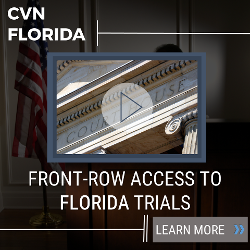 During openings on Wednesday, Valdes' attorney, Rossman, Baumberger, Reboso, & Spier's Howard Spier, accused U.S. Sugar of failing to preserve important physical evidence that would support Valdes' version of the accident. "We have a lot of information as to what happened, but not a lot of physical evidence to show you, because the (accident) scene was not preserved in any way," Howard Spier said. "There (are) no skid marks we can show you, if there were any. We can't show you a picture of the backpack in the bed of the truck."
Spier told jurors accident accounts from two South Central employees largely supported Valdes' version of events, but changed once Valdes filed suit. For example, Spier said Terry Combass, a coworker who saw the incident, initially completed an accident report that corroborated Valdes' description of the fall. However, "deposition-wise, when he's got a lawyer, litigation is ongoing, (Combass) says 'Well, he didn't really fall to the ground. I didn't mean that,'" Spier said. "You'll get to consider all that."
However, the defense argues that witness testimony suggests Valdes is exaggerating the circumstances surrounding the accident. Melkus, Fleming & Gutierrez's Daniel J. Fleming, representing U.S. Sugar and South Central, told jurors Wednesday that Valdes was never thrown from the truck but instead waved his arm wildly and cried out as soon as the truck began to move, then slowly lowered himself from to the ground. "The truck didn't knock him down. He didn't fall off anything," Fleming said.
Since the accident, Valdes has undergone two rotator cuff surgeries, a hip replacement, and wears a hearing aid to counteract what he claims is post-concussion tinnitus. However, Fleming argued that medical evidence would show that Valdes was not injured in the 2012 incident. "The doctors that saw plaintiff in the days, weeks, and even the first couple of months never once admitted him to the hospital, never once said you've got to go have surgery," Fleming said.
Instead, Fleming said magnetic resonance imaging performed months after the accident showed long-term degenerative shoulder damage unrelated to the incident.
Spier acknowledged Valdes experienced shoulder pain prior to being hired by South Central, but the acident ultimately injured his career with the company. Valdes "passes all the exams and tests, the physical exams, apparently with flying colors (in 2011)," Spier said. "And from that point on, he's working until this incident occurs. And, now we have these issues and these surgeries."
Trial is expected to last through next week.
Neither the parties' attorneys nor representatives for the corporations could be reached for comment.
Email Arlin Crisco at acrisco@cvn.com.

---
Related Information
Manuel Valdes is represented by Rossman, Baumberger, Reboso, & Spier's Howard Spier and Jarrett DeLuca, of Vinas & DeLuca. U.S. Sugar Corp. and South Central Florida Express are represented by Melkus, Fleming & Gutierrez's Daniel J. Fleming.
Not a subscriber?
Learn how you can watch CVN Florida's unparalleled coverage of the state's key trials.