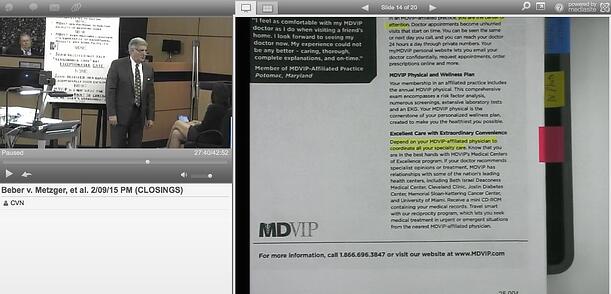 Plaintiff's attorney Jack Scarola shows jurors MDVIP's promotional materials describing the high-level care members could expect to receive. Click here to see video from the trial. Click here for a copy of the complaint.
West Palm Beach - A Florida state court jury slammed private equity-backed medical concierge service MDVIP Inc. with an $8.5 million medical malpractice verdict on Tuesday, finding the company misrepresented its network of supposedly elite doctors and is responsible for the allegedly avoidable amputation of a patient's leg.
A unanimous six-member jury returned the verdict after less than a full day of deliberations following a trial that lasted more than two weeks. The jury determined physician Charles Metzger was acting as an agent of MDVIP when he failed to properly diagnose a blood flow problem in Joan Beber's leg soon enough to avoid amputation, and that Beber relied on misleading statements from MDVIP in seeking treatment from Metzger.
Another physician who treated Beber, Nathaniel Lowen, was found to be five percent responsible for her injuries, with Metzger being assigned the remaining 95 percent, according to a Courtroom View Network webcast of the proceedings.
Beber, who died of leukemia in 2012, initially sued MDVIP in 2008, claiming that Metzger's failure for nearly a month to determine a vascular probelm was the cause of pain and numbness in her left leg and foot fell below the standard of care. Her husband Robert took over as plaintiff in her suit, which accused MDVIP of misrepresenting the resources available to members who paid annual fees of $1500 and up to receive priority access to top doctors and hospitals.
MDVIP claimed in their promotional materials to offer "exceptional doctors, exceptional care, and exceptional results," which the jury said Beber relied on in choosing a doctor that she thought would adhere to a reasonable standard of care. Instead Beber received treatment that fell well below a reasonable standard of care, let alone an exceptional level, her widow's attorneys successfully argued.
Concierge medical services offer patients increased access to physicians in return for paying hefty membership fees on top of normal reimbursements from insurers. While many general practitioners can be responsible for more than 2500 patients, MDVIP limits its physician's patient loads to 600 and offers perks like 24/7 doctor availability.
Karen Terry of Searcy Denney Scarola Barnhart & Shipley PA, who represented the Bebers, told CVN she and her client welcomed the jury's verdict.
"This was a case about marketing deception and valueless illusory promises," Terry said. "We are thrilled that a jury of six of Joan Beber's peers understood and appreciated the significance of this case."
MDVIP spokeswoman Nancy Udell told CVN the company planned to appeal the verdict citing "numerous errors" in the case.
"MDVIP still believes that Dr. Metzger provided appropriate care and that the case had nothing to do with the MDVIP program," Udell said. " It's clear the jury had a very difficult and challenging task understanding the complex medical and legal issues and relationships associated with this matter."
During closing arguments on behalf of MDVIP, David Doyle of GrayRobinson PA told jurors that Metzger's actions were reasonable based on the information available to him at the time. Doyle said that Metzger was correct to refer Beber to an orthopedic specialist to rule out her pain being caused by a bone issue.
"They want you to Monday morning quarterback Dr. Metzger," Doyle argued to the jury, referring to expert testimony on behalf of the plaintiffs claiming Metzger should have immediately suspected a possible blood clot. "It wasn't an easy diagnosis."
However during his rebuttal, Jack Scarola told jurors that Metzger should have immediately suspected a vascular cause upon learning Beber's leg was blue cold to the touch, which he would have known sooner if he brought Beber in earlier for a physical examination.
"The first thing he should be asking is 'Was there any indication the leg was blue or numb," Scarola told jurors. "This was a potentially limb-threatening crisis."
Founded in 2000, MDVIP Inc. has seen substantial growth over the last 15 years based on its premium membership health care model. The company was purchased by private equity firm Summit Partners from Procter & Gamble in June 2014 for an undisclosed amount.
MDVIP's current dominance in the concierge health care market is substantial enough to have spurred an antitrust suit currently pending in California federal court. MDVIP is accused by rival Signature MD Inc. of violating the Sherman Act by entering into overly restrictive agreements with physicians in an attempt to shut down competitors.
The Florida trial took place before Circuit Judge Jack Cox.
Robert Beber is represented by Jack Scarola, Karen Terry and Andrea Robinson of Searcy Denney Scarola Barnhart & Shipley PA.
MDVIP is represented by David Doyle, Jeffrey Keiner and Justin Marshall of GrayRobinson PA.
The case is is Beber v. MDVIP Inc., case number 50-2008-CA-034380, in Florida's 15th Judicial Circuit Court.
David Siegel can be reached at dsiegel@cvn.com.
Related:
Click here for more information on CVN's coverage of other top Florida trials.