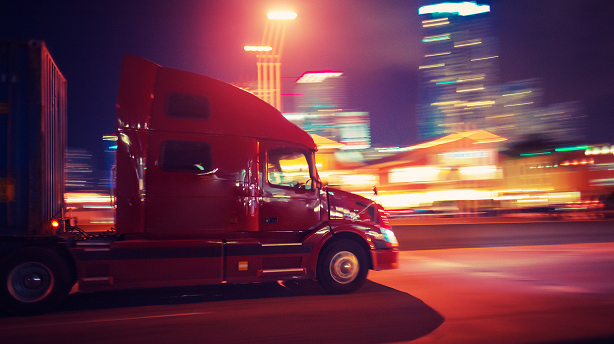 Stock image.
---
Update 1/20/17: Jurors awarded $15 million in compensatory damages to Megan Richards for the injuries she suffered in the 2015 trucking crash that killed five of her Georgia Southern University classmates. The jury apportioned 100 percent of fault to trucker John Wayne Johnson and trucking firm Total Transportation of Mississippi LLC. It also found Johnson's actions showed conduct potentially warranting the imposition of punitive damages. However, Bryan County Superior Court Judge Charles Paul Rose told jurors the parties' attorneys agreed to accept the award "as-is," without a determination of punitives. CVN will provide additional news coverage and gavel-to-gavel, on-demand video of the trial as soon as possible.
---
Pembroke, GA—Attorneys Tuesday battled over the injuries a former Georgia Southern University nursing student suffered in a fiery tractor trailer collision that killed five of her classmates, as trial opened against the trucker and trucking companies she says are responsible. Richards v. Total Transportation of Mississippi LLC, et al. SUV2015000174.
"No human being should have to live through what Megan [Richards] lived through on I-16 in Bryan County," The Cheeley Law Group's Bob Cheeley told jurors as he described the April 2015 collision he says left Richards with a traumatic brain injury in April 2015.
Richards was injured when a tractor trailer driven at highway speed by John Wayne Johnson drove over the top of a Toyota Corolla carrying three Georgia Southern students before it struck a Ford Escape carrying Richards and three other classmates. The cars had been sitting in traffic stopped because of an earlier accident.
Richards and Brittany McDaniel were the only two Georgia Southern students to survive the accident, which killed Emily Clarke, Catherine Pittman, Caitlyn Baggett, Abbie DeLoach, and Morgan Bass. The students were en route to a Savanna-area hospital for work on a clinical rotation when the crash occurred.
Richards is suing Johnson, as well as the trucking firm he worked for, Total Transportation LLC of Mississippi and its affiliated company, U.S. Xpress Inc., among others.
During Tuesday's openings, Cheeley told jurors experts would testify Richards suffered a traumatic brain injury caused by an impact that was the equivalent of hitting the ground while strapped to a seat pushed out of a seven-story building. "Her brain is damaged goods. It is not the brain that God blessed Megan with," Cheeley said.
Cheeley, whose complaint on behalf of Richards seeks compensatory and punitive damages, said Johnson had been traveling on little sleep before the crash. He also told jurors Johnson, who had been transferring data on his cell phone for more than 40 minutes before the wreck, had not cooperated with questions concerning his pre-crash phone use. "We know that he was looking at his cell phone. He had to be. And he's going to be given the chance to tell you what he was doing," Cheeley said. "Because up until now, he has not told us."
Johnson, 56, pleaded guilty to nine criminal charges related to the accident, including five counts of first-degree criminal homicide. He was sentenced to five years in prison and five years of probation under a plea deal last year.
Cheeley warned jurors the defense would imply Richards was exaggerating her injuries, but argued defendants would offer no evidence to oppose the conclusions of plaintiffs' medical experts. "No one, not one single [expert] could the defendants find to challenge the facts [that] Megan's doctors have testified about. Not one," Cheeley said. "You need to be on the alert for a sneak attack on Megan."
However, David Dial, of Weinberg, Wheeler, Hudgins, Gunn & Dial, took issue with the contention the defense would accuse Richards of faking her injuries. "That is flat out false. It never happened, it never would happen, and it never will happen in the future," Dial said. "We know Ms. Richards was injured. There is no question about that."
Nonetheless, Dial challenged evidence supporting the brain injury diagnosis. He contended Dr. Scott Forseen, who diagnosed Richards with a traumatic brain injury, had never treated her, while her treatment team had only recently concluded that she suffered a traumatic brain injury. "That all happened last night after these witnesses and treaters consulted hours with Mr. Cheeley," Dial said.
Dial added Richards resumed her studies after the crash and ultimately graduated with honors last year. "She's to be congratulated and admired for doing that. But that shows that the problems she has have not prevented her from being a very successful student and from being offered a job as a nurse, which we know takes a lot of achievement and is difficult and is not easy to do," Dial said. "[Those are] just additional facts you need to consider when you consider how serious her brain injury is."
While Dial did not dispute Johnson's role in the collision, he said evidence would show Johnson was sufficiently rested and not been distracted by his phone at the time of the crash. "He admitted that he saw [the stopped cars] ahead, but he just didn't react." Dial told the jury. "He can't explain why he didn't react. He wishes he could."
Although suits were filed on behalf of all of the nursing students involved in the wreck, this is the only case to go to trial. Families of the other nursing students reportedly settled their claims against the defendants for upwards of $80 million total, according to published reports. Brittany McDaniel, the only other nursing student to survive the crash, received a $5 million settlement, according to reports.
Trial in the case is expected to last through the week.
CVN is recording the trial and will offer ongoing updates via the news blog as well as on-demand, gavel-to-gavel video as soon as possible after the verdict.
Email Arlin Crisco at acrisco@cvn.com.
Related Information
Megan Richards is represented by The Cheeley Law Group's Robert Cheeley and Jones Osteen and Jones' Billy Jones.
The defense is represented by Weinberg, Wheeler, Hudgins, Gunn & Dial's David A. Dial and Jackson A. Dial and by Hawkins Parnell Thackston & Young's Matthew Barr.
CVN is recording the trial and will offer ongoing updates via the news blog as well as on-demand, gavel-to-gavel video as soon as possible after the verdict.
Not a subscriber?
Learn how you can see the best attorneys in action, in Georgia and across the country.