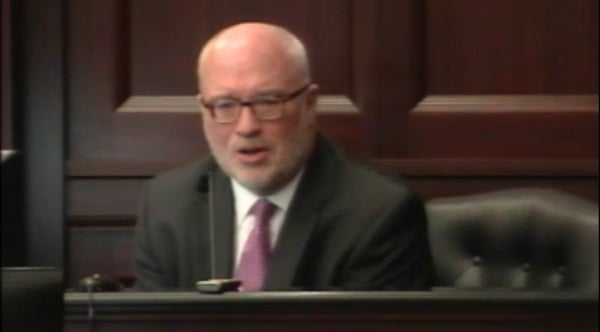 Dr. Alfred Harding describes his insertion of a blood filter into Margaret Roberts shortly after she suffered a stroke that disabled her. Roberts and her husband James claim two of Roberts' physicians did not do enough to prevent the stroke.
---
Jacksonville, FL—The surgeon who inserted a blood clot-capturing filter soon after a Florida woman suffered a devastating stroke told jurors Tuesday the filter was not typically the first line of treatment for such clots, as the defense presents its case at trial against two doctors who treated the woman. Margaret Roberts v. Dr. Gregory Pavlat and Dr, Benjamin Moore, 2011-CA-007017.
Dr. Alfred Harding, who inserted a Greenfield vascular filter into Margaret Roberts after a blood clot allegedly traveled to her brain and caused her stroke, testified the Haperin blood-thinning medication Roberts received in the days before the stroke was typically the first treatment given in such cases, unless there were concerns about internal bleeding. "The treatment for clots in veins and pulmonary emboli is generally anticoagulation. At (the time of Roberts' stroke) it would have been with Heparin," Harding said.
On August 25, 2010, days after being diagnosed with deep vein thrombosis and pulmonary embolisms, or blood clots in the leg and lungs, Roberts suffered a stroke that left her with severe memory loss, unable to walk normally, or care for herself. Roberts and her husband claim Drs. Gregory Pavlat and Benjamin Moore failed to do enough to safeguard against the stroke, such as inserting a blood filter earlier.
Last week, Dr. Lazar Greenfield, the developer of the Greenfield filter that bears his name, told jurors last week he believed the filter may have been able to stop the clot that allegedly caused her stroke, if it had been inserted earlier.
However, the physicians contend they followed appropriate standards of care in treating Roberts with Heparin.
On Tuesday, Harding, who told jurors he has treated "more than 100" patients with Greenfield filters, said the clots, combined with doctors' reluctance to continue Heparin treatment because of Roberts' falling blood counts, warranted inserting the filter. "If you can't treat the problem that's causing the emboli with anticoagulation, the risk is it will continue," Harding said. "So if you can't do anything to stop it, the expectation is it will continue, and if you get enough clot in there, it's fatal."
While Harding told jurors inserting a filter involved a risk of respiratory complications, "In the case of pulmonary embolism there's a bigger risk if you don't place it, because then the patient is at risk to have a fatal pulmonary embolism," Harding said. "A big clot breaks off and they die from that, so the tradeoff is if the risk of placing is lower than the risk of not placing it."
Roberts' attorneys had no questions for Harding on cross-examination.
Closing arguments in the case are expected this Friday.
Email Arlin Crisco at acrisco@cvn.com.
---
Related Information
Terrell Hogan's Bruce Anderson and Matthew Sowell represent Margaret and Darrell Roberts.
Childs Hester & Love's W. Douglas Childs represents Dr. Gregory Pavlat.
Dennis, Jackson's Craig Dennis and Tiffany Rohan-Williams represent Dr. Benjamin Moore.