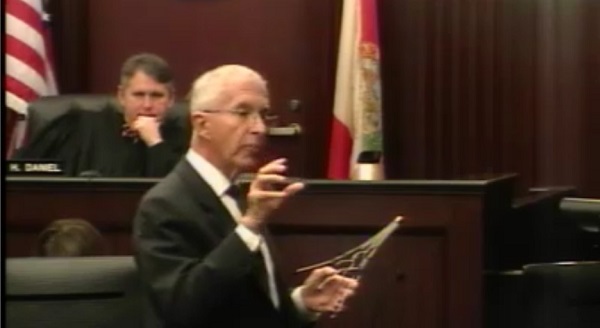 Dr. Lazar Greenfield, details the blood filter he developed that bears his name. Greenfield said his filter could possibly have stopped a clot of the size attorneys allege caused Margaret Roberts to suffer a debilitating stroke.
---
Jacksonville, FL—The developer of a filter designed to protect against catastrophic complications from blood clots told jurors his device may have stopped the clot attorneys claim left a Florida woman with lifelong brain damage, as trial continued against the woman's physicians. Margaret and Darryl Roberts v. Dr. Gregory Pavlat M.D., et al., 2011-CA-007017.
Dr. Lazar Greenfield told jurors Monday the Greenfield filter, which is surgically inserted into a patient's vein to prevent a blood clot from reaching the heart, would likely have stopped the clot that allegedly traveled to Margaret Roberts' brain and caused her stroke.
Through both "experimental and clinical evidence," Greenfield said, "the filter is effective with clots" allegedly similar to the one that caused Roberts' stroke.
Greenfield detailed the design and testing of the filter, telling jurors testing showed the device was effective at trapping numerous clots. "Only when we filled it up were there clots that could escape through the side as (blood) flow was deviated around the filter," Greenfield said.
Roberts, then 35, suffered a stroke August 25, 2010, days after Dr. Gregory Pavlat diagnosed her with deep vein thrombosis and pulmonary embolisms, or clots in Roberts' leg and lungs. The stroke has left Roberts with lifelong speech, memory and motor control problems that render her unable to care for herself. Roberts and her husband, Darryl Roberts, claim Pavlat and Dr. Benjamin Moore, a neurologist who treated Roberts, failed to take appropriate precautions, such as promptly inserting a Greenfield filter, to prevent a clot from traveling through Roberts' heart and to her brain, causing the stroke.
The defense argues the doctors acted properly in treating Roberts with blood-thinning medication as a first-line of defense to prevent a stroke.
During cross examination, Greenfield acknowledged his filter was designed to trap clots traveling through the center of a blood vessel. However, he countered suggestions under cross exam that the process of taking a breath could sufficiently reduce blood flow to send a clot away from the center of a blood vessel. "I haven't seen that happen," Greenfield said. "If you sustain any clot in the vena cava or in any other tube of blood, it's not going to act like a rock. It's not going to sink. It's going to be suspended."
Trial is expected to continue through the week.
Email Arlin Crisco at acrisco@cvn.com.
---
Related Information
Terrell Hogan's Bruce Anderson and Matthew Sowell represent Margaret and Darrell Roberts.
Childs, Hester, & Love's W. Douglas Childs represents Dr. Gregory Pavlat.
Dennis, Jackson's Craig Dennis and Tiffany Rohan-Williams represent Dr. Benjamin Moore.
Watch Roberts v. Pavlat, et al. live and on demand.
Not a subscriber?
Learn how you can watch CVN Florida's unparalleled coverage of the state's key trials.