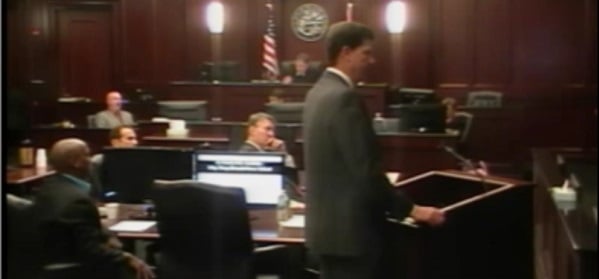 During opening statements, Bruce Anderson tells jurors that lack of communication between Drs. Gregory Pavlat and Benjamin Moore caused Margaret Roberts' stroke.
---
Jacksonville, FL—As trial began Wednesday in a suit over a stroke that left a woman with life-long brain damage, attorneys argued whether lack of communication between doctors who treated the woman for blood clots ultimately caused the stroke. Roberts v. St. Vincent's Medical Center, 2011-CA-007017.
Margaret Roberts, then 35, suffered a stroke August 25, 2010, two days after she was admitted to Jacksonville's St. Vincent's Medical Center, where Dr. Gregory Pavlat had diagnosed her with deep vein thrombosis, a blood clot, which caused pulmonary embolisms, or clots in her lungs.
The stroke permanently damaged Roberts' speech and right-side motor control, according to court records.
Roberts' husband, Darrell Roberts, claims the stroke occurred because Pavlat didn't properly consult Dr. Benjamin Moore, a neurologist who examined Roberts at St. Vincent's. During Wednesday's openings, Roberts' attorney, Terrell Hogan's Bruce Anderson, told jurors the two doctors failed to discuss differences in their notes on Roberts' complaints, which included tell-tale signs of a potential stroke. "The difference between the medical records written by Dr. Pavlat and the medical records written by Dr. Moore demonstrate why these two doctors should have talked to each other," Anderson said. "If they had just communicated with each other, Mrs. Roberts' stroke could have been prevented."
Anderson told jurors medical evidence would prove Roberts' stroke was caused by a clot that broke away from the thrombosis in her leg, traveled through her heart and into her brain. The clot could have been stopped, Anderson said, if doctors had discussed their conflicting impressions and inserted a filter that would have blocked the clot. "The failure of Dr. Pavlat and Dr. Moore to perform these most basic skills of communication and reading comprehension during the course of time that Mrs. Roberts was their patient… caused her to suffer the stroke," Anderson said.
However, the defense claims the doctors followed proper protocol, regularly reading each other's patient notes and conducting appropriate tests, such as performing two CT scans on Roberts' brain that showed nothing out of the ordinary. During openings, Pavlat's attorney, Childs Reed's W. Douglas Childs told jurors evidence would prove Roberts's treatment with Haparin, a blood thinner, was appropriate for her symptoms. "Regrettably, what happened to Mrs. Roberts was something that wasn't going to be prevented," Childs said.
Moore's attorney, Dennis, Jackson's Craig Dennis agreed, telling jurors in openings Moore's treatment of Roberts took into account potential complications, including his suspicion Roberts suffered a transient ischemic attack, or TIA, which can warn of an upcoming stroke. "The first-line therapy for this condition, TIA, and pulmonary embolism is Heparin," Moore said. "And she got the first line therapy."
Trial in the case is expected to last through next week.
Email Arlin Crisco at acrisco@cvn.com.
---
Related Information
Terrell Hogan's Bruce Anderson and Matthew Sowell represent Margaret and Darrell Roberts.
Childs, Hester & Love's W. Douglas Childs represents Dr. Gregory Pavlat.
Dennis, Jackson's Craig Dennis and Tiffany Rohan-Williams represent Dr. Benjamin Moore.
Watch gavel-to-gavel coverage of the trial, live and on demand.
Not a subscriber?
Learn how you can watch CVN Florida's unparalleled coverage of the state's key trials.