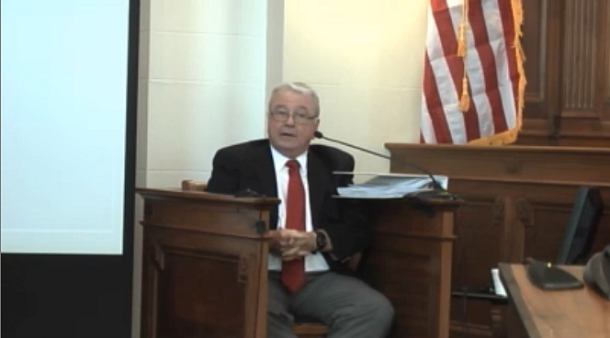 Dr. David Burns tells jurors he believes Rebecca Fredenhagen was addicted to nicotine. Fredenhagen, who smoked for decades, died of lung cancer seven years after quitting.
---
Daytona Beach, FL—A Florida health department employee smoked throughout each day for decades—while working, doing laundry, cooking, gardening, even crocheting. But she was also strong-willed and independent, and successfully quit smoking in her first serious attempt, according to testimony at trial against R.J. Reynolds, accused of addicting her to the cigarettes that caused her fatal cancer. Coursey v. R.J. Reynolds, 2013-30656-CICI.
"She smoked from the time she got up until the time she went to bed," Tom Fredenhagen said of his mother, Rebecca Fredenhagen, 68, who died in 1992 of lung cancer that metasticized to her bones and liver. Tom Fredenhagen and his sister, Debra Coursey, claim Reynolds hid the dangers of smoking while selling their mother addictive and dangerous cigarettes for much of her life. But, both Coursey and Fredenhagen acknowledged their mother never made any serious quit attempts, talked about quitting, and no family members encouraged her to quit.
"But when she made her mind to accomplish something, she found a way to get it done. True?" Reynolds attorney, Jones Day's Stephanie Parker, asked Tom Fredenhagen on cross exam. He agreed.
Coursey also acknowledged her mother was strong-willed, independent, a strict disciplinarian who would not allow anyone to dictate how to live her life.
Rebecca Fredenhagen was forced to quit smoking in 1985 when a bout of Guillain-Barré syndrome paralyzed her for about two months, Coursey said. While she spent time in physical therapy rehabilitation, she asked her kids to thoroughly clean her house—the carpets, furniture, cupboards, linens, and get rid of all ashtrays and cigarettes, because she planned to never smoke again, Coursey said.
Fredenhagen never returned to cigarettes.
Coursey's case was brought in connection with Engle v. Liggett Group, the1994 class action that involved Florida smokers who successfully sued U.S. tobacco companies for allegedly hiding the dangers of cigarettes from the public. The Florida Supreme Court affirmed the jury's findings but decertified the class. To prevail, plaintiffs must file their claims individually and prove the smokers at the centers of their cases suffered from nicotine addiction that caused a smoking-related disease.
Also testifying this week was pulmonologist Dr. David Burns, an addiction specialist who found Fredenhagen was a nicotine addict based on her medical records. Burns told jurors the issue for smokers isn't reaching them with information, it's getting them to act.
"The problem isn't getting the information, the problem is helping people use that information," Burns said. "The problem we have is that people who are quitting, they can't stay off [cigarettes], they can't be successful. They can't exercise the choice to be a nonsmoker. And that's where you need to focus your effort—not on saying smoking is horrible."
Closings in the case are expected Thursday.
Related Information
Robert Foote, of Foote, Mielke, Chavez, & O'Neil, represents Debra Coursey.
Stephanie Parker, of Jones Day, represents R.J. Reynolds.
Watch the trial live and on demand.
Learn more about CVN's unrivaled tobacco litigation library.