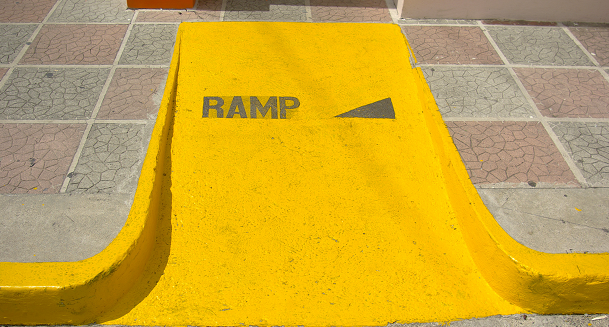 Stock photo.
---
West Palm Beach, FL—A former realtor settled her suit against the Florida property owner and painting company she said were responsible for the fall on a shopping plaza ramp that allegedly caused her traumatic brain and spinal injuries, shortly before closing arguments were expected to begin in the trial. Sumner v. Lantana Palm Beach Retail, et al., 2010CA11199.
Florida Circuit Court Judge Donald Hafele announced the settlement between Sharon Sumner, Lantana Palm Beach Retail LLC, and WGM Quality Painting Inc., Friday and credited jurors for their role in the six-year-old case's resolution. "But for the fact that you all were here, both sides saw the whites of your eyes, it brought a case that's been pending since 2010, the accident happened in 2007, to a conclusion," Hafele said. And, it would not have concluded without you all being here. Obviously, I think it's clear that's what caused the case to resolve."
Sumner, now 61, claims she suffered severe brain and back injuries in a 2007 fall on an access ramp at Lake Worth's Lantana Square, owned by defendant Lantana Palm Beach Retail. Sumner, who was a realtor working in an office at the time of the fall, blames the accident on the ramp's incline as well as a WGM paint job that she says rendered the ramp too slippery.
Sumner's attorney, Neufeld, Kleinberg, & Pinkiert's David Kleinberg, told jurors when trial opened that his client has incurred more than $670,000 in medical expenses alone, and he would seek damages in the millions.
The defendants argued neither the paint nor the ramp's incline rendered it dangerous and they challenged the severity of Sumner's injuries.
Terms of the settlement are confidential.
The settlement announcement concluded seven days of trial in the case.
Email Arlin Crisco at acrisco@cvn.com.
Related Information
Read about the trial's opening statements.
Read about critical testimony in the trial.
Sharon Sumner is represented by David Kleinberg, of Neufeld, Kleinberg, & Pinkiert.
Lantana Palm Beach Retail LLC is represented by Matthew Martin, of Gaebe, Mullen, Antonelli & DiMatteo.
WGM Quality Painting Inc. is represented by Shendell & Pollock's William Peterfriend.
Not a subscriber?
Learn how you can watch the biggest trials and best attorneys in Florida, and across the country.