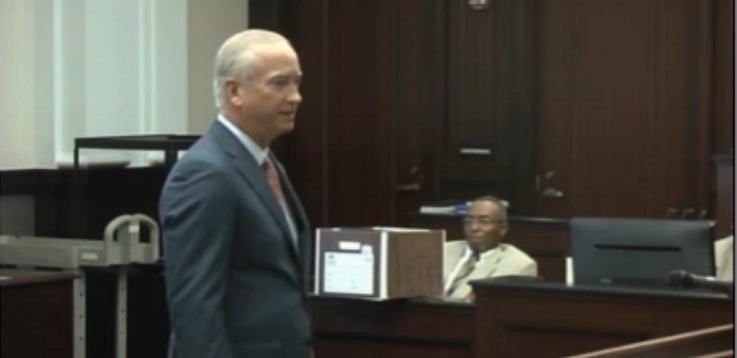 Mark Avera says a deck railing in poor condition led to the fall that fractured Amanda Fournier's spine.
---
Jacksonville, FL—A rental home's rickety deck railing caused the fall that fractured a University of North Florida student's spine, an attorney for the student said Tuesday as trial opened against the property's owner. Fournier v. Derazi, 2013CA010759.
"The whole railing went out, with Amanda, 12 feet to the ground and [she] landed on her back," Avera & Smith's Mark Avera told jurors Monday in describing the fall at a house party that broke Amanda Fournier's spine. "A 17-year-old girl just wanting to fit in had her life changed forever."
Fournier fell during the September 2013 party thrown by a tenant at a rental home owned by Shahab Derazi. Fournier, who had just started school at the University of North Florida, fell through a wooden railing on the home's deck.
Although Fournier can walk, she has undergone a spinal operation, therapy, and is likely to require future surgery because of her injuries, Avera told jurors.
During Tuesday's openings, Avera said Derazi bought the home in 2009 but never had it professionally inspected, which would have uncovered defects in the railing's support brackets. And, although Derazi hired a handyman to perform repairs on the deck the summer before Fournier's fall, the worker, who was not a licensed contractor, never secured a permit for the repair and did not discover problems with support brackets and screws that Avera says ultimately caused the railing to give way as Fournier leaned against it.
Avera told jurors evidence would show small fractures were present in one of the support brackets before the deck gave way. "When Ms. Fournier leaned against the railing, that was the straw that broke the camel's back. [The bracket] went out and broke. And when it broke, the three remaining brackets, [an expert will testify], they're supposed to hold the railing in place… but they fail as well because the bottom only has one screw."
However, the defense argues the railing was sturdy, but Fournier stumbled on the crowded deck, breaking the railing and falling to the ground below.
During Tuesday's opening statements, Stone Glass & Connolly's Michael Glass told jurors that, while Derazi had no obligation to professionally inspect the deck, evidence would establish that the deck and its railings were secure before the accident. Glass said Derazi and the handyman who performed repair work on the deck weeks before the accident had thoroughly checked for potential problems. "They went around and shook every section of that railing to make sure there was nothing that needed to be replaced or addressed. And there was nothing, both [the repair worker] and Mr. Derazi will tell you, nothing, that showed any concern."
Glass said the railing was never designed to protect someone who fell into it. "They're barriers. They're designed to keep you from walking off of an area that's got a drop off," Glass said. They're designed for you to put your hands on if you need them. They're not designed to bear the full brunt of your force if you've fallen."
Glass noted Derazi had no knowledge of the crowded party, which included up to 250 people, including up to 70 on the deck, and he said Fournier had been drinking at the time of the fall. Glass told jurors testimony would support his claim that she stumbled into the railing rather than simply leaned against it. "The reason that after 8 years this railing failed is because unfortunately she lost her balance, whether it be to footing, or alcohol, or whatever it may be, and she fell into the railing and over-loaded it," Glass said. "That's the simple end to what happened on that night."
Trial is expected to last through the week.
Email Arlin Crisco at acrisco@cvn.com.
Related information
Amanda Fournier is represented by Avera & Smith's Mark Avera.
Shahab Derazi is represented by Stone Glass & Connolly's Michael Glass.
Watch the trial live and on demand.
Not a subscriber?
Learn how you can watch blockbuster trials, in Florida and across the country.