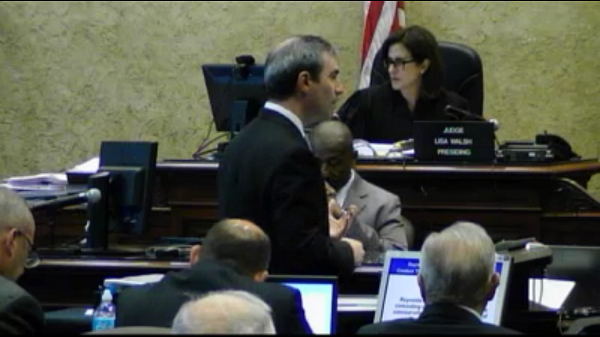 Jose Isasi delivers closing arguments in the punitive phase of trial in John Larkin's suit against Isasi's client, R.J. Reynolds. Jurors awarded nearly $13.5 million total to Larkin.
---
Miami—Jurors Monday found R.J. Reynolds liable for $8.5. million in punitive damages for its role in a tobacco industry conspiracy to conceal the dangers of cigarettes, which a Florida widower claimed led to his wife's mouth cancer. Larkin v. R.J. Reynolds, 2002 CA 002829.
The punitive verdict follows last Wednesday's nearly $5 million award in compensatory damages in Paul Larkin's suit for the mouth and tongue cancer he claimed was caused by his wife's decades of smoking Reynolds' Winston-brand cigarettes. The punitive verdict, which took jurors four hours to reach, brought the total award to $13.455 million.
Carole Larkin, a smoker for 30 years, quit in 1988 when doctors diagnosed her with a benign tumor on her tongue. Ten years later doctors diagnosed Larkin with oral cancer. She died in 2000.
Monday's punitive verdict capped a single day of testimony in the trial's second phase Friday, which focused on Reynolds and its conduct in the years following its alleged role in concealing the dangers of cigarettes. During closings Monday, Jones Day's Jose Isasi reminded jurors of Reynolds' entry into a so-called Master Settlement Agreement, a 1998 pact with 46 U.S. state governments that bans Reynolds and other tobacco manufacturers from various marketing tactics and requires billions of dollars in payments to anti-smoking education funds. Isasi also noted that the federal government, through the Food and Drug Administration, now regulates cigarettes in part through more than a half-billion dollars in funding Reynolds has provided since 2009. "This is part of the price that the Reynolds of 2015, the Reynolds of today, has to pay for past conduct," Isasi said. "This is the price they've paid for past conduct (and) … something you need to consider in determining whether to punish Reynolds again."
However, Gordon & Doner's Gary Paige, representing Larkin, told jurors Monday that settling with state governments isn't sufficient to punish Reynolds for the tactics that harmed individual smokers like Carole Larkin. "Is that really a mitigating factor (against punitive damages), where they were sued by the states for wrongful conduct and then have a settlement where (the states) recoup a small portion of healthcare costs?" Paige asked. "And not one victim received any compensation nor was any amount of that for punishment."
The Larkin case is one of a minority of Florida tobacco suits not part of the so-called Engle progeny litigation, which has its roots in a landmark class action case that the Florida Supreme Court decertified. Unlike the approximately 5,000 Engle progeny cases, in which defendant tobacco makers' liability on defective design and concealment claims is already established, Larkin was required to prove liability on both claims in order to recover in his suit.
Neither the parties' attorneys nor Reynolds representatives could be reached for comment.
---
Related Information
Gordon & Doner's Gary Paige, Gerson & Schwartz's Philip Gerson, and the Alvarez Law Firm's Alex Alvarez represent Paul Larkin. Jones Day's Jose Isasi, Mark Seiden, and Katrina Caseldine represent R.J. Reynolds.
Watch gavel-to-gavel coverage of Larkin v. R.J. Reynolds.
Not a subscriber?
Click here to learn more about our unrivaled tobacco litigation library.