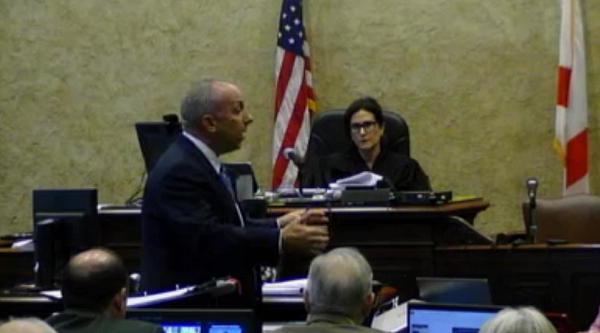 Gary Paige delivers closing arguments in Larkin v. R.J. Reynolds. Jurors awarded Paige's client, Paul Larkin, nearly $5 million in compensatory damages in his suit claiming Reynolds cigarettes caused his wife's mouth cancer. Openings in the trials punitive phase began Friday.
---
Larkin v. R.J. Reynolds
The punitive phase of trial in Paul Larkin's suit against RJ. Reynolds opened Friday, two days after jurors awarded Larkin nearly $5 million in compensatory damages for the mouth cancer he claimed his wife developed after 30 years smoking Reynolds cigarettes.
Carole Larkin died in 2000, two years after being diagnosed with cancer of her mouth and tongue. Larkin, who quit smoking in 1988 after doctors diagnosed her with a benign tumor on her tongue, allegedly suffered from oral dysplasia, or a proliferation of abnormal cells caused by her smoking. Her husband, Paul, sued Reynolds, claiming a tobacco industry-wide conspiracy to hide smoking's dangers caused his wife's cancer.

The jury's $4.955 million award in compensatories found Reynolds' Winston-brand cigarettes were defectively designed and that Reynolds engaged in a decades-long conspiracy to conceal the dangers of smoking. Jurors apportioned 62% of liability for Larkin's cancer to Reynolds and 38% of responsibility to Larkin herself. The jury's determination that punitive damages were warranted exposes the tobacco maker to millions more in potential liability.
Because Larkin's suit is not one of the thousands of Florida's Engle progeny cases, in which tobacco industry defendants' liability for defective design has already been established, that issue played a key role in trial. During closing arguments Tuesday, Gordon & Doner's Gary Paige, representing Larkin, reminded jurors of evidence showing Reynolds designed their cigarettes to fuel an addiction to nicotine, despite the company's knowledge of tobacco's health risks. "It's crazy, but that's what [Reynolds does]. They sell nicotine addiction," Paige said. "Just because it's legal doesn't mean that they get to manipulate the nicotine and get the pH levels right in the sweet spot so that they can freebase nicotine and add ammonia and addict people."
However, Jones Day's Jose Isasi, representing Reynolds, countered that Reynolds cigarettes were not defective because smoking was inherently dangerous and no cigarette design was safe. Isasi reminded jurors that the plaintiff's expert witness on the tobacco industry, Robert Proctor, acknowledged that all tobacco cigarettes were dangerous to some degree. "There is no such thing as a safe cigarette," Isasi said. "That means that any design is going to have hazards to it. You can't design that out."
Next Week: Closing arguments in Phase II of the trial will begin Monday morning.
---
McCoy v. R.J. Reynolds, et al.
Jurors concluded their second day of deliberations Friday without reaching a verdict as trial continued in John McCoy's $12 million suit against R.J. Reynolds and Philip Morris over the lung cancer that he says killed his wife.

Glodine McCoy, began smoking at 13 and continued for 50 years, before she died at 70 in 1997. Her husband, John, claims the tobacco giants' concealment of cigarettes' health hazards caused his wife's nicotine addiction and ultimately led to a variety of smoking-related diseases including chronic obstructive pulmonary disease, artery disease, and fatal lung cancer.

Parties battled during the two-week trial over McCoy's knowledge of smoking's dangers and whether she was addicted to nicotine or smoked by choice. During closings Wednesday, King & Spalding's Jeffrey Furr, representing Reynolds, reminded jurors that John McCoy warned his wife for years about the dangers of smoking. "[John McCoy] would tell [Glodine] 'You're going to get old and you're going to get sick if you keep smoking,'" Furr said. "And her response would be to light a cigarette."

However, Scott Schlesinger, representing John McCoy, argued Wednesday that Glodine McCoy was unaware of the dangers of cigarettes when she began smoking, and she was too addicted to nicotine to quit by the time she heard the warnings undercut by tobacco marketing. "A teenage Glodine McCoy..., in 1940, at 13 or 14 years of age didn't see the hook. She died in 1997," Schlesinger said. "She was hooked and hooked badly. She tried to get away, but she couldn't, and being hooked eventually killed her."

Next week: Jurors will continue their deliberations Monday morning.
---
Arlin Crisco can be reached at

acrisco@cvn.com .

Our weekly review is curated from our unequaled gavel-to-gavel coverage of Florida's Engle progeny cases.

Not a subscriber?

Click here to learn more about our expansive tobacco litigation library.