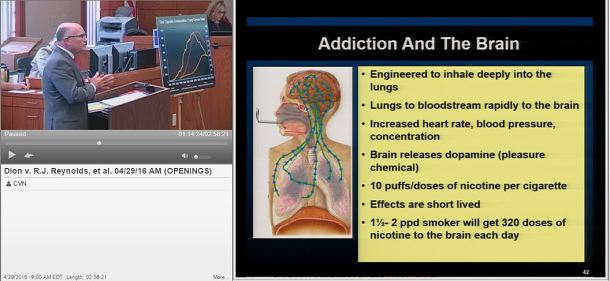 William Wichmann delivers his opening statement at trial against R.J. Reynolds. Wichmann's claims Reynolds deception led to Marion Dion's nicotine addiction and death.
---
Sarasota, FL—Whether addiction fueled a Florida woman's 40-plus years of smoking took center stage last week as trial opened against R.J. Reynolds for the woman's cancer death. Dion v. R.J. Reynolds, 13CA5673.
Marion Dion started smoking before she was 17 and continued for more than four decades. Doctors diagnosed her with lung cancer two years after she quit. Dion, 61, ultimately died from the disease in 1994. Her husband, George, claims R.J. Reynolds, makers of the cigarettes his wife smoked, hid the dangers of smoking, causing his wife's nicotine addiction and fatal cancer.

The case is one of thousands of similar Florida lawsuits against the nation's tobacco companies. They stem from Engle v. Liggett Group, a 1994 class action claim involving Florida smokers. A jury in that case found tobacco companies knowingly produced dangerous, addictive cigarettes and hid those dangers from the public. The Florida Supreme Court decertified the class on appeal, but its decision allows individual plaintiffs to rely on the jury's conclusions in the original trial if they can prove the smokers at the center of their cases suffered from nicotine addiction that caused a smoking-related disease.
During Friday's openings, George Dion's attorney, William Wichmann, told jurors Marion Dion was a nicotine addict who smoked up to two packs a day and would wake up in the middle of the night to smoke. "Her brain craved the nicotine," Wichmann said.
Wichmann contended Dion's nicotine addiction was so strong she failed in multiple quit attempts over the course of years. "This woman tried everything that was available to quit," Wichmann said, noting Dion succeeded in quitting only after using the nicotine patch.
But the defense argues Dion chose to smoke and was generally not interested in quitting for most of her life. "She took no serious steps to quit smoking," Jones Day's John Walker said, claiming Dion only made three failed quit attempts in four decades of smoking before succeeding. "Mr. Wichmann said she tried everything available…. The evidence is going to show the exact opposite. She didn't."
Walker contended Dion could have avoided her cancer if she had committed to quitting earlier. "If she had become ready and serious and committed about quitting in the 50s, 60s, 70s, even into the 80s, instead of in the 90s, she would not have become ill," Walker said.
This is the case's second trial in a little more than a year. In March 2015, jurors failed to reach a verdict, forcing a mistrial in the case. In that trial, Wichmann requested $10 million in compensatory damages, plus punitives.
Email Arlin Crisco at acrisco@cvn.com.
---
Related Information
William Wichmann, of the Law Offices of William J. Wichmann, represents George Dion.
Jones Day's John Walker represents R.J. Reynolds.
Watch the trial live and on demand.
Not a subscriber?
Learn more about CVN's unrivaled tobacco litigation library.