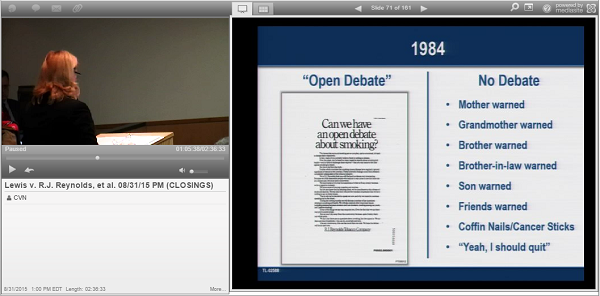 Stephanie Parker tells jurors that Rosemary Lewis was warned repeatedly about the dangers of cigarettes. Jurors Tuesday awarded Lewis' widower, James Lewis, $750,000 in his suit against R.J. Reynolds for the role the company's cigarettes played in her lung cancer. Watch Parker's closing argument.
---
Daytona Beach, FL—Jurors Tuesday awarded a Florida widower $750,000 for the death of his wife, after finding that her four decades of smoking R.J. Reynolds cigarettes, but not the company's marketing tactics, caused her fatal lung cancer. Lewis v. R.J. Reynolds, 2009-30058-CIC.
Rosemary Lewis smoked Reynolds brand cigarettes from about 1963 until her death from lung cancer in 1998. Her husband, James Lewis, sued Reynolds, claiming the tobacco company's decades of concealing smoking's health effects caused his wife's nicotine addiction and cancer.
Tuesday's verdict capped a nine-day trial and found that, although Rosemary Lewis was addicted to nicotine, she did not reasonably rely on decades of Reynolds tactics designed to hide the dangers of cigarettes. Jurors also found Lewis 75% responsible for the smoking that caused her lung cancer, apportioning only 25% of liability to Reynolds. The jury's findings, and its denial of punitive damages, will likely reduce the $750,000 compensatory award to $187,500 post-verdict.
Lewis' case is one of thousands of similar Florida lawsuits against U.S. tobacco companies. The cases arise from a 2006 Florida Supreme Court decision decertifying Engle v. Liggett Group Inc., a class action tobacco case originally filed in 1994. The state's supreme court ruled that each Engle plaintiff must establish class membership individually, by proving nicotine addiction that caused a smoking-related disease. Once plaintiffs prove class membership, they can rely on certain jury findings in the original verdict, including the determination that tobacco companies such as Reynolds sold a dangerous, addictive product.
Tuesday's verdict found Lewis established Engle class membership, but the jury's refusal to find a causal link between Reynolds' marketing and Rosemary Lewis' lung cancer likely played a key role in the relatively small award. Last July, a Miami jury awarded nearly $13.5 million to the widower of a woman it found to have died from mouth cancer caused by Reynolds' concealment of smoking's health effects. A month earlier, another Miami jury awarded $776,000 to an Engle progeny plaintiff after finding no causal link between Reynolds marketing and a smoker's fatal respiratory disease.
During Monday's closing arguments, attorneys for both sides debated whether Rosemary Lewis' smoking decisions were influenced by Reynolds marketing. Wiggins Childs' Dennis Pantazis reminded jurors of thousands of documents implicating Reynolds in a tobacco industry scheme to hide the dangers of smoking while it marketed cigarettes to rebellious youth. Highlighting testimony that Rosemary Lewis began smoking as a teenager to defy her mother, Pantazis said "Even (Reynolds) knew that was a smoker they wanted to target, and they did target, and she became addicted and smoked their products for all of her life. Unfortunately her life ended at age 51 because of their actions."
The defense argued there was no evidence Reynolds' messages influenced Rosemary Lewis and contended potential tobacco company warnings would not have prevented her from smoking. During Monday's closing arguments Jones Day's Stephanie Parker reminded jurors of deposition testimony in which Rosemary Lewis claimed never to have read federally mandated warning labels on cigarettes packs. "If (James Lewis' attorneys) are claiming that Mrs. Lewis did not read those warnings that were on every package of cigarettes that she bought, every one of them," Parker asked, "why would you think that any earlier information from Reynolds would have made a difference to her?"
Neither the parties' attorneys nor Reynolds representatives could be reached for comment.
---
Related information
James Lewis is represented by Ogle Law's William Ogle and Wiggins Childs' Dennis Pantazis. R.J. Reynolds is represented by Jones Day's Stephanie Parker and Timothy Fiorta.
Watch gavel-to-gavel coverage of Lewis v. R.J. Reynolds on demand.
Not a subscriber?

Click here to learn more about our unrivaled tobacco litigation library.