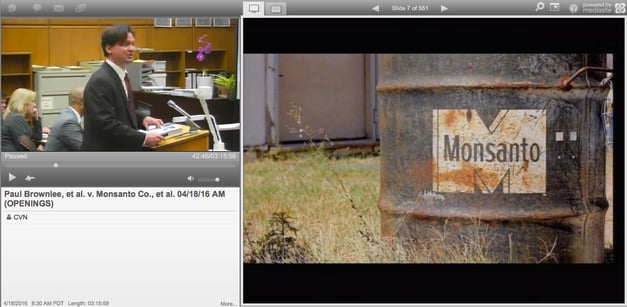 Plaintiffs' attorney Scott Frieling delivers his opening statement. Click here to see video from the trial.
Los Angeles - Agrochemical giant Monsanto Co. argued Monday in a California state courtroom that its long-lasting carcinogenic chemicals called polychlorinated biphenyls, known as PCBs, didn't cause two men to develop cancer, as plaintiff attorneys seek to break the company's winning streak in litigation over the toxic compounds.
Attorneys from the Texas-based firm Allen Stewart PC and local California firm Waters Kraus & Paul are trying to convince Los Angeles County jurors for a third time that Monsanto manufactured and sold PCBs for decades despite knowing they posed a significant public health risk. The trial comes just days after another Los Angeles County jury sided with Monsanto in a similar case, and the company also notched a win in 2014 in the first such case to go to trial, along with a similar win in Missouri.
Plaintiffs Fred Steele, 63, and Arutyun Karabadzhakyan, 64, claim they developed non-Hodgkin's lymphoma due to years of exposure to PCBs in the food they ate. PCBs are virtually indestructible chemicals that for decades were used for fire protection and a wide variety of other industrial purposes and remain present in trace amounts in much of the food supply throughout the United States.
"Throughout their lives they ate things like milk and cereal, eggs and potatoes, chicken, vegetables," attorney Scott Frieling argued during his opening statement, according to a Courtroom View Network webcast of the trial. "What they did not know was that with every meal they were eating PCBs that had permeated the entire environment."
Frieling told jurors that the vast majority of PCBs present in the United States were manufactured by Monsanto, including specific compounds that blood tests revealed in his clients. He said Monsanto publicized results only from short-term safety tests of the chemicals despite knowing that long-term studies were necessary to accurately gauge their potential risk.
Monsanto attorney Anthony Upshaw of McDermott Will & Emery LLP returned to the same argument the company relied on at the most recent PCB trial in Los Angeles, that non-Hodgkins lymphoma can be caused by a wide range of factors, and that the plaintiffs cannot definitively link their illness to PCB exposure. While he didn't dispute PCBs are carcinogenic, he said many people with the same exposure levels as Steele and Karabadzhakyan never suffer any adverse health effects.
Monsanto spokeswoman Charla Lord told CVN the company sympathizes with the plaintiffs but stressed that multiple juries have rejected similar claims.
"Previously three juries in St. Louis County, Missouri and Los Angeles County, California have already found that the evidence in those cases simply did not support the similar assertion that Monsanto or the historic use of PCB products was the cause of the plaintiffs' harms," Lord said in an email.
She added that today Monsanto is focused exclusively on agriculture and its involvement in PCB-related litigation stems from contractual obligations associated with the acquisition of a chemical company that shared the same name.
Attorneys for Steele and Karabadzhakyan did not respond to a request for comment, but following their loss in the most recent PCB trial in Los Angeles Gary Paul of Waters Kraus & Paul told CVN his team would continue taking Monsanto to trial.
"We will pursue them and we will prevail," Paul said at the time.
Potentially hundreds of similar cases are pending in both California and Missouri state court, but continued wins for Monsanto would make the odds of future settlements more likely. A Missouri state court jury sided with the company in 2014, and another Missouri jury deadlocked in a PCB exposure lawsuit in 2015 that ended in a mistrial. That case is set for a retrial on May 2 and involves many of the same attorneys involved in California litigation.
The current trial is taking place before Judge Stephen Czuleger and is expected to take between two and three weeks to complete. CVN is recording and webcasting the full trial gavel-to-gavel.
The case is Steele, et al. v. Monsanto Co., case number BC497582, in the Superior Court of California for Los Angeles County.
Email David Siegel at dsiegel@cvn.com