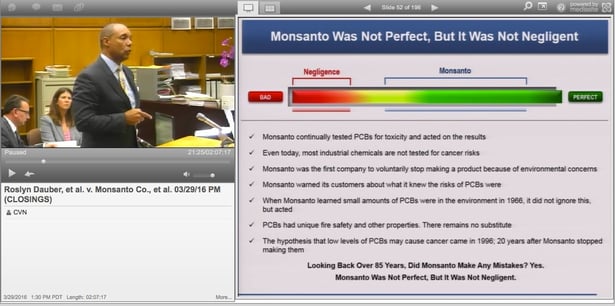 Monsanto attorney Anthony Upshaw delivers his closing argument. Click here to see video from the trial.
Los Angeles - Agrochemical giant Monsanto Co. notched a major win Tuesday in ongoing litigation over the alleged health risks of exposure to long-lasting carcinogens called polychlorinated biphenyls, or PCBs, when for a third time a state court jury cleared the company of responsibility for cancer that plaintiffs claimed was caused by the chemicals.
A 12-member jury deliberated for more than three days following weeks of expert testimony before determining that while Roslyn Dauber and John Di Costanzo were exposed to PCBs, they were not the likely cause of the plaintiffs' non-Hodgkin's lymphoma. With potentially hundreds of similar cases pending against Monsanto, a third win could mean increasingly favorable settlement terms for the company as more trials loom in California and Missouri.
Roslyn Dauber, 62, and John Di Costanzo, 87, both claim their non-Hodgkin's lymphoma was the result of eating food contaminated by PCBs for years. Before being banned in the 1970's, PCBs were used for a wide range of industrial purposes, from fire insulation to food packaging, and the resilient chemicals can still be found in many parts of the food chain today.
Dauber and Di Costanzo accused Monsanto, which manufactured the vast majority of PCBs found in the United States, of continuing to produce the compounds for decades while withholding their health risks from the public by only publicizing the results of short-term exposure tests. They sought $15 million in compensatory damages and an unspecified amount in punitive damages.
Monsanto argued that while PCBs are known to be carcinogenic, they have not been linked to the development of non-Hodgkin's lymphoma in humans. They argued that actions taken by the company as far back as the 1930's must be considered in a different light than the more stringent environmental standards in place today.
The trial was recorded and webcast gavel-to-gavel by Courtroom View Network.
Monsanto spokeswoman Charla Marie Lord told CVN the company is pleased that a third jury has sided with them in PCB-related litigation.
"The Los Angeles County jury found for Monsanto and against claims that the conduct of the former Monsanto in manufacturing and selling PCBs, a useful product, more than four decades ago was the cause of the plaintiffs' harms," Lord said. "In 2015 in St. Louis County, Missouri and in 2014 in Los Angeles County, California, two separate juries reached the same conclusion that the former Monsanto Company is not responsible for alleged injuries from the historic sales of PCBs."
Lord added that Monsanto's involvement in the litigation stems from contractual obligations associated with former chemical businesses that operated under the Monsanto name, and that the company today is focused solely on agriculture.
Gary Paul of Waters Kraus & Paul, who represents the plaintiffs, told CVN that while his clients are disappointed he doesn't think the verdict will have an impact on future cases.
"We start trial again on Monday against Monsanto in LA and another trial is set in St. Louis in May," Paul said. "We will pursue them and we will prevail." He noted that it is "way too early" to consider an appeal.
The next PCB trial in Los Angeles will take place before the same Superior Court judge, Stephen Czuleger who presided over this most recent case, and will also be webcast live and recorded gavel-to-gavel by CVN. The following trial in St. Louis will be a retrial after a jury deadlocked last year in another PCB exposure case.
Dauber and Di Costanzo are represented by Scott Frieling of Allen Stewart PC and by Gary Paul of Waters Kraus & Paul.
Monsanto is represented by Anthony Upshaw of McDermott Will & Emery LLP.
The case is Dauber, et al. v. Monsanto Co., et al., case number BC483342 in the Superior Court of California for Los Angeles County.
E-mail David Siegel at dsiegel@cvn.com.