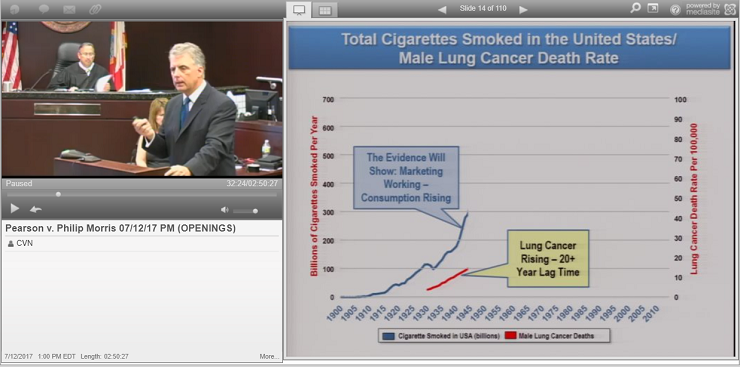 Lee Gunn delivers his opening statement at trial against Philip Morris, accused of responsibility for the lung cancer death of Donald Pearson.
---
Tampa, FL—Tobacco industry deception hooked a Florida railway worker to cigarettes and eventually caused the lung cancer that killed him, an attorney for the man's family told jurors Wednesday as trial opened against Philip Morris. Pearson v. Philip Morris, 2007-CA017823.
"The nicotine hook was set firmly in Don Pearson. He would smoke to feed that addiction for 34 years," the Gunn Law Group's Lee Gunn IV told jurors Wednesday. "And that smoke, it would feed a lung cancer."
Pearson, 51, a railway employee for much of his life, died in 1995 from his lung cancer, less than two years after quitting smoking.
His wife, Judith, claims Philip Morris, makers of the Marlboros Pearson smoked at different points throughout his life, caused his nicotine addiction and eventually his cancer by hiding the dangers of smoking throughout much of the 20th century.
The case is one of thousands of Florida's Engle progeny lawsuits against the nation's tobacco companies. They stem from a 2006 Florida Supreme Court decision decertifying Engle v. Liggett Group Inc., a class-action tobacco suit originally filed in 1994. Although the state's supreme court ruled that Engle-progeny cases must be tried individually, it found plaintiffs could rely on certain jury findings in the original case, including the determination that tobacco companies had placed a dangerous, addictive product on the market and had conspired to hide the dangers of smoking for decades.
In order to prevail and be entitled to those findings, however, each plaintiff must prove class membership by showing nicotine addiction caused a smoking-related disease such as lung cancer.
During Wednesday's opening statements, Gunn walked jurors through tobacco industry documents he said showed Philip Morris' role in a scheme to deceive the public about the dangers of smoking, while targeting youth smokers such as Pearson. By starting to smoke at about 15, Gunn said, "[Pearson] was doing exactly what Philip Morris was wanting him to do. Start young, when the customer is most vulnerable to the addictiveness of the nicotine in its cigarettes."
Gunn said Philip Morris and other tobacco companies falsely assured the public that they were researching an unsettled question on smoking's dangers, all while knowing the risks of their product. "Philip Morris and the conspirators would reassure the public that 'Hey, we're on your side. We're on your side, Americans. We're on your side, customer. And we're going to find out the truth, And, we're going to tell you the truth about our product's hazards,'" Gunn said.
But the defense contends Pearson chose to smoke despite being well aware of its dangers. During Wednesday's openings, Shook Hardy's Kenneth Reilly told jurors Pearson never claimed he was duped by tobacco industry marketing. "Mr. Pearson knew that what he was doing came with a risk of death. And, he not only knew it, but he believed it, and he told people about it. He told his coworkers, he told his friends. And they, who were also smokers, said the same thing to him."
Reilly told jurors there was no evidence to establish why Pearson started smoking or exactly when he began smoking Philip Morris' Marlboros. He noted Pearson was not a "brand-loyal" customer; Marlboro was just one of several cigarette brands Pearson smoked throughout his life, Reilly said, and the only one made by Philip Morris.
Reilly, who told jurors Pearson was not interested in quitting cigarettes until the 1990s, also contended the former railway worker initially declined medical tests on a suspicious spot found on his lung in 1994. Doctors diagnosed him with terminal cancer a year later. Reilly said that 1994 decision potentially closed a window to treatment that could have saved Pearson. "It's a decision you get to make for yourself. It has consequences," Reilly said. "But, like every other decision he made for himself that came with consequences, that one had potential consequences, too."
Trial in the case is expected to last through next week.
Email Arlin Crisco at acrisco@cvn.com.
Related Information
Judith Pearson is represented by the Gunn Law Group's Lee Gunn IV.
Philip Morris is represented by Shook Hardy Bacon's Kenneth Reilly.
Watch the trial live and on demand.
Not a subscriber?
Learn how you can watch blockbuster trials, in Florida and across the country.