---
Atlanta—High school football can be a dangerous sport, but most injuries occur inside the stadium. However, one would-be spectator never even made it to the game, suffering a broken leg in an auto/pedestrian accident outside the stadium that led to a personal injury trial nearly five years later in Fulton County State Court. Sherma Dailey v. Denise Brock (11EV012807).
According to testimony at trial and other documents in the case, plaintiff Sherma Dailey drove her daughter Dominique to Milton High School on November 5, 2010, to attend a football game between Milton and Roswell High School, where Dominique was a junior at the time. Neither of the Daileys had been to the school previously. Dailey drove north on Birmingham Highway past the main entrance to the school, an intersection with a traffic light and several crosswalks. However, because the parking lot was full, Dailey continued on Birmingham Highway about two-tenths of a mile, past the stadium on her right, and turned left into a residential subdivision on Owens Farm Road. She parked on a side street in the subdivision where various other cars were parked.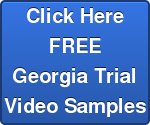 The accident itself occurred about 7:45 p.m. just south of Owens Farm Road, as the elder Dailey was attempting to cross Birmingham Highway on foot. Dominique had not yet begun to cross the highway. Denise Brock was driving south on Birmingham Highway when her minivan struck Dailey, who was in the roadway. Dailey lost consciousness and was taken by ambulance to North Fulton Regional Hospital. Among her injuries, she suffered a compound fracture of her leg and fractured facial bones as a result of the accident.
At the trial, Sherma Dailey testified that she attempted to cross Birmingham Highway south of the intersection with Owens Farm Road. At that spot, the road had three lanes, a northbound lane, a southbound lane, and a merge lane from Owens Farm Road. She was aware of the intersection with a traffic light and crosswalks that she had passed a few minutes earlier. However, she stated that she saw what she believed to be the entrance gate to the stadium much closer to her location (in fact, that gate was not an entrance). She also saw that there was a sidewalk on the other side of the street.
Dailey added that she crossed Birmingham Highway halfway to the double yellow line separating the two main lanes of traffic. She looked back and called to her daughter Dominique, who did not cross Birmingham Highway because she was texting at the time. Dailey then looked to her right and saw a northbound vehicle and waited for that vehicle to pass her before she crossed the northbound lane of the highway. Dailey had seen Brock's vehicle when she looked back towards her daughter, but the defendant's car was still 15-20 car lengths away, and Dailey did not believe it presented a threat. Dailey said she was still looking ahead at the northbound lane of traffic when she was struck.
Dailey stated that she passed out when she was hit and then woke up in the hospital. Dailey also introduced medical bills into evidence totalling $183,524.28 and stated that she had lost $17,920 in wages because she was unable to resume her job as a preschool teacher until the following summer. Under cross examination, Dailey stated she was wearing jeans and a dark coat and hat. She also acknowledged saying in an earlier deposition that it was dark at the time of the accident.
Dominique Dailey also testified and largely corroborated her mother's story. She too did not see the actual accident because she was texting at the time, but she heard the impact and thought her mother was dead. She said that she and her mother were following a group of several other people headed to the game on foot and that those people had crossed Birmingham Highway on foot just south of the location her mother attempted to cross. Dominique had seen Brock's car headed in her direction before the accident but was not overly concerned because the car was still some distance away the last time she saw it before the collision.
Denise Brock testified on cross examination during plaintiff's case. She said that the accident occurred about 50 feet south of the intersection between Owens Ford Road and Birmingham Highway. Brock said she was familiar with the area but had not traveled down Birmingham Highway during a football game. Brock said she was driving about 35 mile per hour (the speed limit was 45). She added that there were no street lights in the area where the accident occurred and that it was dark. She did not see Dailey until a moment before the collision. At that time, Dailey was about two feet inside the southbound lane of Birmingham Highway and a foot or so from her bumper.
Brock said she took her foot off the gas before the collision but did not have time to apply the brakes. She did not turn right or left or honk her horn either. She said Dailey hit the front of her car and also the windshield, then was thrown some 10-15 feet further down Birmingham Highway by the impact of the collision. Brock stated that she was attentively watching the road before she drove and did not see Dailey until just before the collision. However, she acknowledged that she had made earlier statements that Dailey "came out of nowhere."
In his portion of the closing statement, Dailey's attorney, Thomas Harper, pointed to testimony by City of Milton police officer N. Allen, who investigated the accident. Harper stated it would have been impossible for the accident to have occurred as Brock described, since her car would have traveled at least 75 feet before being able to stop the car. If Brock had knocked Dailey some 15-20 feet down the highway, her car would necessarily have had to run over Dailey a second time. Harper noted that Brock claimed she was able to tell exactly where Dailey was on the highway and what clothes Dailey was wearing in the split second before the collision.
Harper noted to the jury that Dailey had the right to cross the highway where she did as long as she used due care and was not required to walk 1100 feet to an intersection with a crosswalk. Harper went on to describe Brock's responsibilities: "The driver of a motor vehicle has no right to assume that the road ahead of him or her is clear of traffic or pedestrians and the driver must maintain a diligent lookout therefor. Not just pay attention; you've got to maintain a diligent lookout, particularly when you're approaching a high school football stadium on a Friday night. How is it possible for someone to argue with a straight face that they fulfilled their duty to maintain a diligent lookout when the best, the most favorable statement she can make is 'I didn't see her until she was less than a foot in front of my vehicle.' You can't." Harper also noted that only a slight turn of Brock's wheel to the right, where there was a third lane, could have avoided the accident.
Brock's attorney, Daniel Prout in his closing statement said that Dailey's attorneys were trying to "muddy the waters." He noted that the road was dark, there were no streetlights, and that Dailey was wearing dark clothes the night of the accident. In his view, Brock's statement that Dailey was two feet inside the southbound lane and that Brock could not see her until the last second was reasonable and consistent with the facts.
Prout suggested that he jury ask themselves, "Who should be there in the road? … Who should be in the middle of Birmingham Highway at the time of this accident? Should it be a car, driven by Ms. Brock, or should it be a person standing in the middle of a dark street with dark clothes? … Clearly, the person who should be there is Ms. Brock, not the plaintiff." He added that Dailey could have walked to the intersection with a traffic light and crosswalk in three and a half minutes, less time than it would probably take a juror to reach the lobby of the courthouse. "There's no reason you would not go to this intersection. That's what it's there for, for people exactly like Ms. Dailey. It's there exactly for this purpose so that Ms. Dailey doesn't get in an accident, so Ms. Brock doesn't face somebody crossing the street."
At the conclusion of the trial, the jury issued a verdict for Dailey in the amount of $280,807. However, the jury also found Dailey 49% at fault (and Brock 51%) for the accident, which will result in a reduction in Dailey's eventual recovery by nearly one-half.
Representatives of the parties could not be reached for comment after the case. Steve Silver can be reached at ssilver@cvn.com.
---
Related information:
Attorneys involved in the case include Thomas Harper of Marietta and Jonathan Brockman of Cumming for Sherma Dailey and Daniel Prout of Atlanta's Waldon, Adelman, Castilla,Hiestand & Prout for Denise Brock.
Watch on-demand video of the trial as soon as it becomes available.
Not a Subscriber? Learn more about CVN's unparalleled coverage of top Georgia trials.