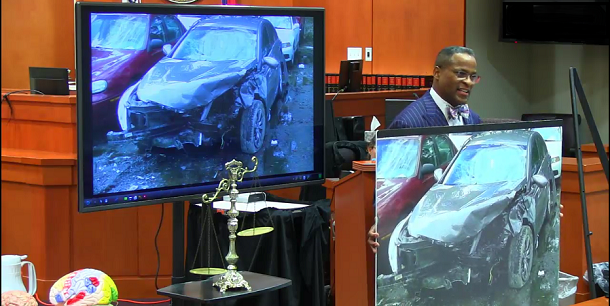 Keenan Nix shows images of Glenda Williams' car, totaled in a wreck with Papa John's delivery driver Robert Pollard's vehicle. Williams claims she suffered severe brain damage because of the collision.
---
Decatur, GA—Attorneys Tuesday sparred over the cause of a collision and injuries a Georgia woman suffered, as trial opened in a suit against Papa John's Pizza and the delivery driver accused of hitting her. Williams v. Pollard, et al., 14A52522-5.
Glenda Williams was injured in a 2014 collision with Robert Pollard on DeKalb County's Rogers Lake Road, as Pollard delivered pizzas for Papa John's. Williams contends Pollard was driving erratically on the rain-slick road, crossed the center line, and struck her car, leaving her with severe brain damage, among other injuries. Pollard argues he momentarily lost control of his car as he slowed to enter a curve before the collision occurred.
During Tuesday's opening statements, Williams' attorney, Morgan & Morgan's Keenan Nix, told jurors proof of Pollard's negligence was overwhelming. "He was driving too fast for conditions on a rainy night, lost control of a vehicle, hurtled across that center line, and this is why we're here," Nix said.
Nix noted police cited Pollard for failing to maintain his lane, and he ultimately pleaded guilty to the charge. Nix said V.W. Durand, the DeKalb County Police Department officer who cited Pollard, believed the delivery driver caused the collision. "He will tell you under oath in no uncertain terms that Pollard, and Pollard alone, caused the collision by losing control of his vehicle, crossing the white center line, and causing this crash," Nix said.
Nix told jurors evidence established Williams swerved to try to avoid the crash. "She moved as far away from the direction of the oncoming vehicle, as far as she could," Nix said. "She did everything she could to avoid this collision."
The crash Nix said, has left Williams with a host of injuries, including post-concussion syndrome and brain damage that hinders her concentration and causes frequent confusion and anxiety, among other conditions.
Williams' attorneys estimate her medical expenses alone will exceed $900,000, according to the court's consolidated pre-trial order.
Nix told jurors medical experts who studied the extent of Williams' brain injuries believe she will "need a lifetime of care to address permanent physical, cognitive, and emotional consequences."
"[Williams] survived this collision," Nix said, "but she did not survive it with her perfectly healthy body and mind intact."
However, the defense challenges the severity of Williams' brain damage. "The problem with this case is it's a car wreck in search of a brain injury," Hall Booth Smith's R. David Ware told jurors during openings Tuesday.
Ware noted Williams did not lose consciousness for long, if at all, after the crash, and spoke to friends who had come to the scene to comfort her. "Ms. Williams was fine at the scene," Ware said, noting Williams received a concussion test at the crash scene and was "lucid" before she visited a local emergency room and was released for the night.
Ware also argued plaintiff's expert neurologist, Dr. Angela Ashley, expected Williams' brain injury to resolve within 3-5 years if she followed a straightforward regimen. "All she has to do to maintain and get better is three things, Ware said. "She needs to take aspirin, she needs to exercise, and she needs to stay on her Zoloft. That came from Angela Ashley. I don't have to put an expert up."
Ware also challenged the contention Pollard caused the wreck, contending Pollard remembered his car hydroplaning in the water as he pumped his brakes to slow the vehicle before entering an S-curve. "It happens. It happens to people. He wasn't driving wildly. No reason to. He knew this area," Ware said, contending Williams struck the passenger side of Pollard's car because of the speed she was traveling. "Had she just done another maneuver, she would have avoided the wreck altogether."
Ware said Officer Durand's conclusion that Pollard caused the crash was based on Williams' statements while Pollard was unconscious following the accident. "The police officer, unless he is the Lord himself, doesn't know who caused this wreck," Ware said. "He got his information, though, from Mrs. Williams."
Trial is expected to conclude by Monday.
Email Arlin Crisco at acrisco@cvn.com.
Related Information
Glenda and Michael Williams are represented by Morgan & Morgan's Keenan Nix and Christopher Graddock and The Summerville Firm's Darren Summerville.
Robert Pollard and Papa John's Pizza are represented by R. David Ware and Phillip Friduss, of Hall Booth Smith, and Charles E. Hoffecker.
CVN is recording the trial and will have gavel-to-gavel footage as soon as it is available.