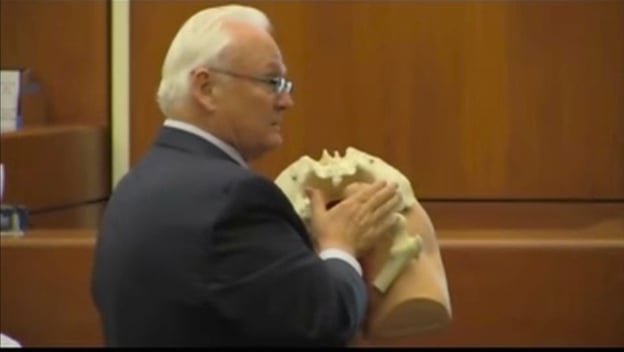 Plaintiffs' attorney Micheal Wright shows jurors where Doris Cote developed a bedsore that he argued became infected and caused her death. Click here to see video from the trial. Click here for a copy of the complaint.
Mesa — An Arizona state court jury awarded $2.5 million on Friday to the family of an 86-year-old woman who developed an infected bedsore in a nursing home operated by Five Star Quality Care Inc. and later died, along with an undetermined amount of punitive damages to be decided in a second phase of the trial.
The 10-member jury deliberated for one day after hearing two-weeks of testimony before deciding unanimously that The Forum At Desert Harbor, a skilled nursing facility located in Peoria, was responsible for allowing Doris Cote to become malnourished and dehydrated after overmedicating her with painkillers. Cote's family claimed her resulting weakened condition allowed a bedsore to become infected and eventually cause her death.
While the jurors found that the treatment Cote received fell below the standard of care, they rejected her family's wrongful death claim, only finding that she was injured as a result of the nursing home's negligence.
During his closing argument on behalf of the Cote family, Arthur Lloyd of Lloyd & Robinson PLLC told jurors that doctors initially expected Cote to be successfully discharged from The Forum after recuperating from a shoulder infection and compound fracture. Instead Lloyd said she was allowed to fall numerous times and developed a bedsore as a result of not being turned frequently enough, according to Courtroom View Network webcast of the trial.
"What happened to Doris Cote should never happen to any human being," Lloyd said before asking the jury to award between $2 and $3 million dollars in compensatory damages.
Bedsores, also known as pressure ulcers, occur when the skin breaks down where it comes into prolonged contact with a surface like a bed, and they are a common concern in nursing homes. Lloyd told the jury that Doris wasn't turned frequently enough as she became lethargic due to overmedication and dehydration, and the sore devolved into a festering wound that went down to the bone.
"This is what abuse and neglect looks like," Lloyd told the jury.
Cote, who had a pacemaker and suffered from kidney disease, was first admitted to The Forum to recuperate from septic arthritis in November 2011. Lloyd said she lost 9 percent of her body weight by the time she was discharged.
The day she was discharged, Cote fell and suffered a lumbar fracture after her walker got caught in the doorway of her home. She was hospitalized and again admitted to The Forum, where Lloyd said she suffered numerous additional falls and developed a MRSA infection in a bedsore.
She was hospitalized again in January of 2012 before being discharged to another nursing home and eventually succumbing to pneumonia the following June. Her family sued Five Star later that year.
During her closing argument on behalf of the defendants, Carol Romano of Gust Rosenfeld PLC said Cote's sharp decline was the result of ailments that afflict many senior citizens at the end of their lives and not because of negligence by the nursing home's medical staff.
Romano said Cote, who suffered from numerous medical conditions before her first admission to The Forum, developed the bedsore that eventually became infected while she was hospitalized and not under the nursing home's care. She rejected Lloyd's claim that Cote didn't receive adequate skilled nursing care to treat the worsening sore.
"Every single day somebody wrote something in this woman's chart about her wounds," Romano told the jury. "That's not falling through the cracks."
Romano dismissed claims that Cote wasn't adequately protected from falls as a "red herring." According to Romano, the worst injury Cote suffered from her falls was a finger abrasion, and she argued that some falls are inevitable in situations where frail patients are involved in activities like physical therapy.
"It's just a fact of life," Romano said, before ending her closing argument by reminding jurors that everybody dies for some reason, and asking them not to punish dedicated healthcare workers who take on the difficult job of caring for very sick people.
During his closing rebuttal, Micheal Wright of Udall Shumway PLC said that Doris Cote could have recovered as planned had The Forum's staff adhered to the standard of care.
"They were just complacent, and they didn't pick up on the red flags that were occurring," Wright said.
Massachusetts-based Five Star operates more than 260 senior care facilities across the country, according to the company's website.
The trial before Judge Mark Aceto, including the punitive damages phase currently underway, is being recorded and webcast gavel-to-gavel by CVN.
Attorneys for the parties declined to comment on the case prior to the conclusion of the second phase of the trial.
The Cote family is represented by Arthur Lloyd of Lloyd & Robinson PLLC and by Michael Wright of Udall Shumway PLC.
The defendants are represented by Carol Romano and Kelli Williams of Gust Rosenfeld PLC.
The case is The Estate of Doris L. Cote, et al. v. Five Star Quality Care Inc., et al., case number CV2012-094285, in Maricopa County Superior Court.
Related Coverage:
Jury Says Top Hospital Not At Fault After Intestine Connected To Vagina