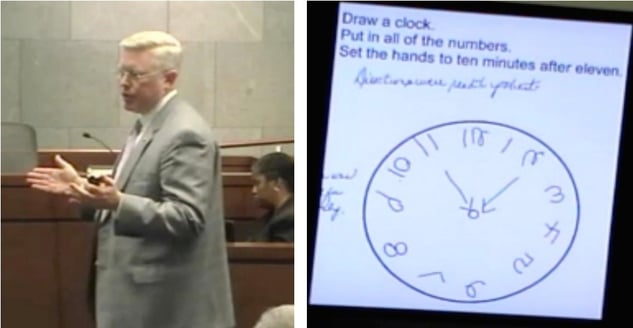 Defense attorney Justin Howard shows jurors the results of a neurological exam he says Linda Robinson intentionally tried to fail in order to appear disabled. Click here to see video from the trial.
Durham — A North Carolina state court jury cleared Duke University Medical Center and two surgeons of all liability on Thursday in a multi-million dollar medical malpractice suit brought by a woman whose intestine was accidentally connected to her vagina following bowel surgery, agreeing with the hospital's arguments that she was faking her alleged injuries.
The jury deliberated for less than a day before deciding that Duke and Drs. Christopher Mantyh and Erich Huang were not negligent while performing surgery on plaintiff Linda Robinson. Robinson had part of her bowel removed in 2008 to treat debilitating constipation, but her intestine was not properly reconnected to her rectum, requiring a second operation that ultimately repaired the problem.
Both sides agreed that Robinson suffered no lasting physical injuries as a result of the two operations, but her attorneys argued the stress of the experience caused her to develop a conversion disorder, a condition in which patients show signs of physical injury or illness after a traumatic event without any detectable underlying cause.
Robinson's attorneys said she suffers from symptoms similar to those exhibited by stroke victims, including slurred speech and weakness on her left side, but Duke's attorney Justin Howard of McGuireWoods LLP told the jury that none of Robinson's claimed injuries had ever been verified by a doctor.
"Every physician who has examined Linda Robinson and every expert you've heard from in this trial agree there is nothing physically or neurologically wrong," Howard said during his closing argument, according to a Courtroom View Network webcast of the trial. "Her symptoms are not real."
Howard argued that although Robinson was initially diagnosed as having a conversion disorder, specialists who continued to evaluate her detected evidence that she was trying to appear disabled.
He noted that in one neurological exam Robinson was asked to draw numbers on a clock, and she drew a number five backwards in a precise manner that her doctors suspected was voluntary. He also said during another exam, a hand tremor stopped when Robinson had her arm under a blanket and didn't think it was being observed, telling jurors that patients suffering from actual conversion disorders display constant symptoms.
"This is the result of someone who is trying to appear like they have a problem," Howard said.
Reynolds Williams of Wilcox Williams & Buyck PA told jurors during his closing argument they should award up to $1.7 million for Robinson's past economic loss and substantially more for past and future pain and suffering, although he did not suggest a specific amount. He said negligence was the only possible explanation for the outcome of Robinson's initial surgery.
However Howard, who repeatedly stressed that Dr. Mantyh is one of the top gastrointestinal surgeons in the country, argued that vaginal tissue becoming caught in the staple line following a surgery like Robinson's is a known complication and one of the reasons patients are warned they may have to undergo additional procedures.
"You can and do see drainage like this," Howard's co-counsel Mark Anderson said, noting that patients are specially monitored for the type of vaginal leakage Robinson experienced after her first surgery.
Robinson sued in 2011, but Duke succeeded in convincing a judge to toss the case, arguing that the suit should be thrown out because Robinson's claims weren't sufficiently backed up by expert opinions.
An appeals court disagreed, reviving the case in 2013 and ruling that based on the facts alleged in Robinson's complaint, even a layperson would be able to determine whether or not negligence occurred.
"It is common knowledge and experience that intestines are meant to connect with the anus, not the vagina, even following a surgical procedure to correct a bowel problem," the panel's ruling states.
Duke spokeswoman Sarah Avery told CVN the hospital is pleased with the outcome of the trial.
"Duke has fully supported Dr. Mantyh through this process and we look forward to his ongoing role as a recognized expert in his field and to the continued outstanding care he provides his patients," Avery said.
An attorney for the plaintiff did not respond to a request for comment.
The trial before Durham County Superior Court Judge R. Allen Baddour was recorded gavel-to-gavel by CVN.
Robinson is represented by Reynolds Williams of Wilcox Williams & Buyck PA and by Allen G. Thomas of Thomas & Farris.
The defendants are represented by Mark E. Anderson and Justin Howard of McGuireWoods LLP.
The case is Linda Robinson v. Duke University Health Systems, et al. case number 11-CVS-002315, in Durham County Superior Court.
E-mail David Siegel at dsiegel@cvn.com.
Previous coverage:
Top Hospital Faces Trial After Intestine Connected To Vagina
Click here to check out more medical malpractice trials in CVN's one-of-a-kind video archive.