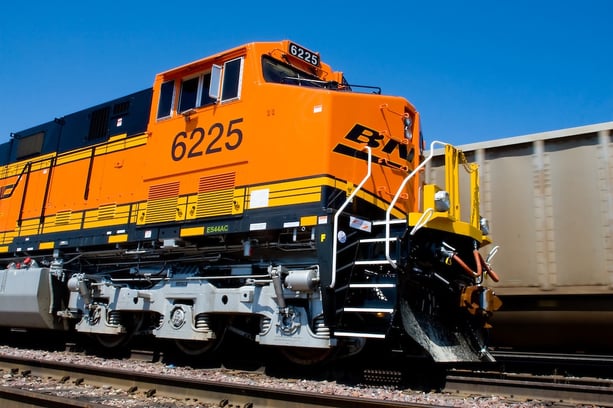 Phoenix — An Arizona state court jury awarded $2.9 million on Tuesday to the widow of a BNSF Railway conductor who was struck and killed by an oncoming train while he performed trackside work at night.
The eight-member jury deliberated for less than a day after hearing closing arguments in a trial that began on April 21. The jury found that Berkshire Hathaway Inc.-owned BNSF was responsible for the death of Michael Wilcox, who died in 2009 after being hit by a train while performing work for a crew change on an adjoining track, according to a Courtroom View Network webcast of the proceedings.
Wilcox's widow, Tina Wilcox, sued BNSF in 2011 under the Federal Employers Liability Act, a statute passed by Congress in 1908 to compensate injured railway workers, and Arizona state law. The suit alleged that BNSF stopped Wilcox's train in an unsafe location, that the oncoming train wasn't adequately illuminated, and that its crew failed to blow a warning on the oncoming train's whistle.
The jury found Wilcox to be 20 percent responsible for his own death, but also found that BNSF violated an Arizona state law requiring railway companies to provide walkways in areas where railway employees perform trackside work. Therefore the actual amount of damages awarded will not be reduced, according to Wilcox's attorney Anthony Petru of Hildebrand McLeod & Nelson LLP.
Petru told CVN he thought the verdict could have been larger, but FELA only allows railway workers' family members to seek quantifiable pecuniary damages like economic loss in wrongful death cases, and jurors were unable to hear testimony regarding the grief experienced by Wilcox's family.
"The jury gave the maximum amount that we were able to prove," Petru said, noting that BNSF's highest pre-trial settlement offer was $250,000.
Wilcox was attempting to release hand brakes alongside a train that had stopped on a mainline track during a crew change in Holbrook, Arizona - a situation that Petru compared to stopping a truck in the middle of a freeway - when the accident occurred. Wilcox was conscious following the collision but died approximately two hours later after being airlifted to an area hospital.
Of the $2.9 million awarded, the jury allocated $600,000 for Wilcox's conscious pain and suffering during those two hours, Petru said.
BNSF's attorneys argued that Wilcox failed to follow the company's safety guidelines and wasn't paying adequate attention to his surroundings at the time of the accident. Bradley Shwer of Thorpe Shwer PC told jurors during his opening statement that Wilcox was speaking on his cell phone just before the oncoming train struck him, a claim Petru said wasn't supported by the evidence.
"Mr. Wilcox failed to follow a series of BNSF rules and procedures, his training, his work experience and his common sense," Shwer told the jury. "In doing so he failed to take reasonable care for his own safety."
However Petru told CVN the railway safety guidelines at issue in the trial amount to useless platitudes. He said BNSF telling employees to "be alert and attentive" is the equivalent of just saying "don't get hurt."
"The industry has to take a much closer look at their archaic rules," Petru said.
Petru said he expected BNSF, which operates the second largest freight railroad network in North America, to appeal on the grounds that the space alongside Wilcox's train complied with Arizona's walkway requirements.
"They generally don't and won't accept a jury's pronouncement of their responsibility without fighting until the very end," Petru said. "They have the money, they have the time, and they will use that money."
A BNSF spokeswoman declined to comment beyond saying the company is reviewing the jury's verdict.
The trial before Maricopa County Superior Court Judge Randall Warner was recorded gavel-to-gavel by CVN.
The plaintiff is represented by Anthony S. Petru and Kristoffer S. Mayfield of Hildebrand McLeod & Nelson LLP and by Jason J. Romero and Don Andrew St. John of St. John & Romero PLLC.
BNSF is represented by William L. Thorpe and Bradley D. Shwer of Thorpe Shwer PC.
The case is Tina Wilcox v. BNSF Railway Co., case number CV2011-000477, in the Superior Court of the State of Arizona for Maricopa County.
E-mail David Siegel at dsiegel@cvn.com.
Click here to see a copy of the complaint.
Related coverage:
Conductor's Widow Takes BNSF To Trial Over Lethal Train Collision
Norfolk Southern Derailed by $1M Verdict for Injured Employee in FELA Case