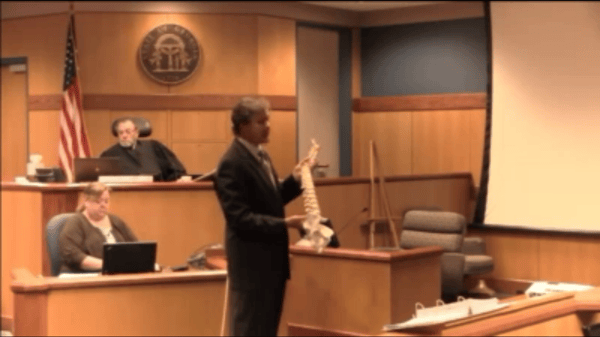 Plaintiff's attorney James Holland demonstrates to the jury the injuries Wifred Evans received when the van in which he was traveling was struck by a Norfolk Southern train. A Fulton County Superior Court jury awarded Evans over $1 million in damage as a result of the collision.
---
Atlanta—A Fulton County Superior Court jury awarded a Norfolk Southern Railway employee over $1 million in damages as the result of injuries suffered in a collision between the van in which he was traveling and a Norfolk Southern train in a railroad yard. Winfred Evans v. Norfolk Southern Railway Company and Professional Transportation, Inc. (2012CV223527)
The accident occurred on January 28, 2011, in Atlanta's Inman Yard. Evans, a Norfolk Southern conductor, was traveling in a van operated by Professional Transportation, Inc. (PTI), which contracted with Norfolk Southern to carry employees like Evans to work assignments in the yard. According to testimony in the case, the van made a right turn at a crossing directly in front of an oncoming train traveling at a speed of approximately ten miles per hour. The jury actually had the opportunity to see the accident occur, thanks to a camera on the locomotive that recorded the entire incident.
Evans filed suit against Norfolk Southern under the Federal Employers Liability Act (FELA) and against PTI under Georgia law. The jury returned a verdict for Evans of $998,127 on the FELA claim and $1,209,615 on the state law claim and also determined that Norfolk Southern was 80% responsible for the accident and PTI 20% responsible. As of the date of this article, Judge Alford Dempsey had not issued the actual judgment in the case.
After the verdict, Courtroom View Network spoke with Kristoffer Mayfield, of Hildebrand, McLeod & Nelson LLP. Mayfield, who has extensive experience in railroad litigation, said that an injured railroad employee's exclusive remedy against his employer is FELA, but that the suit can be brought in state court. Because PTI was not Evans' employer, his claims against PTI were tried under Georgia tort law. The amounts of the verdicts differ because lost income claims are awarded under FELA on the basis of net wages after taxes, while lost income claims under Georgia law are awarded on the basis of gross wages.
At the trial, the defendants acknowledged responsibility for the accident but contested the severity of Evans' injuries. Evans introduced evidence that he had suffered an annular tear in his back as a result of the accident, causing permanent nerve damage. Further, Evans' future work expectancy was reduced by approximately 6.6 years as a result of the injury. The jury's verdict included the exact amount of past and future lost wages that had been calculated by Evans' vocational witnesses.
In his closing statement, defense attorney James Gilson questioned whether Evans had suffered any injuries more serious than a back strain that healed long before the trial. Gilson noted that none of Evans' treating physicians, including the radiologists who examined his MRI's, found any evidence of an annular tear or recommended surgery. In their view, the only finding on the MRI was some degenerative disc disease that was a congenital condition. In addition, none of the treating doctors noted any evidence that Evans walked with a limp. He was not on any prescriptions and had no restrictions at work.
Gilson contended that the only doctor who found evidence of an annular tear was Dr. Richard Boehme, Evans' expert witness, who examined Evans one time more than two years after the accident. However, Gilson also noted that after examining Evans, Dr. Boehme never recommended that Evans reduce his workload. Further, Dr. Boehme indicated that he couldn't predict whether Evans would ever need surgery for his condition. Gilson also criticized the determinations of Evans' future disability made by Jacquelyn Velez, a consultant for Vocational Economics, Inc. Gilson noted that Velez's determinations of Evans' future disability were based solely on Dr. Boehme's findings.
Gilson also asked the jury to apply common sense in evaluating Evan's condition, noting that he did not see any doctors for a period of two years before consulting with Dr. Boehme. "So he's not on any type of medication; he's not taking anything over the counter; he's not seeing any doctors. What is he doing? He's working every day… He's 12 hour Fred; he's working overtime almost every single day voluntarily. That's the best evidence of how he's doing physically … If you're in a lot of pain; if you have an injury of some kind; you're just not going to be able to work like that."
In his closing statement, Evans' attorney James Holland argued that the medical evidence indicated that Evans had suffered nerve damage in the accident and that the nerve damage was permanent. Dr. Boehme had stated that the recommended surgery was only a stopgap; it wouldn't make Evans' nerves better. The question in Dr. Boehme's mind, which led to the determination regarding Evans' future work expectancy, was whether he'd ever be able to return to work after the surgery.
Holland noted that Dr. Boehme's readings of Evans' MRI's were consistent with the other medical evidence in the case, including Evans' symptoms that were testified to by his friends and family and the results of nerve conduction studies. In particular, Evans' treating physicians noted that he had limited range of motion in his back, numbness of the feet, and muscle spasms. Further, Holland stated that Evans' treating physicians indicated that Evans' condition was caused by the accident.
Holland also pointed out that the question for the jury wasn't whether Evans could work today. "I am glad that Norfolk Southern thinks that Mr. Evans is a good worker today. My job is to prove what's going to happen tomorrow. I brought you a Navy-trained medical doctor… He's got to read MRI's himself. He was good enough for the U.S. military. Don't you know that if there was a neurologist who disagreed with him; if there was a radiologist who didn't believe in annular tears; don't you know with an entire medical department from Norfolk Southern, they would have brought you one person from that department? Don't you know if they truly disagreed with what Dr. Boehme said… they would have put up a single witness?"
Attorneys for the parties were unavailable for comment after the verdict. Steve Silver can be reached at ssilver@cvn.com
---
Related information:
Attorneys involved in the case include James Holland of Harrell and Harrell of Jacksonville, FL, for Winfred Evans and James Gilson of Atlanta's Casey Gilson for the defense.
Watch on-demand video of the trial as soon as it becomes available.
Not a Subscriber? Learn more about CVN's unparalleled coverage of top Georgia trials.