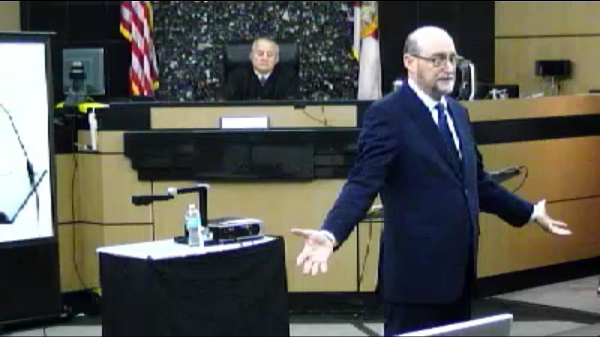 Gary Cohen describes how a vacuum extraction device was used by Dr. Samuel Kaufman during the birth of Jordan MacDonald. Cohen represents Jordan's parents, Melissa and Robert MacDonald in their suit claiming that the device's use led to Jordan's cerebral palsy. The third trial in the suit opened Wednesday. Click here to view opening statements.
---
West Palm Beach, FL—As trial opened Wednesday in a couple's malpractice suit against the health care providers they claim injured their son's brain during delivery, opposing counsel sparred over the cause of the now-teenage child's cerebral palsy. MacDonald v. Women's Healthcare Associates, 2000 CA 008025.
Comparing the improper use of vacuum devices during childbirth to running a red light, Grossman Roth attorney Gary Cohen told jurors on Monday that Dr. Samuel Kaufman ran "a medical red light" when delivering Melissa MacDonald's son, Jordan, in 1998 using a vacuum extraction device. "He did something he shouldn't have done. He interfered with nature. He interfered with the obstetrical process."
Jordan's parents Melissa and Robert MacDonald, represented by Cohen, are suing Kaufman and Women's Health Associates, claiming Kaufman did not obtain appropriate consent prior to using a vacuum extractor to deliver Jordan. The MacDonalds contend that the device damaged Jordan's brain, causing his cerebral palsy.
However, Adams Coogler's Reed Kellner, representing the medical providers, told jurors Wednesday morning that the fact that Jordan was born prematurely, 35 weeks into gestation, was the likely cause of the child's brain injury. "Prematurity places babies at increased risk for many different maladies, from death to cerebral palsy. And even babies that are late pre-term at 35 weeks have three times the rate of cerebral palsy as full-term babies," Kellner said.
Kellner contended that Kaufman acted reasonably when using the vacuum, which he said was considered a safe and normal delivery method when Jordan was born. Kaufman "provided reasonable care by using the vacuum. The vacuum did not cause the injury, and the way the baby was delivered did not cause the injury," Kellner said.
Although Kellner told jurors that Kaufman would testify that he never used a vacuum device without discussing the decision with the parents, Cohen contended that the evidence would show otherwise. "He never told (MacDonald) he was going to use it. He made the decision," Cohen said. Kaufman "doesn't have any memory of this at all, by the way. (MacDonald) does. This is her first baby. Mothers remember their pregnancies. She knows she wasn't told anything, and the father knows she wasn't told anything."
This is the case's third trip before a jury in four years. An August 2011 trial ended in mistrial after less than a week when a dispute arose concerning parties' stipulation surrounding the authenticity of a signed medical consent form. Later that year, the defense prevailed in a retrial at which plaintffs sought more than $13 million in damages. However, Judge David Crow granted MacDonald's motion for a new trial after finding that Kaufman's legal team had improperly questioned witnesses. The current proceeding, with Judge Donald Hafele presiding, is expected to last approximately three weeks.
Counsel for the parties could not be reached for comment.
---
Related information:
Attorneys involved in the case include Grossman Roth's Gary M. Cohen and Andrew Yaffa, representing Melissa MacDonald, and Adams Coogler's Reed Kellner, Jennings Hurt, and Henry Jewett representing Samuel Kaufman and Women's Health Associates.
Watch Video of the trial here.
Not a subscriber?
Learn how you can watch CVN Florida's unparalleled coverage of the state's key trials.