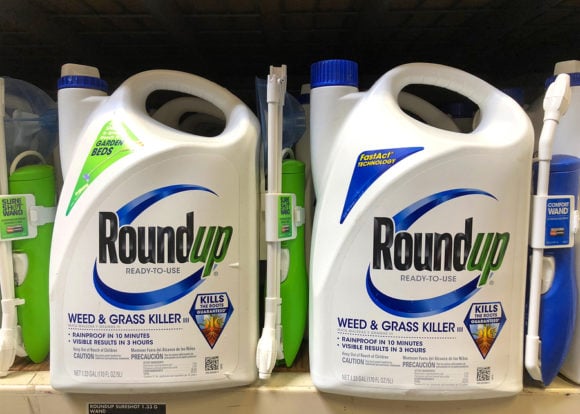 stock image of Roundup weedkiller
Clayton, MO - The first trial in the St. Louis area involving allegations that Bayer-owned Monsanto's popular Roundup herbicide causes cancer begins Wednesday with opening statements, and the full trial will be webcast gavel-to-gavel by Courtroom View Network.
Jury selection begins Monday in St. Louis County Circuit Court in a case involving three plaintiffs in their 60's and 70's claiming that longtime exposure to glyphosate chemicals in herbicides like Roundup gave them lymphoma. Monsanto argues glyphosate does not cause cancer, and that the scientific claims used in plaintiffs' Roundup-related lawsuits are unsound.
While a number of Roundup cases have gone to trial in recent years in various states resulting in both plaintiff and defense verdicts, the upcoming trial will draw special scrutiny due to its taking place in St. Louis County near the location where Monsanto had its headquarters for many years.
Monsanto has sought to exclude the electronic news media from the courtroom at nearly every glyphosate-related trial to date, and they similarly attempted to bar the news media from filming the public trial proceedings in this case. However their request was denied by Circuit Judge Brian May, and CVN's camera will be present for the duration of the trial (expected to last 4-6 weeks) from the start of opening statements forward.
CVN is the only news media organization in the country dedicated to gavel-to-gavel video coverage of civil trials of interest to the legal, educational and business communities. CVN regularly covers bellwether and other high-stakes product liability and personal injury trials in state courts throughout the United States, including in Missouri.
Numerous additional trials in Roundup cases are scheduled in the St. Louis area through 2023, so the significance of a jury verdict for plaintiffs or the defense in this first trial will draw national legal talent on both sides to Judge May's courtroom.
The plaintiffs are represented by the Texas-based firm Fears Nachawati PLLC and by local Missouri counsel Carey Danis & Lowe.
Monsanto is represented by attorneys from Covington & Burling LLP's New York City and Washington, DC offices, Proskauer Rose LLP's Los Angeles office, and by local Missouri counsel Husch Blackwell LLP.
The current case is captioned Carl Alesi, et al. v. Monsanto Company, case number 19SL-CC03617 in St. Louis County Circuit Court, Missouri.
E-mail David Siegel at dsiegel@cvn.com