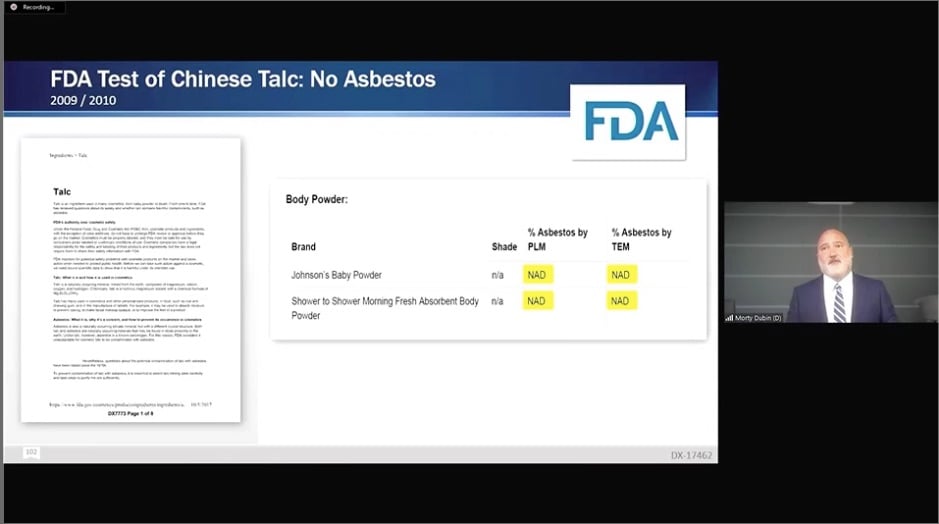 CVN screenshot of defense attorney Morton Dubin delivering his opening statement virtually on behalf of Johnson & Johnson
Oakland, CA - The first cosmetic talc trial held virtually over Zoom ended in a mistrial Monday, when a California state court judge informed jurors the plaintiff entered hospice over the weekend and is no longer able to communicate with his attorneys.
Judge Stephen Kaus told jurors that Louis Reyes, who suffers from advanced mesothelioma, is not expected to recover.
"It appears his passing away is imminent," Kaus said, according to a Courtroom View Network webcast of the proceedings.
Reyes claimed he developed mesothelioma due to exposure to asbestos allegedly present in cosmetic talc products and brake dust. Defendants in the case included Johnson & Johnson, Safeway, CVS-owned Longs Drugs, Lucky Stores, O'Reilly Auto Parts and Bendix Corporation.
The defendants denied the allegations and argued Reyes' mesothelioma occurred spontaneously.
His attorney, Joseph Satterley of Kazan Mcclain Satterley & Greenwood, asked for an unspecified amount of damages in the millions during his opening statement, which marked the first time a virtual jury sat for a cosmetic talc trial. CVN recorded and webcast the proceedings up to Monday's mistrial announcement.
Bina Ghanaat of Hugo Parker LLP, who represents O'Reilly, told CVN their "thoughts are now with Mr. Reyes and his family as he battles with peritoneal mesothelioma, a rare form of cancer with both known and unknown causes."
An attorney for the plaintiff and a J&J representative did not respond to requests for comment.
Judge Kaus explained to jurors that Reyes' passing required him to declare a mistrial in the current case.
"A case after someone has passed away is different from when a plaintiff is alive," he said. "It's a difference between a personal injury case and a wrongful death case."
Judge Kaus also told jurors that ending the current trial makes room for another critically ill plaintiff like Reyes. Reyes had his trial expedited and held virtually due to his failing health, over the objection of the defendants.
"There are other plaintiffs whose health is in jeopardy who are awaiting trial," Kaus said. "This allows another trial to start."
Despite objections which referenced irregularities in two prior non-talc asbestos trials held virtually in Alameda County, the proceedings took place largely without incident until the mistrial.
The case, webcast by CVN, was closely watched by attorneys and stakeholders nationwide as a test of how talc cases could take place virtually moving forward. Judge Kaus referenced the importance of this initial trial in thanking the jurors for their service.
"I think the attorneys have learned a lot from this proceeding," he said.
The trial is available for viewing on-demand as part of CVN's trial video library, which includes numerous other cosmetic talc and asbestos trials.
The case is Reyes v. Johnson & Johnson, et al., case number RG20052391 in Alameda County Superior Court.
E-mail David Siegel at dsiegel@cvn.com