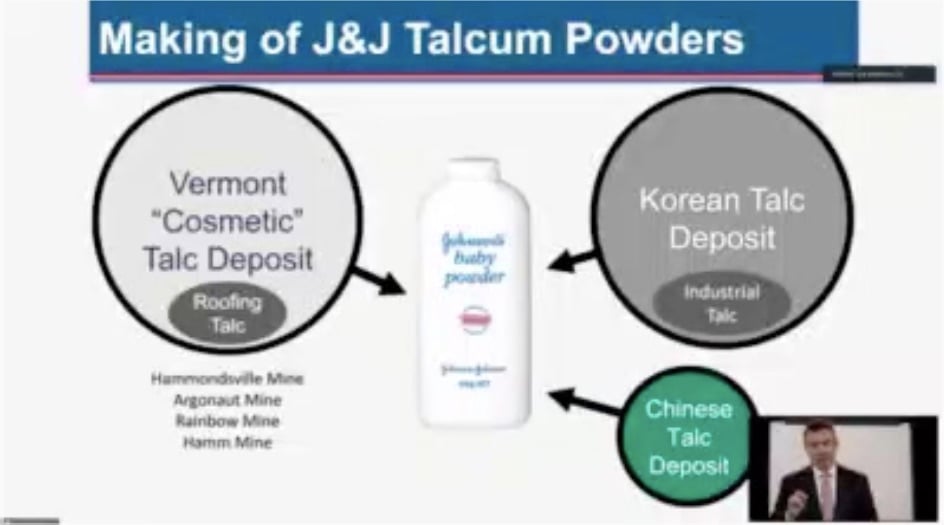 CVN screenshot of plaintiff attorney Joe Satterley remotely delivering his opening statement
Oakland, CA - The first trial involving Johnson & Johnson's cosmetic talc products since the nationwide Covid-19 shutdown in March and the first talc trial held virtually over Zoom began Tuesday in California state court, with Courtroom View Network webcasting the proceedings.
Joseph Satterley of Kazan Mcclain Satterley & Greenwood, an attorney for plaintiff Louis Reyes, 54, told jurors remotely in his opening statement that his client suffers from advanced mesothelioma, a form of cancer commonly associated with asbestos exposure. Satterley said evidence would show Reyes' only asbestos exposure came from decades of using J&J's cosmetic talc products like Baby Powder and a specific type of brake dust. Reyes spent years doing auto-repair work as a hobby.
In addition to J&J defendants also include retailers Safeway, CVS-owned Longs Drugs and Lucky Stores, along with O'Reilly Auto Parts and Bendix Corporation.
Satterley asked jurors to award an unspecified amount of damages in the millions, arguing that J&J, the retail stores and automotive defendants knew about the dangers of asbestos in their products but failed to warn consumers.
Allison Brown of Skadden Arps Slate Meagher & Flom LLP, representing J&J, argued that Reyes' cancer was not caused by exposure to J&J's products, and that J&J's cosmetic talc never contained asbestos. She disputed the accuracy of testing results that Satterley claimed showed otherwise.
Brown asked jurors how an exceedingly rare cancer like Reyes' could be caused by such a widely distributed product. She said Reyes suffers from a specific type of mesothelioma that sees less than 50 diagnoses annually in the United States.
In many ways the proceedings seemed familiar compared to the numerous cosmetic talc trials to date, the majority of which CVN webcast and recorded. However the myriad variables associated with an entirely virtual trial move this case into largely uncharted territory. As of Wednesday afternoon the proceedings moved along without incident, with attorneys for the retailers and automotive companies still to deliver their opening statements.
The defendants opposed holding the trial virtually, citing irregularities in two previous non-talc asbestos trials recently held in Alameda County. One trial ended in a defense verdict, and the other in a $2.5 million verdict, with appeals courts yet to weigh in on either outcome. Judge Stephen Kaus pressed forward with the current talc trial in light of Reyes' rapidly failing health. The case received expedited consideration after being filed less than a year ago.
The daily trial proceedings are being webcast both live and on-demand by Courtroom View Network, and the developments will be closely monitored by plaintiff and defense attorneys to determine the viability of virtual trials for talc cases. Despite J&J settling 1000 talc cases earlier in October for $100 million there are still thousands more talc cases pending throughout the country.
The current case is captioned Reyes v. Johnson & Johnson, et al., case number RG20052391 in Alameda County Superior Court.
E-mail David Siegel at dsiegel@cvn.com