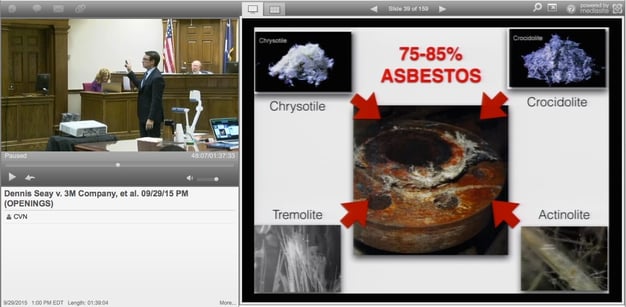 Plaintiffs' attorney Chris Panatier shows jurors the types of asbestos used in gaskets he blamed for Dennis Seay's fatal cancer during his opening statement on Tuesday. Click here to see video from the trial.
Spartanburg — John Crane Inc. and materials company Celanese Corp. should pay up to $15 million to the family of a machinist who died of mesothelioma after being exposed to asbestos while working at a polyester fiber plant in the 1970's, jurors heard in a trial that began Tuesday in South Carolina state court.
Dennis Seay worked with asbestos insulation and asbestos-containing gaskets in a Celanese plant from roughly 1971 to 1980 while an employee of Daniel Construction Co, which Celanese hired for maintenance and repair work. Seay's suit, filed in 2013, claims Celanese and gasket seller John Crane knew that asbestos exposure posed a cancer risk for workers but failed to adequately warn him of the dangers.
Seay's attorney Chris Panatier of Simon Greenstone Panatier Bartlett PC told jurors during his opening statement that Seay began work at the Celanese plant shortly after passage of the Occupational Safety and Health Act, or OSHA, which directly addressed the dangers of asbestos and set strict exposure limits. He said hundreds of articles addressing the cancer risks associated with asbestos had been published by the time Seay arrived at the Celanese plant.
"These two companies had actual knowledge that asbestos caused disease and that it was killing people," Panatier said, according to a Courtroom View Network webcast of the trial. (Click here to see other asbestos trials in CVN's video archive.)
Panatier told the jury that Seay, who died in 2014 at the age of 70, inhaled asbestos fibers produced from scraping down gaskets prior to replacing them and from the asbestos insulation surrounding the plant's steam pipes. Seay was diagnosed with mesothelioma, a cancer affecting the lining of the lungs that is specifically linked to asbestos inhalation, in 2013.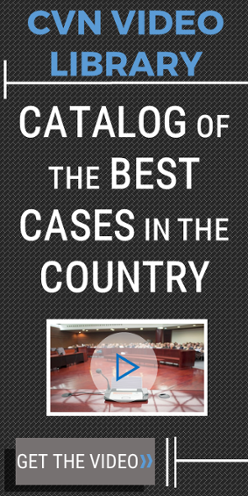 In a dramatic moment that could leave a lasting visual impression with jurors, Panatier showed a photograph of a healthy-looking Seay shortly after beginning his cancer treatment, and then another taken just two days before his death while he lay in a hospital bed looking extremely frail. He said the painful medical procedures Seay had to repeatedly endure during the last year of his life due to collapsed lungs, and the fact he could have otherwise lived for another decade or more, warranted a damages award between $10 million and $15 million.
"When it comes to cancers this is one of the most aggressive and the most awful," Panatier said.
Representing John Crane, Mark Tivin of O'Connell Tivin Miller & Burns asked jurors to keep their "eye on the ball" and not be swayed by sympathy for the Seay family's loss. He didn't dispute that Seay inhaled asbestos fibers and died of mesothelioma, but he said the exposure came from asbestos insulation and not from John Crane's gaskets.
"I'm not here saying asbestos is the magic mineral, or hooray for asbestos. I'm not here to defend asbestos," Tivin said. "I represent John Crane, and we do not agree that John Crane products were a substantial factor or cause of Mr. Seay's mesothelioma."
Asbestos used in insulation exposed to the open air is tens of thousands of times more deadly than asbestos contained inside sealed gaskets, Tivin told the jury. He said asbestos insulation was so prevalent at the Celanese plant that it would sometimes fall through floor gratings and land directly on Seay's head.
Exposure potential from asbestos in gaskets is comparable to the safe background amounts of asbestos present in many parts of the United States, Tivin argued, suggesting that Panatier's claims weren't backed up by the medical literature.
"Although there have been studies which have specifically linked thermal insulation to the development of mesothelioma, there has never been one that specifically links gaskets," Tivin said.
Celanese's attorney Lane Young of Hawkins Parnell Thackston & Young LLP placed the blame for Seay's death squarely on Daniel Construction. He said Daniel agreed in their contract with Celanese to be responsible for the safety of their own workers at the plant, and that Daniel failed to provide Seay with a respirator as mandated by OSHA.
He described Daniel as a large and sophisticated company that Celanese thought knew how to safely perform maintenance and repair work on asbestos-containing products.
"They relied upon Daniel to properly and safely do the work," Young said. "If Daniel had just given Mr. Seay a respirator, the evidence in this case will be we likely wouldn't be here."
The trial before Judge Garrison Hill will take approximately two weeks to complete and is being webcast gavel-to-gavel by Courtroom View Network.
The case is Dennis Seay v. 3M Company, et al., case number 2013CP4203915, in South Carolina's Seventh Judicial Circuit Court.
E-mail David Siegel at dsiegel@cvn.com.
Related coverage:
Jury Nails Georgia-Pacific With $17M Asbestos Cancer Verdict
Caterpillar Avoids $19M Verdict In Asbestos Wrongful Death Trial