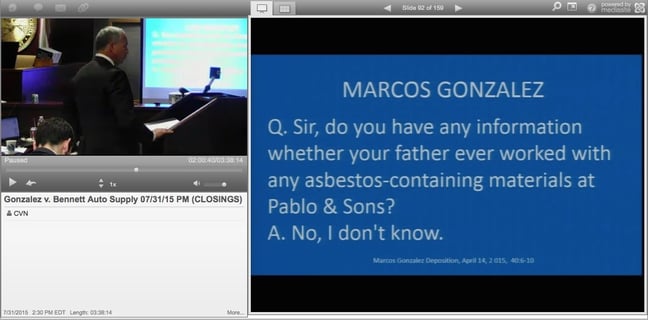 Defense attorney Jose Gaitan shows jurors deposition testimony that he said proves Pablo Gonzalez Sr.'s cancer couldn't be linked to asbestos in Caterpillar's products. Click here to see video from the trial.
Miami — Heavy equipment giant Caterpillar Inc. and auto parts manufacturer Dana Co. LLC prevailed Monday in a lawsuit in Florida state court brought by the family of a mechanic who died of lung cancer they claimed was caused by exposure to brakes and other equipment containing deadly asbestos dust.
The six-member jury returned their unanimous verdict after deliberating for just a few hours following a 14-day trial. An attorney for the family of Pablo Gonzalez Sr. had asked jurors to award up to $19 million in damages, according to a Courtroom View Network webcast of the trial, but Caterpillar and Dana both argued that Gonzalez's mesothelioma couldn't be definitively linked to their products.
Gonzalez died in 2011 at the age of 79 less than three months after being diagnosed with the disease, and in 2013 his son of the same name sued Caterpillar and Dana claiming the companies knew for decades about the dangers posed by asbestos used in their products. Gonzalez opened a garage in 1974 where he serviced heavy equipment like bulldozers and was frequently exposed to asbestos dust while replacing brakes, clutches and gaskets, his attorneys argued.
Caterpillar's attorney Jose Gaitan of The Gaitan Group PLLC told jurors that there was no way to tell whether Gonzalez's mesothelioma was naturally occurring or the result of exposure to asbestos dust. He explained that Gonzalez's lung tissue wasn't preserved after his death, so it was impossible to tell if he actually had asbestos fibers embedded in his pulmonary structures.
"This is a case about the absence of evidence," Gaitan said during his closing argument.
Gaitan showed jurors deposition testimony from Gonzalez's sons who worked with him in his garage, which he said proved that there was no clear evidence that Gonzalez was exposed to Caterpillar products. Gonzalez died before the lawsuit was filed and never provided any testimony in the case.
In response to the question, "Sir, do you have any information whether your father ever worked with any asbestos-containing materials at Pablo & Sons?" Marcos Gonzalez replied, "No, I don't know," Gaitan told the jury, adding that Gonzalez's sons testified he used parts from a wide variety of companies besides Caterpillar.
Dana's attorney James Powers of Wilson Elser Moskowitz Edelman & Dicker LLP told the jury that Gonzalez couldn't have been exposed to dangerous doses of asbestos as a result of working with parts that were either oil-slicked to prevent dust contamination, or that kept any asbestos-containing parts completely enclosed. He said scientific studies showed mechanics like Gonzalez were exposed to the same amount of asbestos as residents of big cities, where small amounts of asbestos are present in the air.
"People who have that exposure in New York City and in San Francisco don't have mesothelioma," Powers said during his closing argument. "People who have that exposure working as brake mechanics don't get mesothelioma."
Caterpillar spokeswoman Rachel Potts told CVN the company is pleased with the jury's verdict. Attorneys for the plaintiff and for Dana did not respond to requests for comment.
The trial took place before Circuit Judge Jacqueline Hogan Scola and was recorded gavel-to-gavel by CVN. Another asbestos trial against Union Carbide Corp. is currently in jury selection in Miami, and CVN hopes to provide similar video coverage of those proceedings once opening statements begin.
Gonzalez Jr. is represented by Janpaul Portal and Marc Kunen of The Ferraro Law Firm.
Caterpillar is represented by Jose Gaitan of The Gaitan Group PLLC, and by Timothy Ferguson of Foley & Mansfield PLLP.
Dana is represented by James Powers of Wilson Elser Moskowitz Edelman & Dicker LLP, and by Evelyn Davis and Catherine McCormack of Hawkins Parnell Thackston & Young LLP.
The case is Gonzalez v. Caterpillar Inc., et al., case number 2013-CA-031838, in the 11th Judicial Circuit Court of Florida in Miami-Dade County.
E-mail David Siegel at dsiegel@cvn.com.
Click here to see more asbestos trials in CVN's one-of-a-kind online video archive.