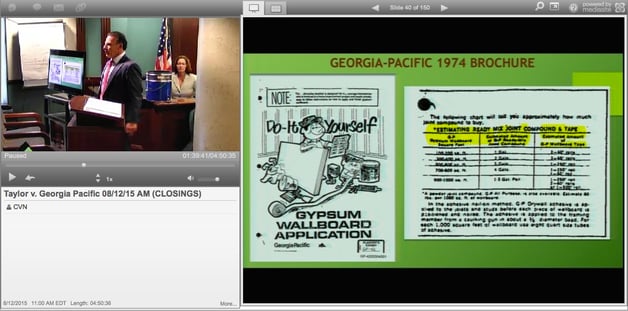 Plaintiff's attorney James Ferraro shows jurors a copy of the instructional brochure Georgia-Pacific provided with its asbestos-containing joint compound in the 1970's during his closing argument. Click here to see video from the trial.
Miami — A Florida state court jury slammed Koch Industries Inc.-owned Georgia-Pacific LLC with a $17 million verdict on Thursday in an asbestos lawsuit, finding that a construction worker's cancer was caused by exposure to the deadly mineral in the company's joint compound.
The jury reached its verdict shortly before lunch after beginning deliberations on Wednesday following a trial that started August 4. They awarded plaintiff Roy Taylor, whose doctor testified could die within a year, $13 million and his wife Suzanne $4 million while also clearing Dow Chemical Co. subsidiary and co-defendant Union Carbide Corp. of all liability, according to a Courtroom View Network webcast of the trial.
Georgia-Pacific was found to be 55 percent responsible for Taylor's asbestos exposure, with his former employer Raytheon found to be 30 percent responsible and Taylor himself 15 percent responsible. As a result the actual amount of damages the Taylors can collect is approximately $9.35 million.
Taylor claimed he developed mesothelioma, a rare form of cancer affecting the lungs that has been linked to asbestos inhalation, from working as a painting supervisor for Raytheon in Saudi Arabia in the late 1970's. His attorney, James Ferraro of the Ferraro Law Firm, argued that Georgia-Pacific's joint compound, which contained Union Carbide's asbestos, was applied to walls and then sanded down, and that Taylor often ended his workday covered in white dust.
Ferraro had asked the jury during his closing argument to award between roughly $19.5 million and $29 million for the Taylors' past and future pain and suffering.
"I think there was overwhelming evidence of the exposure in Saudi Arabia," Ferraro told CVN. He said the defense arguments that Taylor could have been exposed to asbestos-containing products while running a painting company after his time abroad amounted to "pure speculation" that wasn't backed up by any evidence.
Ferraro said the jury likely cleared Union Carbide because they were Georgia-Pacific's asbestos supplier, and that Georgia-Pacific knew the dangers of the asbestos it used. He argued during the trial that Georgia-Pacific continued to sell asbestos-containing joint compound even after supposedly knowing the health risks it posed.
"If [Georgia-Pacific] didn't buy it from Union Carbide they would have bought it from someone else," Ferraro said.
Georgia-Pacific spokeswoman Karen Cole told CVN that the company has sympathy for the Taylors but is disappointed by the jury's verdict.
"We believe the evidence in the trial established that Mr. Taylor was not exposed to Georgia-Pacific's product and that our product did not play a role in his disease," Cole said.
A media representative for Union Carbide did not respond to requests for comment.
Defendants in asbestos cases frequently appeal verdicts favoring plaintiffs, but Ferraro said he didn't think Georgia-Pacific had any grounds to challenge the jury's verdict in this case, noting that the trial before Circuit Judge William Thomas was relatively straightforward.
"The lawyers for Georgia-Pacific were good lawyers, and they're pretty much by the book," Ferraro said. "Both sides don't really have much to appeal."
Ferraro told CVN a case centering around asbestos exposure that occurred decades ago overseas presented unique discovery challenges for his team.
"We got what we needed," he said. "That was the most difficult aspect of the case."
The verdict is a reversal of fortune for the Ferraro Law Firm, after being handed a loss by Caterpillar Inc. and auto parts manufacturer Dana Co. LLC in a potentially $19 million asbestos trial in Miami that wrapped up the day before Taylor's trial began. The plaintiff in that case died before his family filed a lawsuit, so he was never able to provide testimony, and his body was disposed of before critical lung tissue samples could be preserved.
The Taylors' trial was webcast and recorded gavel-to-gavel by CVN, and the other recently concluded Miami asbestos trial was also recorded gavel-to-gavel and is available for viewing online.
The Taylors are represented by James Ferraro of the Ferraro Law Firm.
Georgia Pacific is represented by Mel Bailey of Bailey Crowe Kugler & Arnold LLP.
Union Carbide is represented by Angela Puentes-Leon of Carlton Fields Jorden Burt PA.
The case is Taylor v. Georgia-Pacific, case number 2014-CA-022141, in the 11th Judicial Circuit of Florida.
Click here to see more asbestos trials in CVN's one-of-a-kind online video archive.