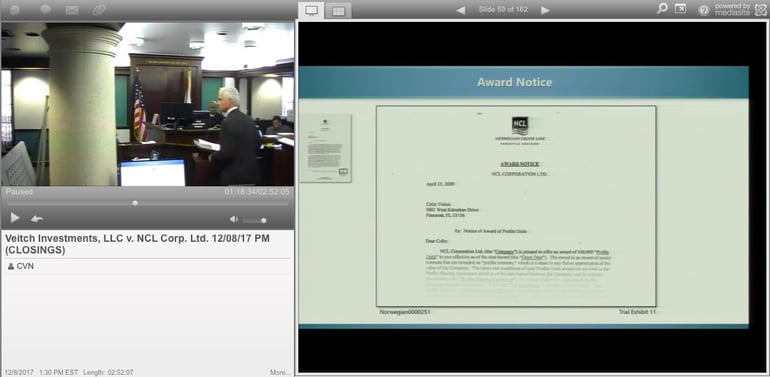 CVN screenshot of defense attorney Sanford Bohrer delivering his closing argument on behalf of Norwegian Cruise Line and former CEO Kevin Sheehan.
Miami - A Florida state court jury on Monday cleared Norwegian Cruise Line and former CEO Kevin Sheehan in a $90 million defamation and breach of contract lawsuit filed by Sheehan's predecessor, Colin Veitch, who claimed a critical email from Sheehan to a travel magazine damaged his reputation.
Jurors deliberated for just over half a day after hearing a week of argument and testimony in a trial that was the culmination of a longstanding and bitter feud between Sheehan and Veitch. Veitch ran Norwegian from 2000 until 2008, when Sheehan took over as chief until 2015. In addition to his defamation claim against Sheehan, Veitch also accused Norwegian of failing to honor a profit-sharing agreement.
Veitch's attorney Jeff Gutchess of AXS Law Group asked jurors to award $90 million during his closing argument, but Sheehan and NCL, both represented by Sanford Bohrer of Holland & Knight, successfully argued that Veitch suffered no actual damages resulting from Sheehan's email to Travel Weekly, and that Norwegian honored their profit-sharing arrangement with Veitch as written.
A spokesperson for Norwegian told Courtroom View Network that the company does not comment on litigation, and attorneys for Veitch did not immediately respond to a request for comment.
The full trial was webcast live and recorded gavel-to-gavel by CVN.
Veitch's defamation claims stemmed from an email Sheehan sent to Travel Weekly in 2014, after it ran a glowing profile of Veitch, who is largely credited with conceiving of and implanting Norwegian's trademark "freestyle cruising" program. Freestyle cruising allows passengers to choose where and when they dine and see shows, and at the time of its debut marked a distinct change from the more regimented scheduling traditionally used by cruise lines.
"This was the pinnacle of the man's career," Gutchess told jurors during his closing argument. "This was changing an industry in spectacular ways. He was very proud of his legacy, but now he sees it in black and white that [Sheehan] has been systematically ripping that apart."
Gutchess argued that Sheehan, who stepped down the following year amidst allegations of engaging in improper sexual relations with employees, saw this positive coverage of his predecessor as a threat to his own reputation. He fired off an email to Travel Weekly slamming the implementation of freestyle cruising as "a mess" and attacking their description of Veitch as a "visionary."
"There is a reason that seven years later your visionary is out of work," Sheehan wrote. Travel Week later took down the profile.
However Bohrer told jurors that Veitch, who retired after leaving Norwegian in 2008, suffered no actual damages as a result of Sheehan's email, which he agreed could be characterized as "strong, even harsh."
"On the letter to the editor, you'd need a microscope to find any damages," Bohrer said.
The trial featured testimony from both Veitch and Sheehan and provided an up-close look at the development of some of Norewgian's key initiatives, like the Freestyle system and a massive fleet construction program.
Norwegian generated $4.87 billion in revenue in 2016, according to published reports. The company went public in 2013 while Sheehan served as CEO.
The trial took place before Circuit Judge William Thomas, Gavel-to-gavel video of the full trial is available to CVN subscribers, along with hundreds of other civil jury trials from all throughout Florida and the rest of the country.
The case is Veitch Investments LLC v. NCL Corp. Ltd., case number 016-CA-030273 in the 11th Judicial Circuit of Florida.
E-mail David Siegel at dsiegel@cvn.com