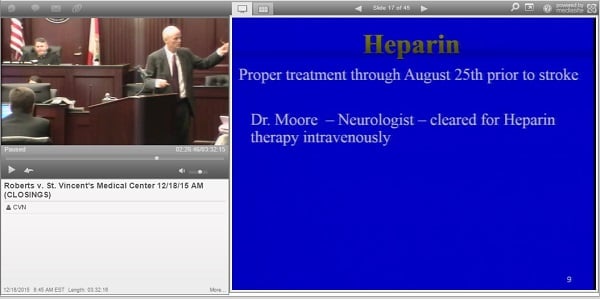 W. Douglas Childs argues Dr. Gregory Pavlat, whom Childs represents, and Dr. Benjamin Moore properly treated Margaret Roberts for blood clots in the days before a stroke that left her needing around-the-clock care for the rest of her life. Jurors found for the doctors in Roberts' $9.5 million suit.
---
Jacksonville, FL—Two physicians prevailed Friday against a patient's claim that she suffered a catastrophic stroke because of their failure to properly treat her. Margaret and Darrell Roberts v. Dr. Gregory Pavlat and Dr. Benjamin Moore, 2011-CA-007017.
Jurors found Drs. Gregory Pavlat and Benjamin Moore were not negligent in treating Margaret Roberts for deep vein thrombosis and pulmonary embolisms, or blood clots in the leg and lungs, prior to her August 2010 stroke, which left Roberts with permanent memory loss and needing around-the-clock care for the rest of her life.
Roberts was admitted to Jacksonville's St. Vincent's Medical Center August 23, 2010 and treated for the clots by Pavlat, her treating physician, and Moore, a neurologist, before she suffered the August 25 stroke. Roberts and her husband, Darrell, contend the doctors failed to do enough to prevent a clot from traveling to Roberts' brain. Their attorney, Terrell Hogan's Bruce Anderson, requested more than $9.5 million in damages during Friday's closing arguments.
The verdict concluded a 13-day trial that focused in part on when physicians should have inserted an inferior vena cava filter, or IVC, a blood clot-trapping device, into Roberts. Although an IVC was inserted into Roberts after her stroke, Roberts' attorneys claim the physicians should have inserted the device earlier.
During Friday's closing arguments, Terrell Hogan's Matthew Sowell contended evidence showed Roberts was not responding to Heparin, a blood-thinning medication, or anti-coagulant, the doctors initially used in trying to treat the clots. "Even though she'd been fully anti-coagulated—she was getting intravenous Heparin—clots (were) still traveling in her bloodstream," Sowell said.
Sowell said expert testimony established IVC filters are the appropriate follow-up treatment when anti-coagulants did not work. "What do you do when the first line of defense fails? Do you retreat? Do you surrender?" Sowell asked. "No. You send in reinforcements. You send in the second line of defense, and the second line of defense, when there is failure of anticoagulation, is (an IVC) filter."
However, Childs Hester's W. Douglas Childs, representing Pavlat, argued records of Roberts' improving condition before her stroke warranted continuing Heparin treatment. "This is a woman, based on what was known (at the time) was getting better," Childs said. "And Heparin was the proper care and treatment."
Moore's attorney, Dennis Jackson's Craig Dennis told jurors the only possible sign Heparin may not have been working was Roberts' complaints of an intermittent headache, a problem she had suffered from for years, and for which the doctors had ordered diagnostic tests. "Dr. Moore saw her, and he did not detect that there had been any failure at all of Heparin therapy," Dennis said. "Other than this headache that was brought up, where is there any evidence of Heparin failure on the 24th (the day before her stroke)? There is none."
Jurors deliberated for about four hours before clearing the physicians.
Email Arlin Crisco at acrisco@cvn.com.
---
Related Information
Terrell Hogan's Bruce Anderson and Matthew Sowell represent Margaret and Darrell Roberts.
Childs, Hester & Love's W. Douglas Childs represents Dr. Gregory Pavlat.
Dennis, Jackson's Craig Dennis and Tiffany Rohan-Williams represent Dr. Benjamin Moore.