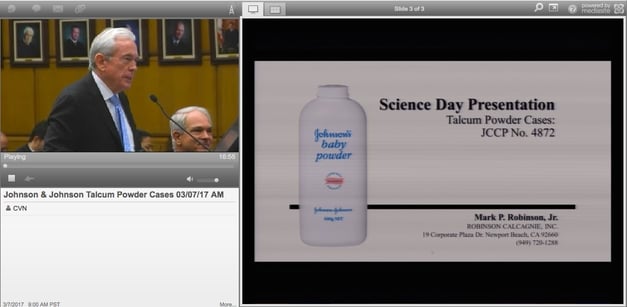 Courtroom View Network screenshot of plaintiff attorney Mark Robinson during Tuesday's "science day" talcum powder hearing. Click here to see video from the hearing.
Los Angeles—A California state court judge on Tuesday received a day-long crash course on the alleged links between Johnson & Johnson's talcum powder and ovarian cancer, in a hearing meant to bring her up to speed on the underlying science ahead of a bellwether trial scheduled for July.
So-called "science day" hearings are often used in complex mass tort cases to give judges an opportunity for a briefing specifically on the science that will serve as the basis for legal arguments in an eventual trial, and Tuesday's hearing saw eight attorneys delve into everything from talc's basic properties as a mineral to the proper methodology for an epidemiological study.
RELATED: Click here for exclusive expert analysis of talc trial testimony from Innovative Science Solutions
Judge Maren Nelson remained mostly silent during the hearing, aside from occasionally admonishing attorneys for the plaintiffs to "stick to the science" when their presentation strayed to issues of J&J's potential liability. Judge Nelson presides over talc powder litigation consolidated in Los Angeles Superior Court involving over 300 plaintiffs. In January Judge Nelson scheduled a July trial date for plaintiff Eva Echeverria, which will be the first state court talc trial outside of Missouri, where most cases are pending.
Tuesday's hearing comes just days afterJ&J made headlines by landing their first defense verdict at a talc trial in Missouri after suffering three consecutive trial losses and being saddled with damages nearing $200 million. Those verdicts spawned thousands of additional claims from other women who allege products like Johnson & Johnson's Baby Powder and Shower to Shower caused their ovarian cancer. Talc cases have also been consolidated in New Jersey state and federal court.
Both the St. Louis trial and the Los Angeles hearing were webcast live and recorded by Courtroom View Network. CVN will also webcast the next talc trial in St. Louis scheduled to begin on April 10. Though still enormously significant, last week's verdict came in a case selected for trial by the defense. The April case was selected by plaintiffs, so a key question is whether or not J&J can build on their first jury win by prevailing in a case chosen by the other side.
Plaintiff attorneys argue that J&J and their talc supplier Imerys knew for years that the substance posed a serious cancer risk to consumers, but the companies maintain those arguments rely on flawed science, and that talc is no more dangerous than alcohol or red meat.
The outcome of the first California trial, and the battles over admissibility of potential expert witness testimony leading up to it, will be closely watched after a decision last year by a New Jersey state court judge to exclude testimony from key plaintiff witnesses scuttled what was to be the first talc powder trial in that state. That decision is currently being appealed.
The presentations for Judge Nelson on Tuesday largely mirrored the science-related portions of opening statements in previous talc trials. They explored the basic properties of talc, the various risk factors for ovarian cancer and the scientific studies looking into links between them.
While there was little back and forth between the plaintiff and defense teams, both of which delivered their presentations with the orderliness of an appellate oral argument, there was a key difference in the conclusions of the scientific evidence they chose to highlight. The plaintiffs focused more on studies going as far back as the 1980's showing links between talc and ovarian cancer, while the defense cited more recent decisions by regulatory agencies and watchdog groups not to classify talc as a carcinogen.
After nearly six hours of argument Judge Nelson concluded the hearing with a simple thank you to the parties.
"Well this has been most helpful and well-presented by both sides," she said.
The plaintiff attorneys who participated in the hearing were Mark Robinson of Robinson Calcagnie Inc., Helen Zukin of Kiesel Law LLP, R. Allen Smith of the Smith Law Firm, Henry Garrard III of Blasingame Burch Garrard & Ashley PC and Mary Alexander of Mary Alexander & Associates PC.
The defense team consisted of Michael Zellers of Tucker Ellis LLP, Gene Williams of Shook Hardy & Bacon LLP and Michael Klatt of Gordon & Rees.
The coordinated proceeding in California is captioned Johnson & Johnson Talcum Powder Cases, number JCCP4872, in Los Angeles County Superior Court.
E-mail David Siegel at dsiegel@cvn.com